The Costume Decisions In Meet Cute Are Way More Calculated Than You Think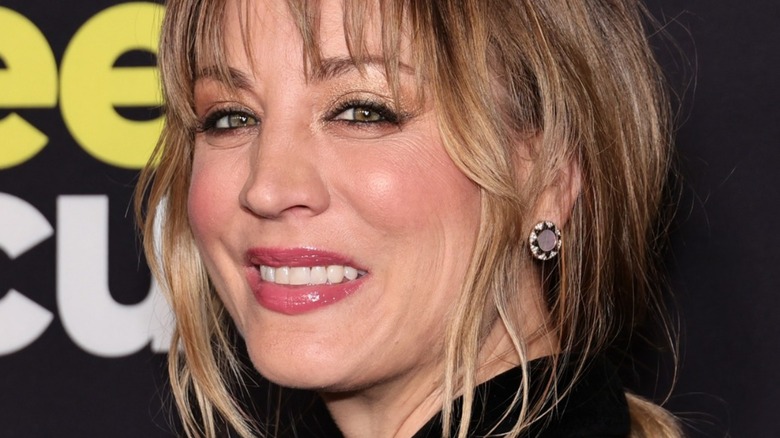 Jamie Mccarthy/Getty
Romance gets a do-over in the Peacock romantic comedy "Meet Cute." The film — starring Kaley Cuoco and Pete Davidson — puts a new sci-fi twist on the genre. After one less-than-perfect date, Shelia (Cuoco) discovers a time machine. Using it to repeat the night before might seem like a good idea but she soon learns there are consequences for everything.
"Meet Cute" received mixed reviews upon release but critics seem to agree about Cuoco's appeal. AwardsRadar's Joey Magidson called the actress a "real standout" while looking at her balancing act between comic moments and more serious scenes. The sentiment carries over when speaking about the cast's dedication. Noel Murray's Los Angeles Times review adds that both Cuoco and co-star Davidson truly immerse themselves into their characters.
While some elements might be obvious during a first watch, there are a few things left to find during repeated viewings. Costume designer Michelle J. Li and director Alex Lehmann are now letting viewers in on the secrets of "Meet Cute."
Costumes offer clues about the film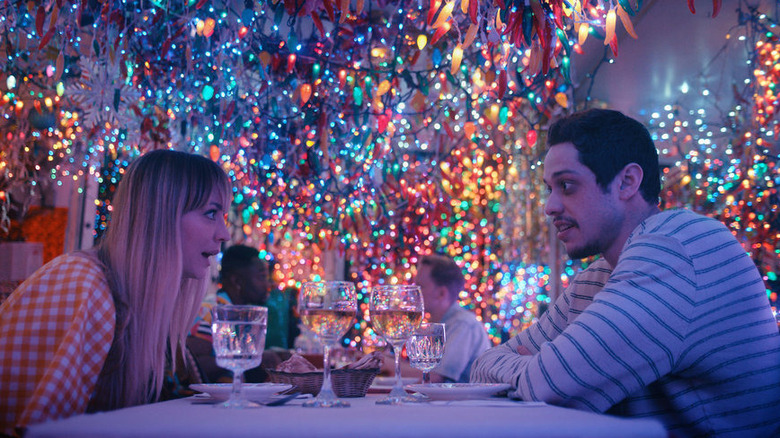 MKI Distribution Services
The film's leads each have a distinctive look — and that design is no accident. Shelia's yellow and white dress is hard to miss; with everyone surrounding her wearing more muted tones, the gingham pattern makes a bold statement. According to a recent interview with The Hollywood Reporter, Michelle J. Li knew they were seeking something that would become a focal point. She pointed out how closely the director and costume designer worked to choose a dress that instantly drew attention.
Li also knew she would be dealing with the exact opposite when costuming Pete Davidson's character. While the film focuses on Shelia's world, Gary's (Davidson) importance grows as "Meet Cute" progresses. Still, it was crucial to keep him in as few contrasting colors as possible. The costume designer described it as a "fine line" between maintaining viewer interest and ensuring Gary remains faded into the background.
The attention to detail goes even further; items change between various timelines, including accessories and hairstyles. While some reflect the storylines, others are purely there to keep everyone interested. For Li, it's those well-placed Easter eggs that guarantee a fun experience for viewers who watch until the end.