Jason Momoa Goes Shirtless In New Aquaman Photo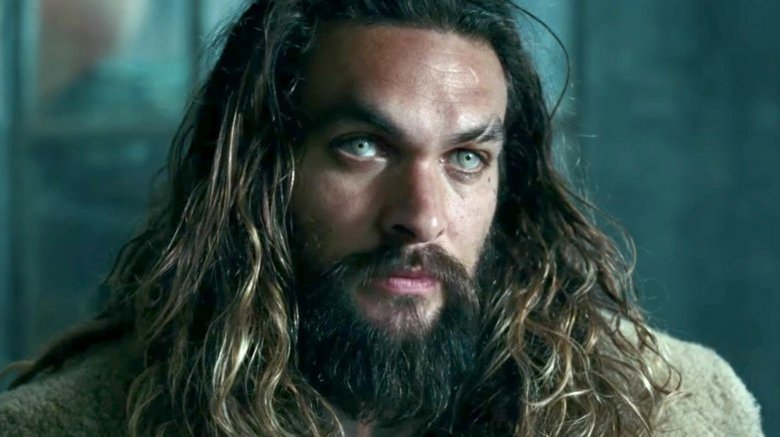 "Ripped" doesn't even begin to describe Jason Momoa's superheroic physique in Aquaman. An all-new look at the James Wan-directed pic proves just that. 
Released via USA Today  in conjunction with a handful of stills for movies coming out in 2018, the new image features Momoa nearly baring it all as Arthur Curry/Aquaman, the half-human, half-Atlantean vigilante who recently appeared in Justice League. 
As with previously released promotional material, Momoa is shirtless and seemingly water-soaked in the photo, showing off his chest, arms, and stomach that are covered in geometric black-ink tattoos. This is certainly a stark deviation from the Aquaman comic book source material, which offered a clean-cut, blonde, and slightly kitschy take on the underwater superhero. 
Take a look below. 
Along with the new snap, director Wan discussed how the film's story–which sees Arthur stuck between the human-dwelling surface and the watery kingdom he calls home–helps shape its hero. "He doesn't quite fit in, but as the story progresses, he realizes he's the best of both worlds," Wan explained. "Circumstances allow him to grow as a human being and then realize the bigger picture of it all and what it means to have these abilities."
He also noted that creating Atlantis for the film gave him an opportunity to "make something that is from our planet but at the same time, it's a visual we're not familiar with." 
And it's not just the aesthetics that will have fans on the edge of their seats; it's the villains, too. The main baddie is, naturally, Aquaman's archvillain Black Manta, played by Yahya Abdul-Mateen II. According to Wan, Black Manta's villainy is "very primal" and there's a "classic revenge story" happening between him and Aquaman. "I love the simplicity of that human drive," the director added.
Momoa previously revealed that Aquaman will fully chronicle how Arthur rises to become king of Atlantis. "Justice League was only a weekend in Arthur Curry's life," the actor said. "This is a totally different beast. In Aquaman, you see when his parents met and what happened to them. Then the little boy being raised and finding his powers and going through that and never being accepted on either side. And then becoming this man who puts up all these walls. You just slowly see this man harden up and be completely reluctant wanting to be king and not knowing what to do with these powers he has. I think James Wan just killed it."
Aquaman also stars Amber Heard as Mera, the queen of Atlantis; Patrick Wilson as Orm/Ocean Master, Aquaman's evil half-brother; Willem Dafoe as Nuidis Vulko; the chief scientific advisor of Atlantis; Temuera Morrison as Thomas Curry, Aquaman's father; Dolph Lundgren as Nereus, the ruler of another undersea kingdom known as Xebel; Nicole Kidman as Atlanna, Aquamans' mother and the former queen of Atlantis; Ludi Lin as Murk, the head of the Atlantean army called the Men-of-War; and Michael Beach as Jesse Kane, Black Manta's father and a member of a coalition of boatjackers. 
Catch Aquaman in theaters on December 21, 2018.