What Is The Song In The First Trailer For HBO's The Last Of Us?
Dimitrios Kambouris/Getty Images
The first teaser trailer for HBO's long-awaited adaption of "The Last of Us" has finally arrived, and it's nothing short of chilling. Starring Pedro Pascal as the tragic post-apocalyptic anti-hero Joel Miller, this upcoming series is based on Neil Druckmann and Naughty Dog's zombie-survival game of the same name and will follow a similar story about Joel fighting to survive with a young girl named Ellie (Bella Ramsey).
Even from this short trailer, the grim nature of the universe is already palpable. Craig Mazin's fingerprints are immediately evident, the bleak desperation of this fictional world feeling eerily similar in tone to the very real setting of his previous work, "Chernobyl." Mazin has expressed his apprehension at adapting one of the most celebrated video games of all time. He's also stated that his intention with this series is not to rewrite the game's narrative but to enhance it (via Game Luster). That hasn't stopped some fans from getting a little worried about this video game-based TV show. The teaser seems to be a good sign, however, and has a remarkably fitting choice of song. The western tune twanging underneath the first trailer for "The Last of Us" may not be instantly recognizable, but it's perfectly haunting.
A 50s country classic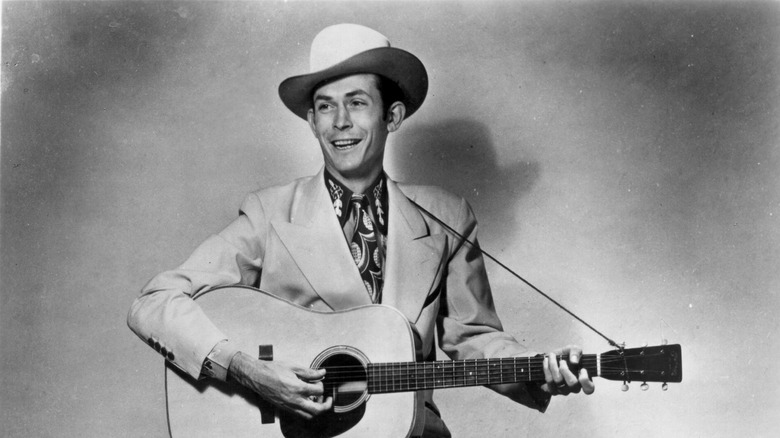 Michael Ochs Archives/Getty Images
The song is "Alone and Forsaken" by country artist Hank Williams, and the title alone could explain why it's perfect for this series. The world of "The Last of Us" is defined by a sense of impending loneliness, with characters afraid that their loved ones could be taken from them at any moment or scarred because they're already gone.
The trailer doesn't start at the song's first lyric, instead picking up at the appropriately moody "The roses have faded, there's frost at my door / The birds in the morning don't sing anymore." This smartly bypasses the overtly romantic opening of the song to a foreboding sense of negative change. It also features a synthetic repeat of a portion of the chorus, the phrase "hold my hand" echoing as the action of the teaser intensifies. This thematically underscores and reinforces one of the series' major ideas of holding on to what one has left — a point ominously summed up in the trailer's final line, "Save who you can save." Fans still have a while left before the 2023 series airs, but this trailer makes it seem like it will be worth the wait.