The Modern Family Actor Who Played A Reoccurring Character On Everybody Loves Raymond
"Modern Family" ended its run on ABC in 2020, but the multi-generational sitcom continues to make people laugh. The show follows three households within the Pritchett family tree. In season 1, Jay Pritchett (Ed O'Neill), the family patriarch, is newly married to Gloria Delgado-Pritchett (Sofía Vergara), and he's figuring out how to navigate his relationship with her son Manny Delgado (Rico Rodriquez). Not too far away is Jay's daughter Claire (Julie Bowen) and her husband Phil Dunphy (Ty Burrell), who are busy raising their three children, Alex (Ariel Winter), Luke (Nolan Gould), and Haley (Sarah Hyland). As Claire navigates her own family, her brother Mitchell Pritchett (Jesse Tyler Ferguson) and his husband Cameron Tucker (Eric Stonestreet) are learning the ins and outs of parenthood with their first child Lily Tucker-Pritchett (later played by Aubrey Anderson-Emmons).
While the sitcom turned many of its stars into household names, some of the cast members had a following prior to "Modern Family." O'Neill was already well-known for his role as Al Bundy on the long-running sitcom "Married...with Children," and Bowen had shared the big screen with Adam Sandler in the golf comedy "Happy Gilmore," playing his love interest, Virginia Venit. There's one other well-known star that played a vital role for a few seasons on "Modern Family," but before that, they had a similarly significant supporting part on the hit sitcom "Everybody Loves Raymond".
Everybody Loves Raymond loved having Fred Willard for three seasons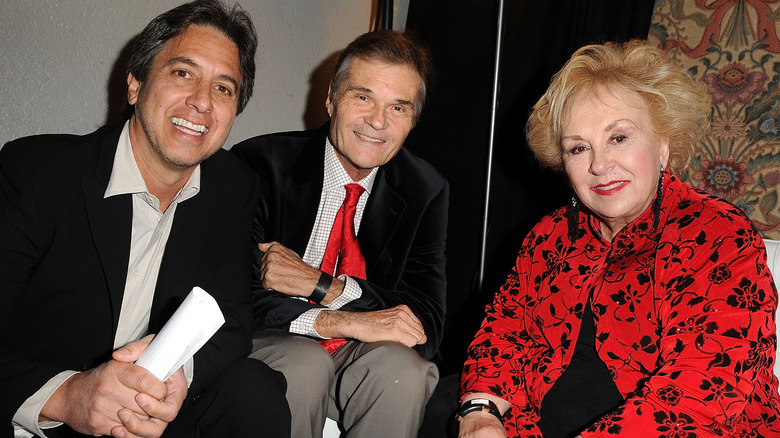 Jason Merritt/Getty Images
Before he became Frank Dunphy, the fun-loving dad to Phil Dunphy on "Modern Family," Fred Willard was Hank MacDougall, the strict father of Amy MacDougall (Monica Horan) on "Everybody Loves Raymond". Willard first appears in Season 7, Episode 14, "Just a Formality," where Robert Barone (Brad Garrett) travels to the MacDougalls' doorstep to ask for Amy's hand in marriage. Her parents deny his request, but that doesn't stop him from proposing to Amy. Willard brought his quick wit and expert comedic timing to the show throughout its last three seasons. Willard talked about his role on the sitcom with the Television Academy Foundation, and he felt that his character was too strict at first. "I wanted to cut loose, and they gave me some wonderful lines," he said. "And lo and behold, I was nominated for an Emmy three years in a row."
Willard would later earn two more Primetime Emmy nominations, this time for his guest role as Frank Dunphy on "Modern Family." He would play the role until his death at the age of 86 on May 15, 2020. In a tribute to Willard on Jimmy Kimmel Live, Ty Burrell said, "The truth is that I was so heavily influenced by Fred's style as a performer and his good-natured obliviousness that there would be no Phil Dunphy without Fred Willard. And the beautiful irony of him being cast as Phil's dad was almost too much for me to bear."