Brandi Passante's Favorite Find On Storage Wars May Not Come As A Surprise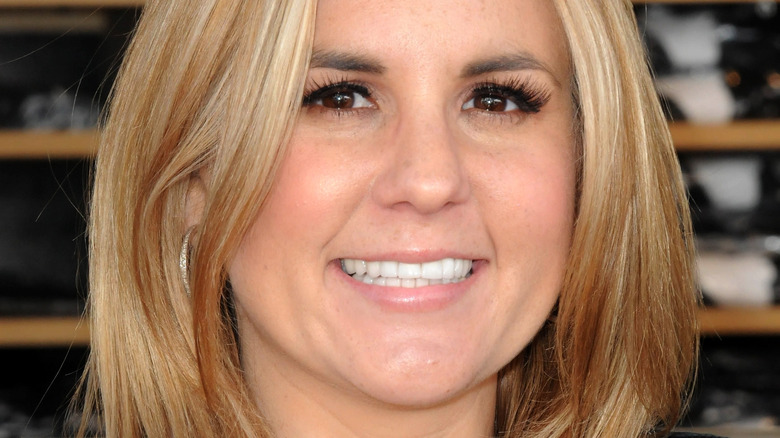 Albert L. Ortega/Getty Images
For the professional buyers of A&E's "Storage Wars," not every locker purchase is a memorable jackpot of treasures. Sometimes, a risk is taken to buy a unit at a hefty price, only for it to be filled with items of little to no value. But other times, the risk pays off.
A prime example of this occurred when Darrell Sheets spent $3,600 on a space jam-packed with Frank Gutierrez artwork, which an appraiser valued at approximately $300,000. Barry Weiss, hailed as the "Collector," purchased a unit for $275 that contained a toy piano worth up to $12,000.
In both of these instances, former couple Brandi Passante and Jarrod Schulz were part of the bidding war but ultimately lost. Still, they enjoyed success on other occasions. After purchasing a unit for $230 (and outbidding Dave Hester), the "Young Guns" made over $4,000 thanks to a slew of "Star Trek" memorabilia, including a piece signed by William Shatner himself.
Several times, especially after her divorce from Schulz, Passante purchased valuable units by herself. After spending $35 on a locker — and bribing Kenny Crossley with food to help her go through it — she found a Victorian sewing kit worth $900. The entire locker brought in over $3,000 and Crossley enjoyed a home-cooked meal from his co-star.
Passante, a "Storage Wars" Season 1 veteran, has made some great finds over the years. Let's take a look at which is her favorite.
Brandi Passante enjoys any item that's worth money
During an in-depth interview with the "Happening Now with Hammer – Newport Beach Podcast," Brandi Passante was asked to name her favorite "Storage Wars" find. On numerous occasions, Passante expressed excitement while uncovering certain items, including a giant plush "My Little Pony," which she fiercely protected from her co-stars. However, her answer on the podcast was more general and something to be expected of a professional buyer.
"For me, like I said, I'm a bird in the hand kind of person," she said, "so any kind of money, you know, I'm happy to find. Anything that I can get rid of quickly is what I want because that's the whole point of it."
Though buyers are allowed to peek inside the unit before purchasing, most of their success comes down to luck. In 2018, "Storage Wars" auctioneer Dan Dotson, who runs American Auctioneers, revealed on Facebook that he sold an abandoned unit for $500. Inside was a safe that, much to the buyer's surprise, contained $7.5 million. "Normally they're empty," Dotson said of storage locker safes. "But this time, it wasn't empty."
Passante was in agreement. "Generally, you find a safe. You get a little excited. You crack it open and it's the combination and, like, a paperclip or something," she said on the podcast, adding that one safe she discovered had a binder of cut-out photos from adult magazines.
Though she hasn't stumbled across millions yet, such a massive find could only be one unit purchase away.