Pierce Brosnan Tells The Conflicted Truth About Doctor Fate's Helmet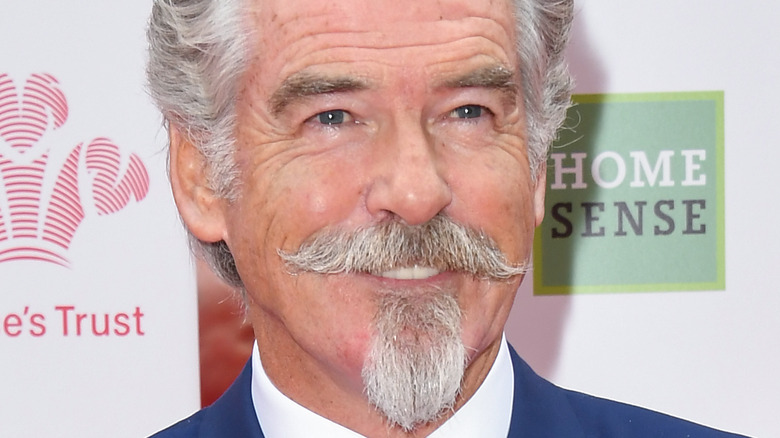 Stuart C. Wilson/Getty Images
"Black Adam" is hitting theaters soon, and it has promised — more than a few times — to shake up the hierarchy of the DC universe. The movie is a passion project for star Dwayne Johnson, who has been attached to play the titular villain-turned-antihero for more than a decade (via CinemaBlend). Although Black Adam has faced Shazam numerous times in the comics, Warner Bros. decided to give the character his own movie instead of simply playing the villain in a "Shazam!" sequel. 
The movie follows the titular character Black Adam, a former ancient enslaved Egyptian who receives the powers of Shazam. After thousands of years of imprisonment, Black Adam escapes into the modern world and immediately attracts the attention of Amanda Waller and the Justice Society of America. The team — made up of Hawkman, Atom Smasher, Cyclone, and Doctor Fate — is sent to stop his rampage, and then decide to teach him how to be a hero. Black Adam will then team up with the JSA to stop the villain Sabbac. 
"Black Adam" has a star-studded cast to fight alongside Dwayne Johnson. Aldis Hodge, Noah Centineo, Quintessa Swindell, and Pierce Brosnan will portray the members of JSA, and DC fans are particularly excited for Brosnan. The legendary actor's charisma landed him the role, and he's bringing Doctor Fate to the big screen in live action for the first time. Doctor Fate is a tragic character in the DC Comics universe, and Brosnan recently opened up about how that will translate to the character's story in "Black Adam."
Doctor Fate's helmet is a curse, according to Brosnan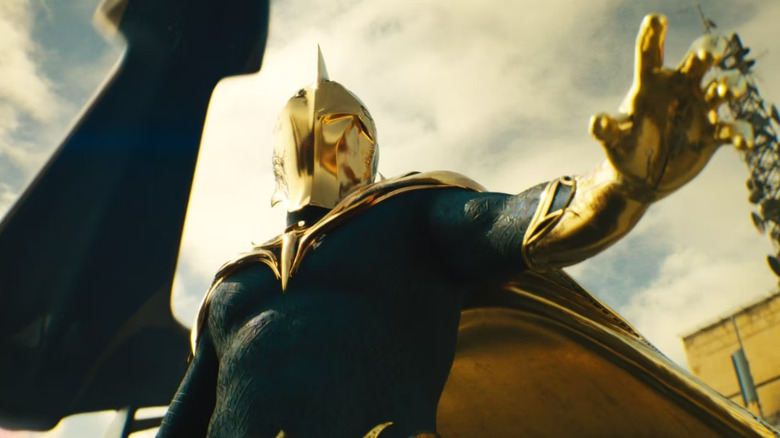 Warner Bros. Pictures
DC Comics fans know the tragic story that surrounds Doctor Fate, and it's nice to see an actor like Brosnan get familiar with the character's origins. While speaking to GQ recently, the actor broke down his upcoming superhero role, saying, "Doctor Fate has the Helmet of Nabu, which is a curse and a blessing because he is shackled to the power of the helmet. It's an addiction, it's a curse. It all sounds a lot of fru-fru when you talk about it like that [laughs] but it's stuff that you have to lend your heart to if you go into the mythology of it, whether it be Doctor Fate or James Bond."
DC introduced Doctor Fate in 1940, during the Golden Age of comic books. Kent Nelson (Doctor Fate's alter ego) was on an archaeological adventure with his father when he accidentally awakened Nabu, a Mesopotamian god, and killed his dad. Nabu subsequently trains Nelson to be an agent of the Lords of Order, taking up the mantle of Doctor Fate and eventually fighting crime with the Justice Society of America. The comics eventually reveal that Nabu is slowly assuming complete control of Nelson's body. The character went on to train many successors to the Doctor Fate moniker. 
"Black Adam" star Dwayne Johnson took to Twitter to praise Brosnan's performance as the character, writing, "I think you'll be happy with Dr. Fate. Pierce Brosnan is a force and really delivers." 
After a summer of turmoil, DC fans still aren't sure what Warner Bros.'s goal for the DC Extended Universe is, but hopefully "Black Adam" will clear things up — and offer newcomers a memorable introduction to Doctor Fate. 
"Black Adam" hits theaters on October 21.