The Witcher Season 3 Trailer Showcases Henry Cavill's Franchise Swan Song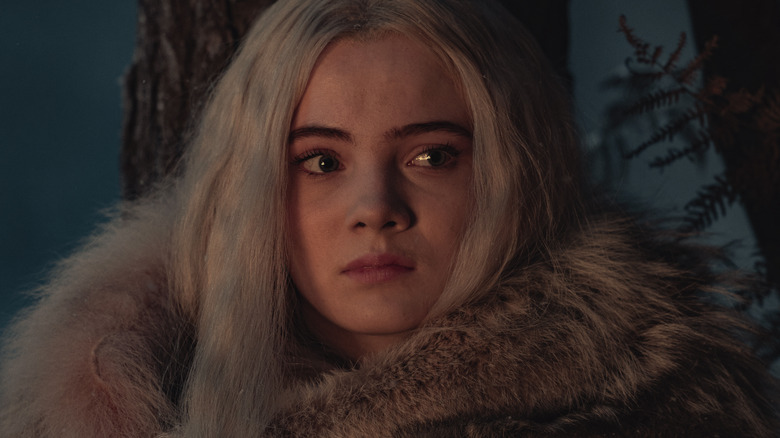 Susie Allnut/Netflix
Season 3 of "The Witcher" will follow the "Time of Contempt" book — the fourth in the series, which follows the break up of the Brotherhood of Sorcerers. We see hints of this play out in the new trailer, and it looks like the new season might be the darkest yet. Returning for "The Witcher" Season 3 is Henry Cavill as Geralt, Anya Chalotra as Yennefer, and Freya Allan as Ciri. This will be Cavill's last go as the Witcher, with Liam Hemsworth set to take over the role for Season 4.
The Season 2 finale revealed that Ciri's father, Duny (Bart Edwards,) is actually Emperor Emhyr, and we're set to see his quest to take over the Continent in Season 3. This is teased in the brand new trailer, which is full of some of the intricate fighting sequences "The Witcher" has become known for.
Geralt is back and better than ever in The Witcher Season 3 trailer
Teased in the Season 3 trailer for "The Witcher" is the growing relationship between Geralt and Ciri, as the duo starts to learn more about the powers of the mysterious Witcher. According to Netflix, the official synopsis for Season 3 reads, "As monarchs, mages, and beasts of the Continent compete to capture her, Geralt takes Ciri of Cintra into hiding, determined to protect his newly-reunited family against those who threaten to destroy it. Entrusted with Ciri's magical training, Yennefer leads them to the protected fortress of Aretuza, where she hopes to discover more about the girl's untapped powers; instead, they discover they've landed in a battlefield of political corruption, dark magic, and treachery. They must fight back, put everything on the line — or risk losing each other forever."
It took some time before Yennefer, Geralt, and Ciri shared the screen together in the first two seasons, but the next installment will see it happen a few more times.
"The Witcher" Season 3 lands on Netflix on June 29.