The Minor Law & Order 2022 Crossover Character Death Fans Took Surprisingly Hard
Zach Dilgard/NBC
Warning: This article contains spoilers for the "Law & Order" crossover event
There was no way we were getting a three-hour "Law & Order" crossover event without a death or two. The story kicked off with a young girl who was murdered on the streets of New York, which led to the coming together of the homicide, special victims, and organized crime departments.
Elliot Stabler (Christopher Meloni) was knee-deep into the investigation before it even started, spending six months looking into Sirenko who was immediately connected to the young murdered girl. Outside of Stabler, Detective Cosgrove (Jeffrey Donovan), Captain Benson (Mariska Hargitay), and several supporting characters were brought in to flesh out the story. One of them fans took to very quickly, and their scenes had fans sitting on the edge of their seats. Unfortunately, this newcomer didn't make it out of the crossover alive, and viewers were mourning their new favorite on Twitter.
RIP, Vince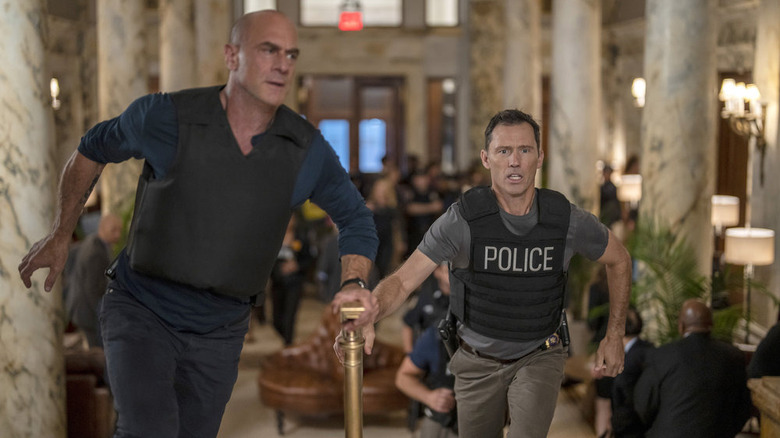 Zach Dilgard/NBC
Stabler had worked with Vince for several months, but their CI-handler relationship was still pretty new. Vince was brought in to help with the Sirenko murder case, and he had a close call talking to the villain early on in the crossover. Unfortunately, Vince meets his end when Sirenko lures him in to help with planting the bomb but was always planning to kill him, to begin with. Stabler is too late in his rescue, and Vince is gone for good. Despite his one-and-done appearance, "Law & Order" fans paid their respects online.
"Vince is already gone and I liked him," one Twitter user wrote with a crying emoji. "I knew the moment Vince entered that club he was a dead man and yet I somehow got attached anyway, and now he's dead," another user added. Many other tweets contained just the name Vince paired with all types of sad emoji as "Law & Order" fans mourned the newbie.