Gregory Peck's 7 Best And 7 Worst Movies Ranked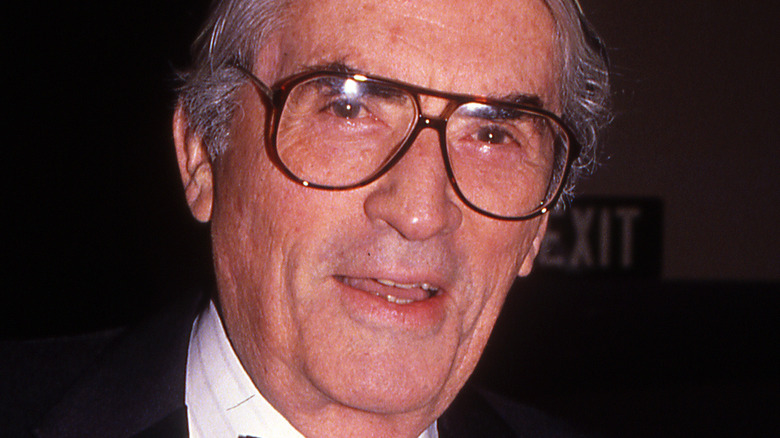 Vicki L. Miller/Shutterstock
In the 1950's and '60s there were few actors that garnered as much respect, admiration, and acclaim as Gregory Peck. A major draw at the box office as early as the 1940s, when he appeared in two Hitchcock thrillers, "Spellbound," and "The Paradine Case," Peck quickly made a name for himself as one of Tinseltown's most charismatic leading men. With a steely gaze, piercing eyes, and a square jaw, he was often cast as a rugged cowboy, a valiant war hero, or a charming love interest for Hollywood's biggest starlets.
By the early 1980s, Peck was a living legend, and though his career output declined as he got older, his career wound up producing more than 50 films before his passing in 2003. But with so many films to his credit, they can't all be winners. Peck starred in a handful of all-time classics, but some real clunkers too. Which ones are which? We've combed through his filmography and put together a list of the seven best and seven worst. Think you know which one tops our list? Read on to find out if your favorite Peck pick is ours too.
Worst: The Sea Wolves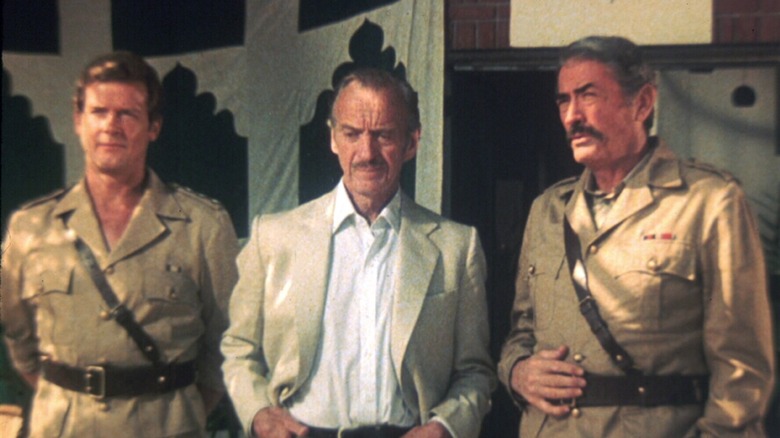 Paramount
The 1980 film "The Sea Wolves" was a late career war movie for Peck, who by the end of the '70s was still one of Tinseltown's most revered elder statesmen. The film chronicles a lesser-known but very real operation that occurred during World War II in which a small, quickly-assembled team of irregulars are sent on a daring but critical mission known as Operation Creek. 
In a role well-suited to the strength and power Peck was well known for, the actor portrayed Lieutenant-Colonel Lewis Henry Owain Pugh, an English officer and seasoned soldier with the British military. When the Allies discover that the Germans have been using a masked merchant ship to coordinate all of their U-Boat attacks in the Indian Ocean, they realize they cannot use a standard military force to stop it, due to the neutral nature of the territory. Called in to put together a team of outsiders, Pugh trains a squad made up of Calcutta Light Horse and Calcutta Scottish regiment members to execute his plan.
While the true story of Operation Creek was an important part of the war, responsible for the end of large-scale U-boat attacks, the movie's dramatization of the raid left much to be desired. Even with a roster of big stars like David Niven and Roger Moore alongside him, it remains one of Peck's most disappointing outings. 
Best: The Guns of Navarone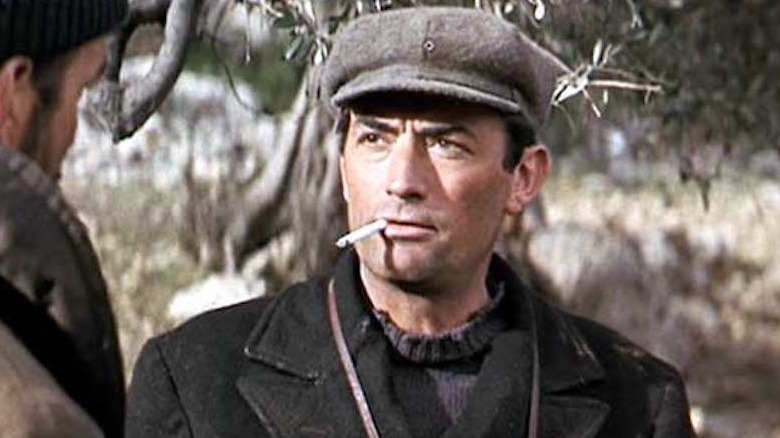 Columbia Pictures
From one of Peck's worst war movies to one of his finest: like "The Sea Wolves," this one also starred British actor David Niven, along with Anthony Quinn, James Darren, and Richard Harris. An ensemble film following a ragtag group of elite soldiers, "The Guns of Navarone" is based on a novel by Alistair MacLean about a fictional World War II mission. Not the kind of gritty, dark war movie that was starting to become more popular that decade, this 1961 effort was a rousing adventure and fun rollercoaster ride with an all-star cast.
The movie opens in 1943, and sees the German army readying an attack on the island of Leros, where some 2,000 British soldiers have become stranded. With the neighboring island of Navarone home to powerful artillery that makes it nearly impossible for an Allied force to rescue them, a plan is devised. A small but highly trained squad of uniquely qualified soldiers will go on a stealth mission to Navarone and disable the enemy's gun emplacement, allowing the Allies a way in. Peck stars as British spy Keith Mallory, while Niven takes the role of explosives expert Miller. Darren is Navarone native Spyros, and Quinn is the hardened Colonel Stavros. 
With a sense of pulpy, over-the-top fun, "The Guns of Navarone" was one of the biggest movies of the year. A sequel, "Force 10 From Navarone," starring Harrison Ford, arrived in 1978.
Worst: Other People's Money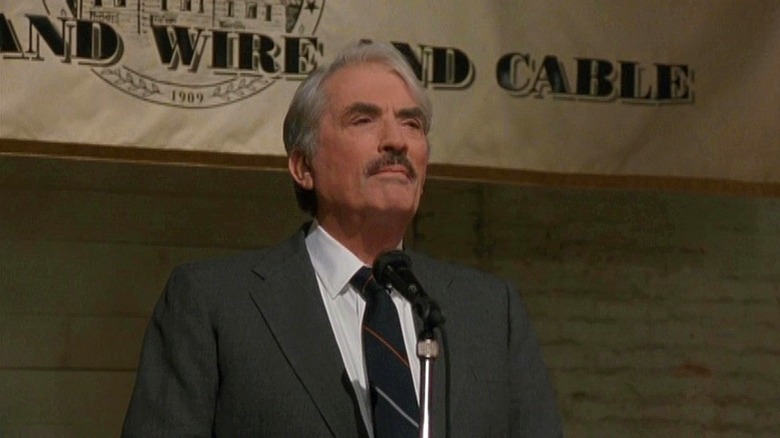 Warner Bros. Pictures
Sadly, Gregory Peck made one of his final big screen appearances in what would ultimately become one of his worst films. Starring Peck, Danny DeVito, and Penelope Ann Miller, the black comedy "Other People's Money" was one of the '80s most disappointing comedies not just because it wasn't bad, but because it had so much potential. A promising premise and a roster of talented actors and comedians are let down by a film that simply generates too few laughs.
The movie introduces us to Larry "the Liquidator" Garfield (DeVito), a slimeball corporate raider known for buying up struggling companies and selling them off piece by piece for profit. His latest target for acquisition is a small town cable company led by businessman Andrew Jorgenson (Peck), an old-world traditionalist who values his employees and supports his community. When Larry arrives and attempts a hostile takeover, Jorgensen isn't having it and sends his stepdaughter Kate (Miller) to stop him. But when sparks fly between Kate and Larry, the liquidator is forced to choose between love and money.
An overly cynical, sometimes sleazy comedy that often feels beneath Peck's grand stature, "Other People's Money" is — Danny DeVito not withstanding — almost entirely without the kind of charm it aspires to have. Ultimately, it's just as well that one of Peck's worst films came at the very end of an otherwise largely sterling catalog of movies.
Best: The Big Country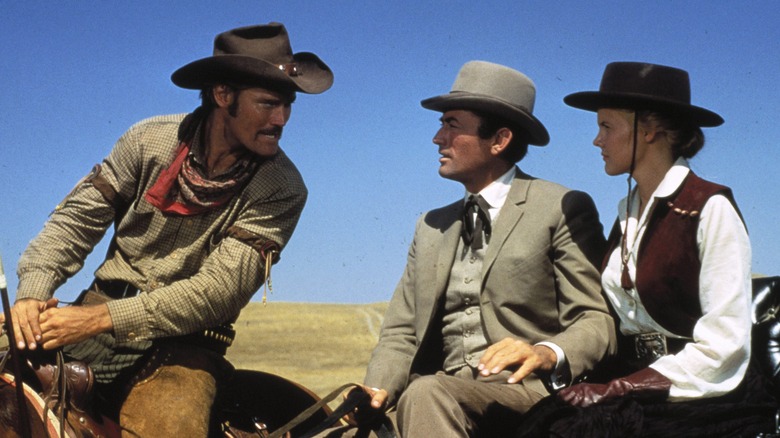 United Artists
Gregory Peck starred in some of the best Westerns of the 1950s, including 1956's "Big Country." Helmed by William Wyler, the acclaimed director of award-winners like "Ben-Hur" and "Mrs. Miniver," the film had all the ingredients to become an iconic all-time great, including leading man Gregory Peck, co-star Charlton Heston, and young starlet Jean Simmons. And a big hit is exactly what the film became, as well as one of the best films in Peck's long career.
In "The Big Country," Peck doesn't play the frontier-loving, natural-born cowboy you might expect. Instead, he stars as James McKay, a New England man who's spent his life at sea, only putting down roots after becoming betrothed to the Western pioneer Patricia (Simmons). Her father, lovingly called The Major (Charles Bickford), owns a wide open ranch, and reluctantly allows McKay to join the family. But tensions with a group of lively locals threaten to cause problems for them, when the Major's ranch-hand Leech (Heston) takes exception to McKay's apparent lack of machismo.
Reteaming with Wyler, who directed him in "Roman Holiday," turned out to be a good choice for Peck, as the quality duo of star and director turned out one of Peck's finest efforts. A stirring drama and gripping Western, it's a different kind of story that is accentuated by its top-notch cast.
Worst: Marooned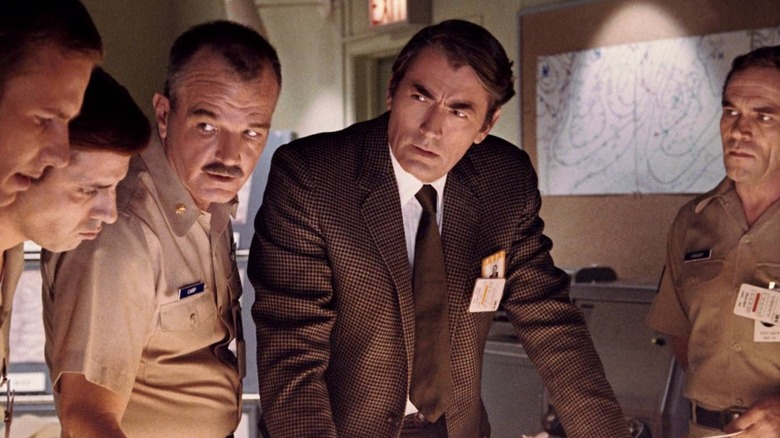 Columbia Pictures
There are bad films, boring films, and disappointing films, and then there's "Marooned," a film that's all three, and so bad that it was lampooned on "Mystery Science Theater 3000." The 1969 movie tells the story of an ill-fated Apollo space mission that is struck by disaster, leaving a trio of astronauts stranded in the void and their wives fearing their fate back home. Peck plays NASA Director Charles Keith, who must figure out a daring rescue plan when a critical system failure leaves the three astronauts (Richard Crenna, Gene Hackman, and James Franciscus) stuck in outer space with no way to get back. He quickly scrambles an experimental spacecraft to save them, but the mission is endangered by an incoming storm. 
If this sounds familiar, that's because it's similar to the plot of the 1994 Academy Award winner "Apollo 13," a film based on the true story of the 1970 mission to the Moon led by Jim Lovell. Astoundingly, not only did "Marooned" eerily predict that horrific crisis, but it landed in theaters just months before the first Apollo mission, making it very timely. The only problem was that the movie was terrible, and was quickly forgotten when the Apollo 13 crisis a year later riveted the world in real time. The later "Apollo 13" feature film from director Ron Howard didn't help matters, essentially doing everything "Marooned" did but better, and made even more compelling because it was all true.
Best: Twelve O'Clock High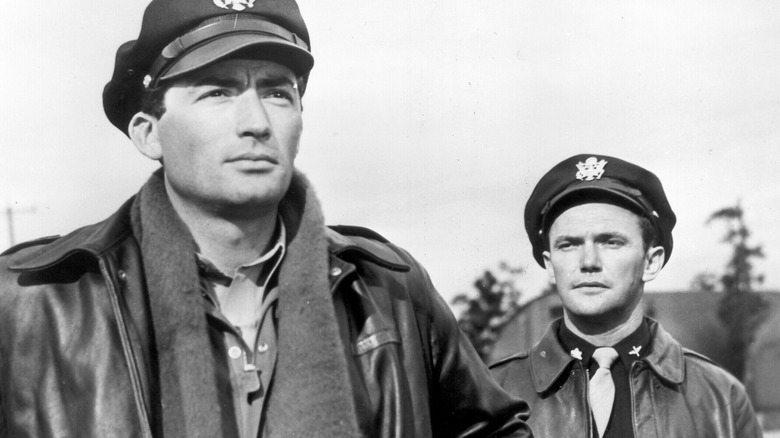 20th Century Fox
A landmark war movie with a long legacy, "Twelve O'Clock High" influenced the genre with its sensitive portrayal of the cost of war on the psyche of its soldiers. But it also contained some of the most adrenaline-pumping action sequences ever put to film, wowing audiences with thrilling aerial combat that helped illustrated the dangers faced by our boys in the sky. The first of six films that Peck would make with director Henry King, it set them up as a winning duo and wouldn't even be their best outing together.
Another World War II adventure, the film is also a powerful character drama centered on General Frank Savage (Peck), who takes command of a beleaguered bomber squadron. Poor leadership has left the men undisciplined, weary, and has led to heavy losses. Savage arrives with a stern hand to whip the group back into shape ahead of a new mission into Germany. Putting them through their paces in a series of grueling exercises that restore their morale, Savage and his men are soon bombing German targets with a renewed vigor.
A powerful war picture that was praised not just by critics, but by government brass, it was eventually used to help teach leadership skills in the military. Peck himself would be nominated for an Academy Award for Best Actor, while co-star Dean Jagger would take home the trophy for Best Supporting Actor.
Worst: Shoot Out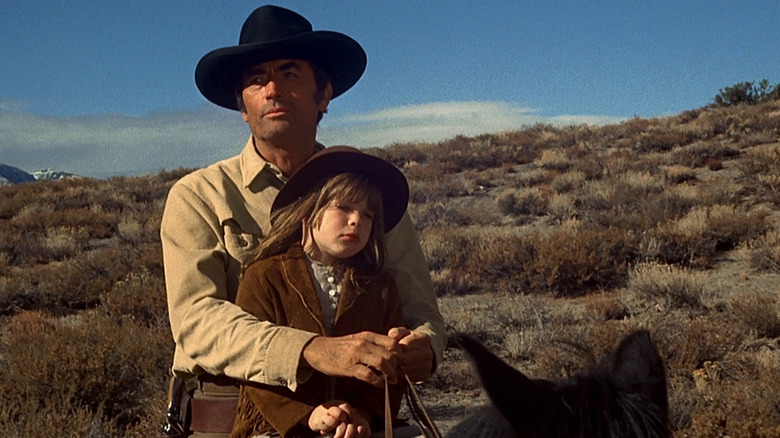 Universal Pictures
A movie about a veteran cowboy forced to travel with a young girl as a companion, the 1971 Western "Shoot Out" may have been trying to ape the success of "True Grit," even enlisting the same writer and director. Unfortunately, it seems they tried a little too hard to replicate the John Wayne hit, because in the end it was without a doubt the worst Western that Peck ever made.
Peck stars as Clay Lomax, an ex-con who's spent nearly a decade behind bars for bank robbery. Seven years earlier, his former partner Sam (James Gregory) had shot him in the back, made off with the score, and left him to be scooped up by the law. Now that Lomax is out of prison, Sam knows that he'll be looking for payback and hires a group of gunslingers to hunt Lomax down. But just as Lomax is about to begin his quest, he becomes saddled with the young daughter of an old friend. Now, he'll have to keep her safe while defeating Sam's new gang if he's going to get his revenge.
A cliched revenge Western, "Shoot Out" was knocked for its formulaic approach and similarities to the Wayne vehicle from 1969. In the end, Peck might have been better off appearing in something a bit more fresh and original than a watered-down copy of "True Grit."
Best: Roman Holiday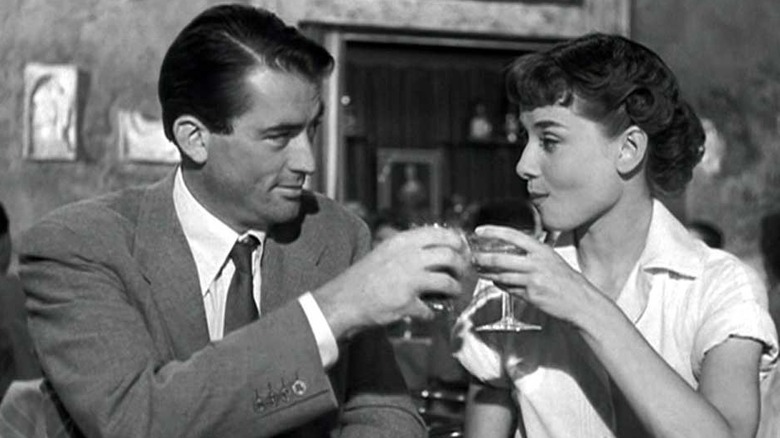 Paramount
In addition to action movies and thrillers, Gregory Peck also starred in a number of romantic comedies that put his good looks and suave charm to good use. In fact, in 1953, Peck starred in what is considered one of the greatest rom-coms ever, the classic "Roman Holiday." Though written by acclaimed scribe Dalton Trumbo, the latter's place on the Hollywood blacklist meant he sadly wouldn't receive credit for it until 2011.
Peck and the 24-year-old Hepburn — in her first major leading role in a Hollywood film — play a pair of mismatched lovers. Peck is Joe Bradley, an American reporter assigned to a story in Italy, while Hepburn is Princess Ann, a young member of European royalty on vacation. But Ann has no interest in the celebrity that comes with her station and is looking for the freedom she doesn't get back in her home country. Ditching her entourage, Ann galavants around the city, where she meets Joe and sparks a whirlwind love affair.
A finely crafted comedy, "Roman Holiday" was a big hit and the chemistry between Peck and Hepburn was a big reason why. Nominated for 10 Academy Awards and winning three — including Best Actress for Hepburn — it turned Hepburn into a star, while becoming one of the most beloved rom-coms ever made. 
Worst: Old Gringo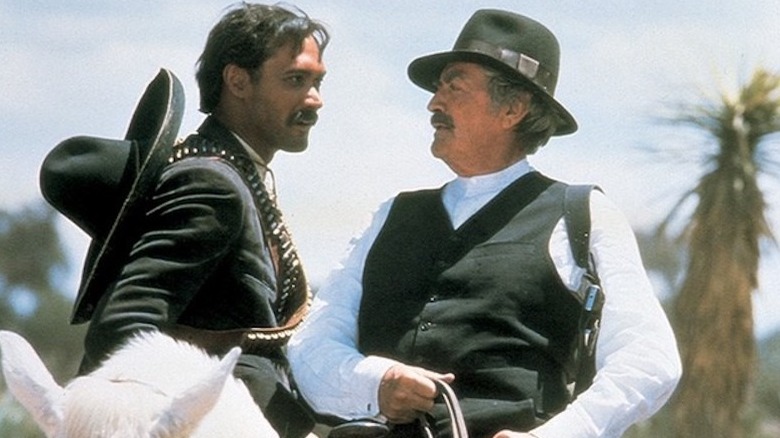 Columbia Pictures
Over the course of his long career, Gregory Peck played a real-life historical figure in several well-received films. Among those were a surreal version of Nazi scientist Josef Mengele in the sci-fi thriller "The Boys From Brazil," and acclaimed author F. Scott Fitzgerald in "Beloved Infidel." But he'd play another author, 19th century writer Ambrose Bierce, in "Old Gringo," a movie that would wind up among the worst films he'd ever make. 
In real life, Bierce headed off to Mexico, presumably to research the ongoing revolution there for a new book — though nobody is quite sure — only to disappear and never be heard from again. "Old Gringo," based on a book by Carlos Fuentes, imagines Bierce's ultimate fate, fictionalizing his final days as a sweeping romance. It follows Bierce's travels across the border, how he becomes involved in Pancho Villa's revolution, and how he's drawn into a love triangle with an American schoolteacher (Jane Fonda) and a Mexican general (Jimmy Smits).
Released in 1989, it landed to terrible reviews, with the New York Times even noting that was booed at the Cannes Film Festival ahead of its release. Noted critic Roger Ebert said there was a compelling story at its heart, but that the film was "light on drama and storytelling." Weighed down with a sloppy script and haphazard direction, it's always been thought of as one of Peck's worst.
Best: The Gunfighter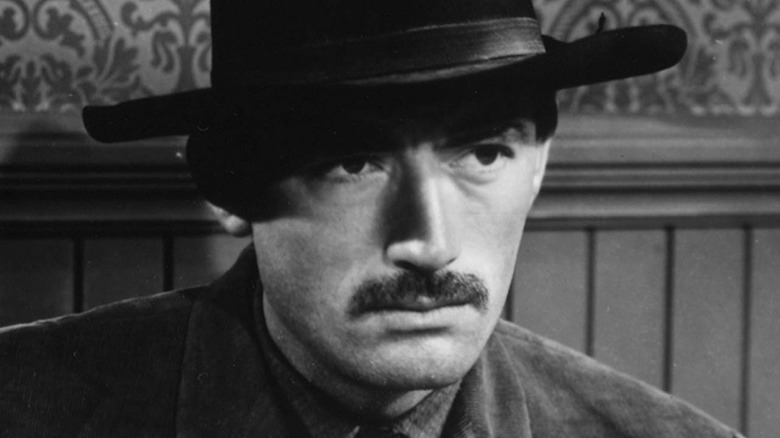 20th Century Fox
The Western genre is full of classics such as "High Noon," "The Searchers," and "Shane," along with iconic stars like John Wayne, Clint Eastwood, and Gary Cooper. Gregory Peck is right up there too, starring in at least one of the genre's finest, the 1950 film "The Gunfighter." A different kind of cowboy movie, the film takes the story of a legendary gunslinger and gives it a twist, as the titular hero isn't a fortune-seeking outlaw like Eastwood's Man with No Name, or even a do-gooding lawman like John Wayne's Sheriff Chance.
Instead, Peck plays Jimmy Ringo, a world-weary sharpshooter who wants nothing more than to retire and live out the rest of his days in anonymity with the woman he loves. Known for his skills with a six-shooter, Ringo is considered the fastest gun in the West, and that alone makes him a target. Despite his attempt at retirement, every would-be cowboy on the plains is eager to make a name for themselves, because there's no quicker way to become a legend than by gunning down the notorious Jimmy Ringo.
At a time when most Westerns were fast-paced action adventures with gunslingers eager to kill, "The Gunfighter" stood out with a somber story of a man who doesn't want to pull the trigger. 
Worst: The Portrait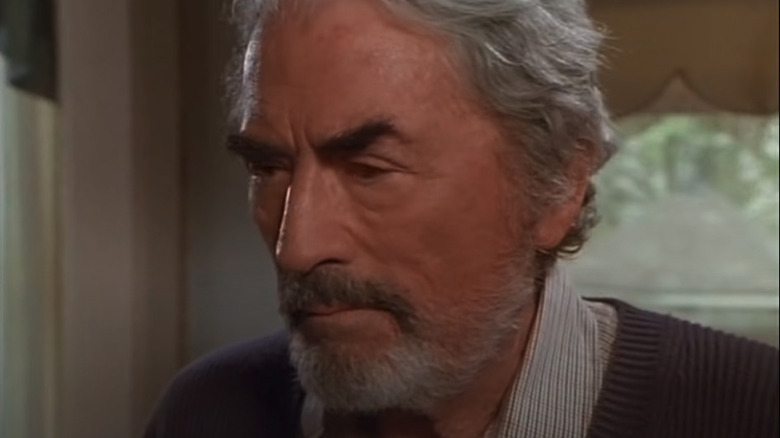 TNT
Though Martin Scorsese's 1991 remake of "Cape Fear" would mark Peck's final performance in a theatrical release, he played two more roles onscreen before his death. One was Father Mapple in the Patrick Stewart-starring TV miniseries version of "Moby Dick." But the other, in the 1993 television movie "The Portrait," ranks among his worst. A sentimental tearjerking drama, it reunites Peck with his "Designing Woman" co-star Lauren Bacall, with the pair of veteran actors playing an aging couple in retirement.
Peck's real-life daughter Cecilia stars in the film as Margaret Church, a New York City portrait painter who arrives at the home of her parents to paint their likenesses. Upon her arrival, Margeret discovers that her parents are selling the family home and planning to move away and spend their remaining years elsewhere. She's also surprised to learn that the memories of her mother and father as powerful parents don't quite match up with the more frail and forgetful figures that they are now. 
Based on an Arthur Penn play titled "Painting Portraits," this TNT original movie is a slog to sit through, with a dull script and an awkward, cheaply produced story about getting older. 
Best: Cape Fear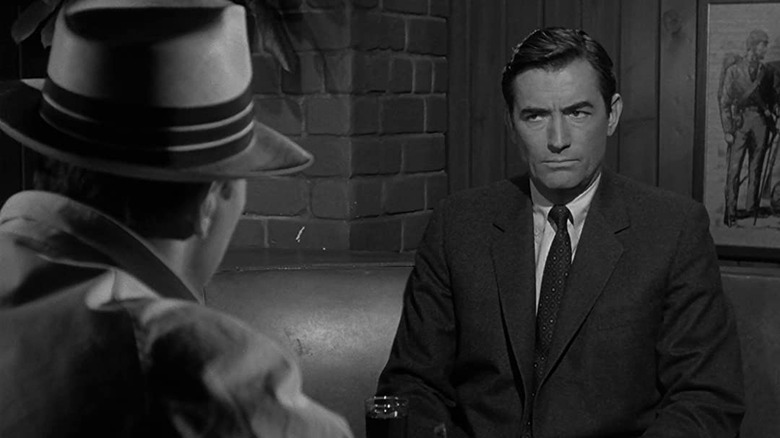 Universal Pictures
1962's "Cape Fear" is one of the truly great thrillers in Hollywood history, and may very well be deserving of the top spot on this list, depending on your tastes. Directed by J. Lee Thompson, who had worked with Peck on "The Guns of Navarone" just a year earlier, it was a brilliant, nail-biting suspense story that stands as tall as any Hitchcock stunner.
Nearly a psychological horror movie, the story centers on Cady (Robert Mitchum), a deranged psychopath who has spent almost a decade in prison after being put away for a violent assault. During his trial, it was the testimony of Sam Bowden (Peck), a respected lawyer, that was key to securing a guilty verdict. But with Cady now out from behind bars, he comes looking to get even on the man who sent him there, and his crazed warpath sees him hunting down Bowden's wife and daughter to get his bloody revenge.
Riddled with unflinching terror, "Cape Fear" — even more than six decades later — remains a chilling revenge story, full of palpable dread, that we are certain will leave you on the edge of your seat. Though it was the subject of a stellar 1991 remake by Martin Scorsese, few movies of its kind have ever been able to match it.
Worst: The Chairman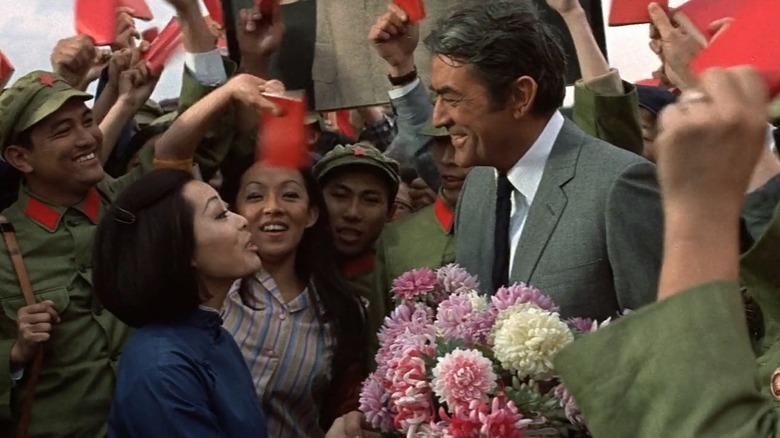 20th Century Fox
In a major miscalculation, Gregory Peck starred in 1969 in a film that seems inspired by the James Bond franchise, a political spy thriller called "The Chairman." Directed by J. Lee Thompson, the man behind "Cape Fear" and "The Guns of Navarone," it had the right man behind the camera, but the result was definitely not a winner.
Instead of a super-spy, Peck plays a brilliant scientist named Dr. John Hathaway, who still has all the suave good looks and dashing charm of Sean Connery's 007. Hathaway has ties to a prominent Chinese national, a former mentor named Soong Li (Keye Luke), so the U.S. government enlists him to travel to the communist nation and uncover the secret of his latest invention: an enzyme that can help grow crops in any climate. Though they've implanted a microchip in his brain to monitor his mission, what they haven't told him is that it's also a tiny explosive that they can detonate remotely.
A bad action thriller that's not terribly clever and full of overwrought cliches, it also peddled the worst kind of unnecessary fear-mongering at the height of the Cold War. New York magazine called the movie "idiotic," while others criticized its lack of excitement, confusing story, and poor performances. Easily Peck's worst movie, it a film that's bad in so many ways that it feels well below the quality of the rest of his distinguished career.
Best: To Kill A Mockingbird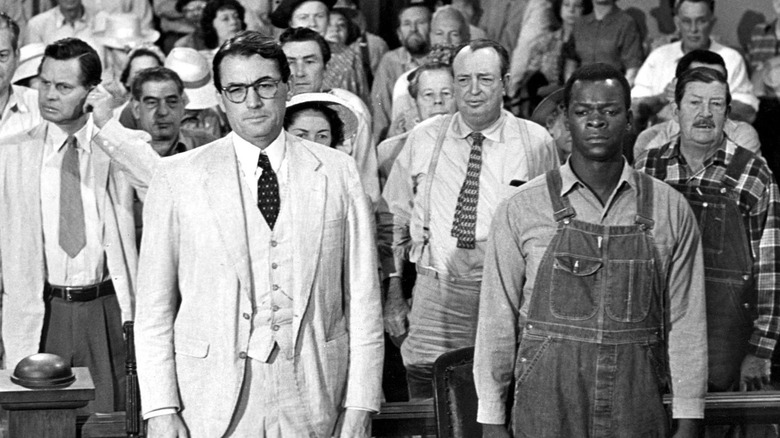 Universal Pictures
Nominated for eight Academy Awards, including Best Picture, there's no doubt about the esteem in which audiences and critics hold the 1962 film "To Kill a Mockingbird." Thanks in no small part to Gregory Peck's impeccable performance — for which he won his first and only Oscar for Best Actor — the film managed to live up to the original book by Harper Lee, published just two years earlier, which is still among the most celebrated novels in American literature. 
Peck plays Atticus Finch, a well-respected and accomplished lawyer in the segregated American South who takes up a complicated case involving Tom Robinson, a Black man accused of a violent attack on a young white woman. Representing his controversial client, Finch and his family — including his daughter Scout — become lightning rods for the townspeople's racism. As the family is subjected to violence from their own community simply for their association with Robinson, the story becomes a powerful and moving treatise on intolerance.
Already exploring sensitive subject matter, the film adaptation of "To Kill a Mockingbird" resonated even more because it was released at the apex of the Civil Rights era in the early 1960s. And it wasn't just about Peck, as co-star Brock Peters ("Star Trek: Deep Space Nine") delivered a moving performance as Robinson, while young actress Mary Badham was nominated for Best Supporting Actress as Scout. This isn't just Peck's best, but one of the era's finest films overall.