The Peaky Blinders Character You Didn't Realize Was Based On A Real Person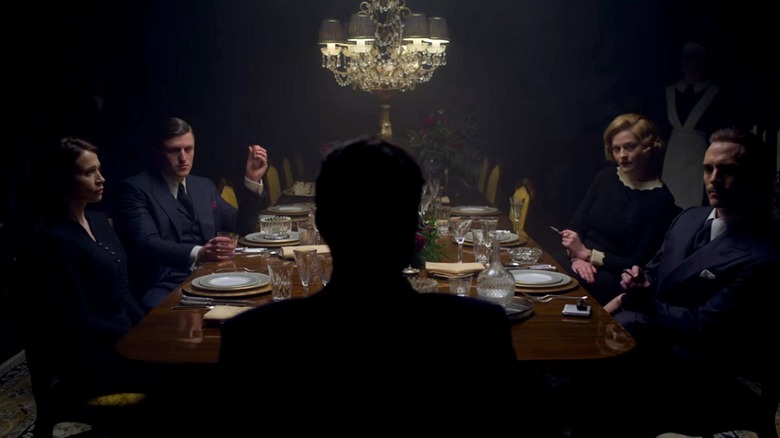 Netflix
As a crime drama that's also a period piece, "Peaky Blinders" mixes fact with fiction to create a compelling story of gang life in post-World War I England. Certain aspects of the show are based on reality, such as the costumes and props, the Peaky Blinders gang itself, and the portrayal of politics and war. However, other details are invented in order to make the show more entertaining, or to highlight certain emotional truths. As a result, while most of the show's characters are fictional, some characters on "Peaky Blinders" existed in real life. 
Sometimes, the "Peaky Blinders" characters based on historical figures share names with their real-life counterparts, making them easy to identify. Winston Churchill, the British Prime Minister, is portrayed by a few actors over the show's run. Jessie Eden (Charlie Murphy) is a fictionalized version of the famous British activist and trade union leader, who supported equal rights for women. In later seasons of the show, Sam Claflin plays a fascist member of the British parliament named Oswald Mosley, who is based on a real politician of the same name. 
"What I'm trying to do is take history, and the specific things history notices, then write around the things that aren't so known," series creator Steven Knight said in an interview with The Guardian. "So Mosley was having an affair with his wife's sister and stepmother, but history doesn't count that, that isn't what we know him for. But who the hell does that? ... I want to make people see that evil is seductive and that we need to be careful."
With that warning in mind, there is yet another character on "Peaky Blinders" who you may not have realized is inspired by a real-life figure.
Boston gang leader Jack Nelson was based on the father of a United States president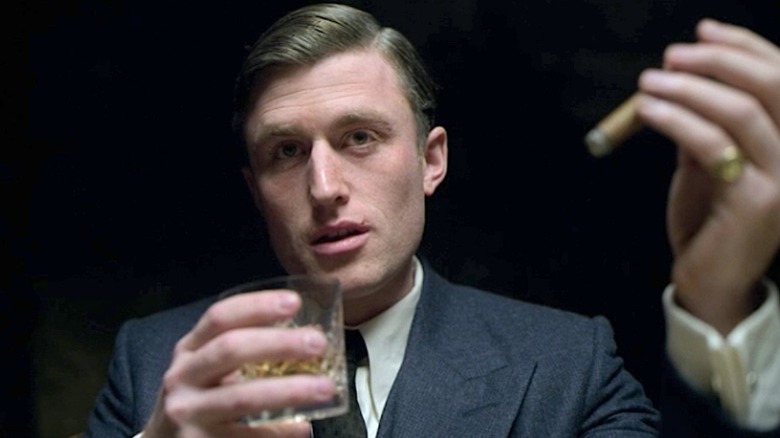 Netflix
In Season 6, James Frecheville plays Jack Nelson, a Boston gang leader with strong political connections, as well as the uncle of Michael Gray's (Finn Cole) wife, Gina (Anya Taylor-Joy). He's also based on Joseph Kennedy, Sr., the father of President John F. Kennedy. As Steven Knight told Deadline, he was surprised that more viewers didn't make the connection. "I thought people would clock it because there's plenty of hints there," Knight said. "No one spotted it."
On "Peaky Blinders," Nelson sails with his wife, his mistress, and President Franklin D. Roosevelt's son to England, where he purchases import licenses for whiskey just as Prohibition is ending in the United States. According to Time, this is exactly what Joseph Kennedy Sr. did to make his fortune. Additionally, according to Susan Ronald's book "The Ambassador: Joseph P. Kennedy at the Court of St. James 1938-1940" (summarized in The Washington Post), Kennedy thought it was preferable for Americans to do business with fascists, including Hitler, in order to avoid war, just like Nelson does on the show. 
Nelson is still a fictional character, and not all of his actions are based on Kennedy's. Kennedy probably never tried to do business with the actual Peaky Blinders, and Nelson's family members do not appear to be based on the other Kennedys. 
Just how historically accurate "Peaky Blinders" is remains a complex question. While the show cannot possibly depict exactly what occurred, it portrays a realistic version of what could have happened, and offers a vision of how history could repeat itself if people aren't careful, as Knight warns.