Black Mirror Actor Teases Jodie Foster's 'Exquisite' Season 4 Episode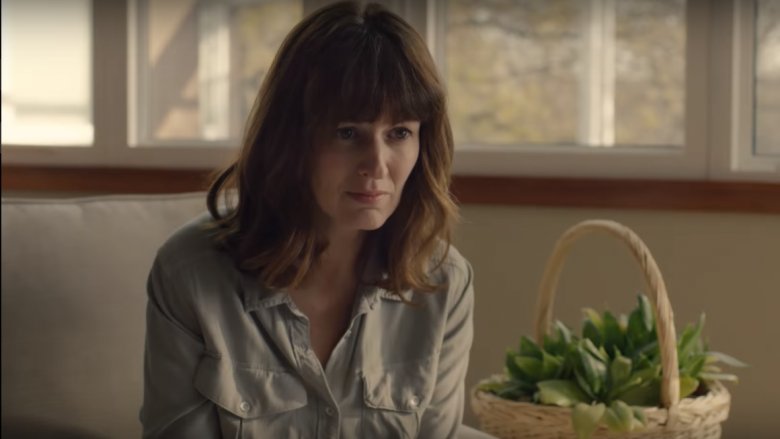 Netflix has been letting information about the fourth season of Black Mirror out at a slow and steady drip, raising awareness about the new episodes while keeping their actual content shrouded in mystery. Now, with just days to go before the release of the new season, actress Rosemarie DeWitt is spilling some details on what viewers can expect from her installment, "Arkangel", directed by Jodie Foster.
DeWitt broke her episode down during a chat with Entertainment Weekly, telling the magazine that she had been unfamiliar with Black Mirror before Foster sent her the script for "Arkangel". As usually happens with this show, it only took one episode (or, in her case, a script read-through) to turn her into a fan. 
"It was exquisite on the page," DeWitt said of the episode's script. She further cited some of her favorite episodes as being the cartoonish satire "The Waldo Moment" and the emotionally devastating "Be Right Back".
During the discussion, DeWitt broke down her "Arkangel" character's attributes and motivations as a mother whose protective instincts take her down a dangerous path.
"I play a single mom named Marie who has a bad experience at the playground," DeWitt said. "And I get sort of freaked out about the safety of my child. There's a new device that can help me ensure my child's safety, and I give it a shot."
"Thinking about it, you know, our phones are everything, they're kind of benign," DeWitt continued. "They're kind of like a blender or something. It's how you use it, and so the real dance of this episode is how I use this technology."
DeWitt's own personal aversion to technology may have also played a role in the show resonating with her, with her being rather familiar with feelings of tech-induced paranoia. "I'm not on any social media, I don't even know what things are. I'm so behind the times," she said. "I took the baby monitors out at like six months because I felt it was an invasion of privacy. Like, I'm that kook."
Owing to her worldwide name recognition, Foster is easily the most high-profile director to helm an episode for the new season, which series creator Charlie Brooker commented on to EW.
"Netflix had worked with her before and they suggested Jodie," Brooker said. "We were like, 'Really? You think she would?' We had a Skype conversation during which I managed to keep my cool and not freak out. She responded to the script and she had a lot of thoughts and suggestions on the characters so there were a lot of adjustments." 
Brooker said that Foster brought a unique vision to the episode that wouldn't have been a part of it otherwise. "She's not just a gun for hire; she's incredibly intelligent and comes in with some thoughts on the material," he said. "Which is what you want in a director because each story is a standalone, so you want each to be idiosyncratic to that director. And she brought a lot of that."
In addition to Foster, the fourth season of Black Mirror will also feature episodes directed by Toby Haynes (Doctor Who, Sherlock), Tim Van Patten (The Sopranos, Game of Thrones), John Hillcoat (Lawless, The Road), David Slade (Hannibal, American Gods) and Colm McCarthy (Sherlock, Peaky Blinders). 
Along with DeWitt, "Arkangel" stars Brenna Harding, Owen Teague, and Sarah Abbott as Marie's daughter. Like most episodes in the series, the script for "Arkangel" was written by Charlie Brooker. Netflix released a trailer for the episode on November 25, with the tagline for the episode being "The key to good parenting is control." 
All six episodes of the fourth season of Black Mirror will be available on Netflix on December 29. Check out the ominous poster for the episode down below. 
The key to good parenting. pic.twitter.com/J97Ij0u9jc

— Black Mirror (@blackmirror) November 24, 2017