The Actress Who Plays Marceline The Vampire Queen In Adventure Time Is Gorgeous In Real Life
On paper, "Adventure Time" should have solely appealed to its young demographic. The figures are drawn brightly and simply, the main character is a shape-shifting dog, and the series takes place in the fantastical Land of Ooo where anthropomorphized gum is a princess. Nonetheless, "Adventure Time" gained a devoted following of adults and teens thanks to its adult-friendly tone that is altogether sophisticated, silly, and complex.
Perhaps no character exemplifies the range of tones on "Adventure Time" better than Marceline the Vampire Queen. Marceline is your standard vampire queen: talented, fun-loving, and 1000 years old, with soul-sucking skills to boot thanks to her demon father. Critics praised Marceline's development over the series' 10-season run from 2010 to 2018, marking her shift from quasi-villain to a close friend to Finn (Jeremy Shada) and Jake (John DiMaggio).
The half-vampire, half-demon may be wan and fanged, but the actress who voices Marceline is decidedly less vampiric.
Olivia Olson voices Marceline the Vampire Queen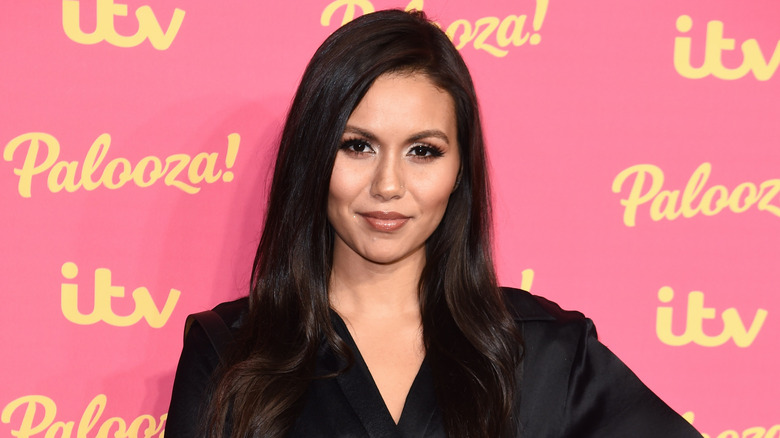 Featureflash Photo Agency/Shutterstock
Since her introduction in Season 1, Marceline the Vampire Queen has been voiced by Olivia Olson. Sharp-eared animation fans may recognize Olson's voice from "Phineas and Ferb" in which Olson played Vanessa Doofenshmirtz from 2008 to 2015. Olson has become a fixture on adult-friendly animated series, having also appeared in episodes of "Steven Universe" and "Robot Chicken."
Olson's best-known live-action role takes us back to the halcyon days of 2003 when the young actress played Joanna in "Love Actually." Olson's honeyed voice delivered a version of Mariah Carey's "All I Want For Christmas" that rivals the original. The then-10-year-old's performance was so good, that the producers asked her to sing a version with fewer runs and vocal flourishes. "My dad told me later that they were like, 'She sounds too good. No one's going to believe that she's really singing that,'" Olson told EW. Seven years later, Olson brought her singing talents to "Adventure Time," where Marceline's songs soundtracked some of the series' most poignant plot lines.