Daredevil Season 3 Will Feature An 'Evolving' Kingpin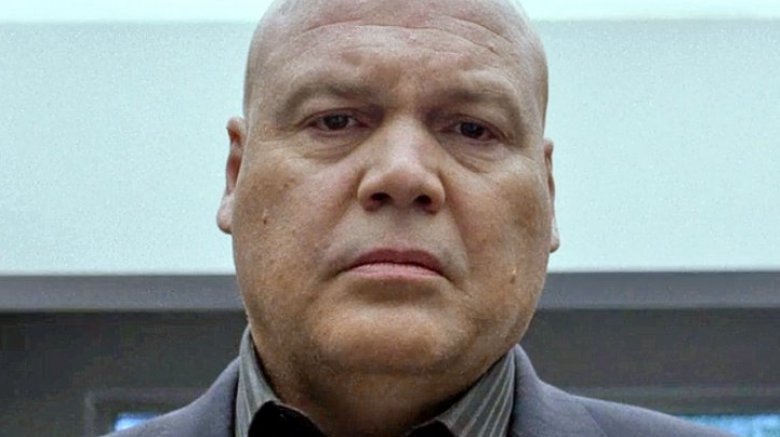 This baddie is only going to get better. 
Speaking in an interview with Collider, Daredevil actor Vincent D'Onofrio, who plays the hulking villain Wilson Fisk/Kingpin, discussed how the Netflix-Marvel series is moving forward now that a new showrunner is on board. Co-executive producer of Unforgettable and Arrow Erik Oleson replaces Doug Petrie and Marco Ramirez (who previously stepped in for Steven DeKnight) for the upcoming third season of Daredevil, and that means significant changes–particularly for D'Onofrio's character–are in order. 
The actor explained that Oleson has placed Kingpin on an emotional trajectory for season three, one that sees him grow, adapt, and evolve. "It's hard to top the first season, with Steven DeKnight's writing, but Erik Oleson is a very good writer. I've shot some pretty cool scenes so far. It's different, but it's very Fisk. It's still very emotional," teased D'Onofrio. "The character is evolving. His whole deal is based on emotion, so we're taking him down that role further."
Once Kingpin returns to Hell's Kitchen–where he'll likely make Matt Murdock's (Charlie Cox) life a nightmare and the surrounding suburbs a total hellscape–he'll set his sights on "new focuses and new goals," as D'Onofrio put it. 
He was sure to add that Daredevil fans will be wholly satisfied with the butt-kicking action sequences and hair-pin plot turns that happen in the forthcoming season. "I can only say that we're doing things that are just going to blow the fans away. We've already shot some things that are just going to be neat for the fans," said D'Onofrio. "There's some awesome things that are very much in the history of Fisk and Daredevil, that people have been waiting for. We've already put some of that stuff in the can, and there's a lot more to do. I think they're gonna be very happy."
D'Onofrio also took the time to express his adoration for the character and his excitement to be working in the Marvel television world. "I love the idea that I get to play him. I wanted to do the right thing, and I want to keep doing it," the actor stated. "I remember the first season and how all of the Daredevil and Fisk fans were talking about it. It's a big deal to them, and that really inspired me. It really brought my enthusiasm up, a lot. Their interest and their enthusiasm helps me do the best I can." However, that's all the actor could say about the upcoming season without spoiling specifics. "If it was up to me, I would go on and on and on about it because it's so interesting, but it's so important to them, for us to keep our mouths shut," he said.
D'Onofrio's remarks here are a positive sign in three ways: 1) they pump fans up for more Daredevil, 2) they prove that he's as committed to his character and the series as ever, and 3) they palliate any fears that Daredevil's third turn with new showrunner would result in disaster. 
Taking a look at all the cards on the table, it seems Daredevil season three will surprise us all–and just might be the series' best installment yet.