The Real-World Law Enforcement Official Who Provided Loads Of Inspiration For Tom Selleck On Blue Bloods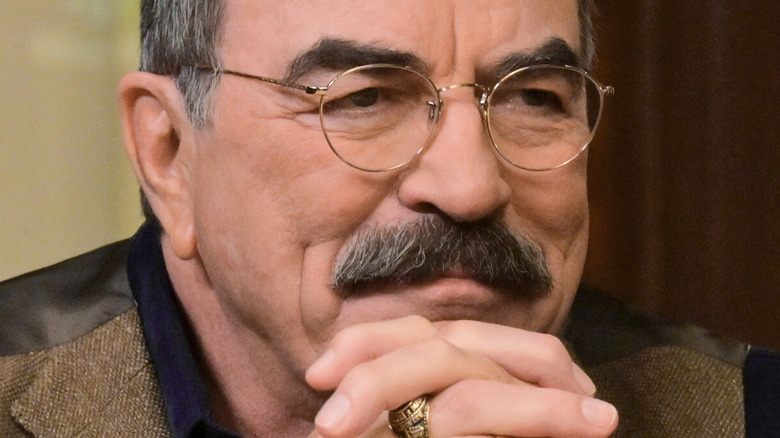 CBS
Tom Selleck has been playing Commissioner Frank Reagan on "Blue Bloods" for over a decade, and the series is arguably one of the most popular titles the small screen has to offer viewers. There are most assuredly a lot of things that have contributed to the show's success, and there is no denying that Selleck's performance is one of the highlights for many who enjoy the crime drama.
The series has managed to attain an exceptional audience score on Rotten Tomatoes despite the fact that it's always snubbed by the Emmys. The popular police procedural's portrayal of the multigenerational criminal justice dynasty has kept fans coming back for more on a consistent basis for over ten years (via TV Insider), and Variety reported that "Blue Bloods," which first aired in September 2010, was one of the most-watched shows of the 2021–2022 season. But how have Selleck and the rest of the talented people involved managed to turn "Blue Bloods" into such a worthwhile endeavor?
The poignant storylines and accuracy in policing help the show stand out from the competition. But Selleck thinks "Blue Bloods" is so successful because viewers love the characters and how each actor has cultivated their unique personality. And he could very well be on to something, especially when it comes to his character and the real-life individual who gave him tons of inspiration.
Tom Selleck was inspired by former NYC Police Commisioner Bill Bratton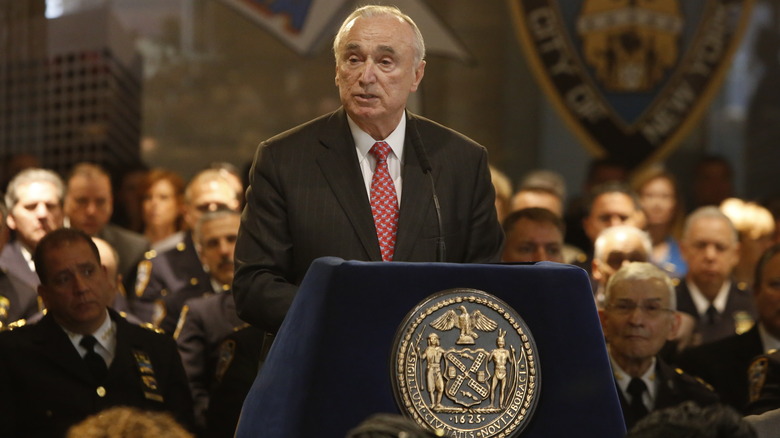 a katz/Shutterstock
In an interview with TV Guide in 2015, Tom Selleck was asked if he knew a man named Bill Bratton, who was the New York City Police Commissioner in real life at the time, and if he had gained any insight from his experiences in law enforcement. He responded, "I do. Bratton had a lot of influence on me. I read his book Turnaround, about his first time on the job, under Rudy Giuliani. Though they were on the same page philosophically, there was a lot of conflict between the mayor and his police commissioner."
Selleck made a solid choice looking to Bratton for inspiration for his "Blue Bloods" persona because when it comes to police experience, the man has had a very impressive career. In addition to serving two terms as the NYC Police Commissioner, Bratton also served as the Boston Police Commissioner and the Los Angeles Chief of Police (via Columbia University). In 2009, he earned the honorary title of Commander of the Most Excellent Order of the British Empire from Queen Elizabeth II for his efforts to strengthen relations between American and British police forces (via Los Angeles Times). One year later, he was appointed to the Homeland Security Advisory Council (via U.S. Department of Homeland Security).
Whatever the actor learned from Bratton's experiences has paid off, and real cops also seem to respect the portrayal. Selleck told TV Guide, "All cops have to salute the police commissioner, and sometimes I get a salute! That's a big deal."