The Conners Fans Just Got The Change They've Been Hoping For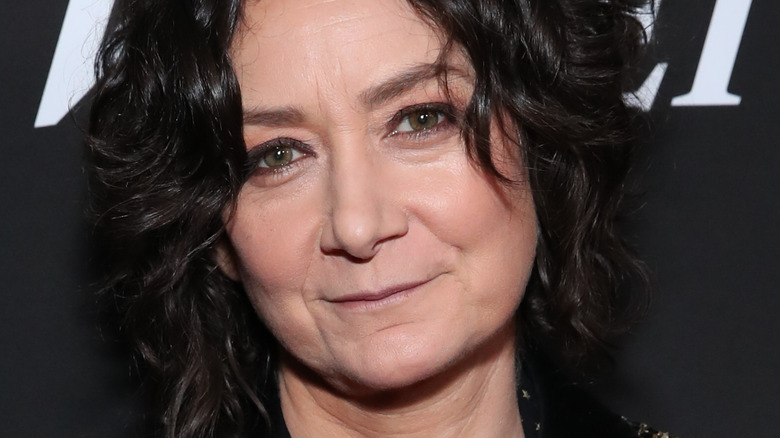 Rich Fury/Getty Images
This article contains spoilers for Season 5 premiere of "The Conners."
Everyone's favorite middle-class clan is back in action as "The Conners" has returned to the small screen. Season 5's maiden voyage, "Double Honeymoon and Seeing Double," featured Darlene Conner (Sara Gilbert) and her new husband, Ben Olinsky (Jay R. Ferguson) heading off on a double honeymoon at a secluded cabin with Darlene's aunt Jackie Harris (Laurie Metcalf) and her new husband, Neville Goldufski (Nat Faxon) to save cash. They quickly realize that they're not very compatible as housemates, especially when Neville and Jackie choose to celebrate their wedding night in a way that Ben and Darlene can't ignore. Meanwhile, Dan Conner (John Goodman) takes his grandkids off to a waterpark for a brief vacation. But Harris (Emma Kenney) and Mark (Ames McNamara) fight due to the fact that they've been drifting apart. Harris quickly learns that Mark is suffering from a broken heart. Their making-up process involves Mark's first hangover and a flooded tub ruining a carpet in their shared hotel room.
Aside from Mark breaking up with his long-distance boyfriend, at least one other big change hit Lanford during Season 5's debut. It's something fans of "The Conners" hgave been yearning for, and now they've finally gotten it.
The show's opening credits have finally been reshot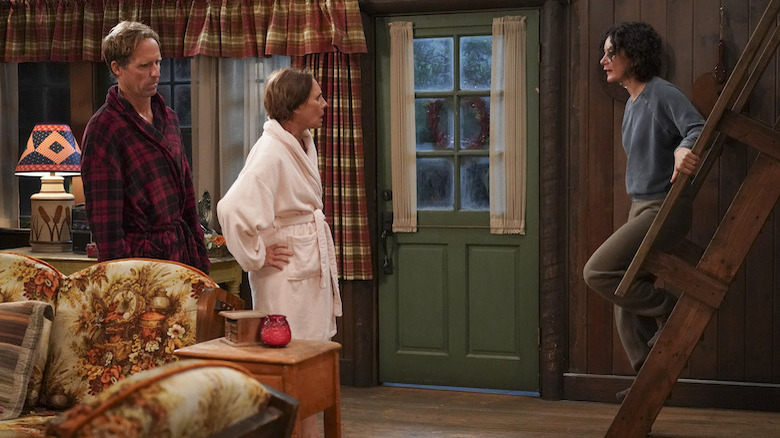 Eric McCandless/ABC
After four seasons of an opening that fans of the show have long complained is both outdated and gross, viewers of "The Conners" were treated to a brand-new set of opening credits for Season 5. The new credits, as per tradition, echo the show's long-held theme of the family gathering to eat a meal together, but the scene has changed up more than the meal itself.
Naturally, D.J. Conner (Michael Fishman) has been excised from the opening in the wake of Fishman's departure from the show as a series regular. But the titles contain Ben for the first time, and Dan, Jackie, Darlene, Becky Conner (Lecy Goranson), Harris, Mark, and Mary Conner (Jayden Rey) all put in appearances as they did during the Season 1-4 credit roll. Notably, Louise Goldufski (Katey Sagal), Dan's wife, does not appear in the credits, nor does Louise's younger brother Neville. TV Line says that this is because both Sagal and Nat Faxon are currently on recurring contracts, and until they become regulars they won't be added to the mix. 
Either way, the new credits scene provides "The Conners" fans with a fresh new way to celebrate the start of their favorite sitcom.