Fans Should Be Worried About Upstead After The Season 10 Premiere Of Chicago PD
NBC
Warning: This article contains spoilers for "Chicago P.D." Season 10, Episode 1 and "Chicago Fire" Season 11, Episode 1
The Jay Halstead (Jesse Lee Soffer) and Hailey Upton (Tracy Spiridakos) romance led to a courthouse wedding in Season 9, and it looked like the couple would live happily ever after. Sure, some disagreements might come when working together, but the strong-willed detectives seemed primed to last. But after the news of Soffer's exit from "Chicago P.D.," many fans were left wondering what would happen to Upstead. As far as we know, Spiridakos is set to stay on "Chicago P.D." and mentioned she was going to miss Soffer on set in an Instagram post. How will their relationship be addressed if she's staying and Soffer is leaving?
We saw how a long-distance or off-screen relationship works (or doesn't work) thanks to Brettsey, who officially called it quits on tonight's "Chicago Fire" premiere. After Jesse Spencer departed the series, Casey's relationship with Brett (Kara Killmer) was up in the air despite it just being solidified that season. It doesn't seem like Upstead could survive an off-screen relationship, and Season 10, Episode 1 of "Chicago P.D." shows there might be trouble brewing already for the couple.
Are Upstead heading for divorce?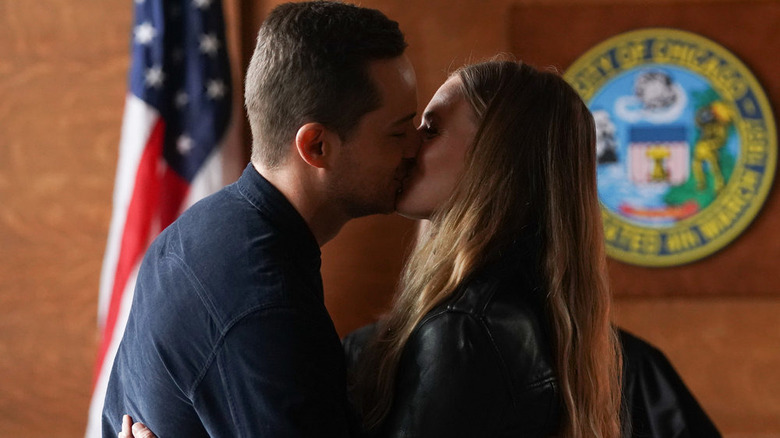 Lori Allen/NBC
The end of the "Chicago P.D." Season 10 opener should not soothe fans' worries about Upstead. Despite Hailey and Jay telling one another that they're good, their faces say something different. Jay looks like he might believe they're in better shape than Hailey, who looks like she's on the verge of tears as she tells Jay they're going to be okay. She doesn't seem to believe it, and neither do we. 
The Anna drama with Voight has locked the threesome into an untrusting relationship, where it doesn't seem like anyone can entirely give in to another. Hailey is mad that Jay does what Voight asks him to do; Voight's angry Hailey is going against his orders, and Jay is mad that Hailey goes rogue. With Jesse Lee Soffer exiting the series either during or right after this season, it seems like we're getting set up for the separation that will likely happen for the duo. We'd be shocked to find out that Jay dies as a way to explain his exit, but this Episode 1 tension suggests it could be a divorce that sends him packing. While Soffer's departure is a tough enough pill to swallow, it would be much easier on fans for him to leave the series alive than wind up six feet under.