We've Actually Seen Chief O'Neal On Chicago PD Before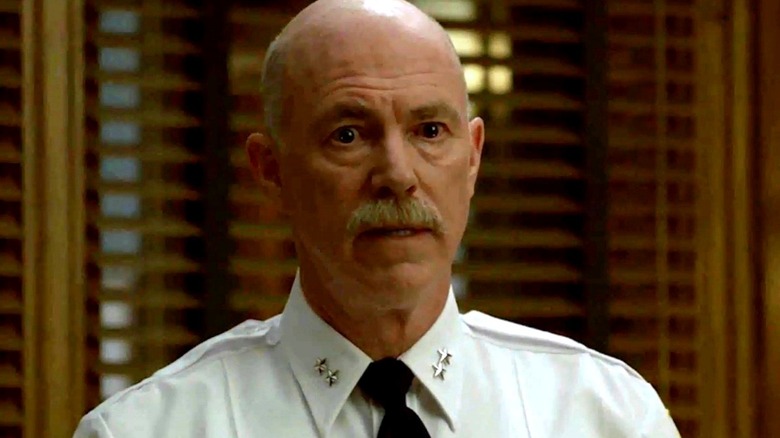 NBC
Warning: Contains spoilers for "Chicago P.D." Season 10, Episode 1
Series in the Dick Wolf catalog are constantly recycling through actors. There are plenty of actors who appeared in a one-off in the "One Chicago" or "Law & Order" universes and then appeared years later in another role. Perhaps the most obvious example is Peter Scanavino, who appeared on "Law & Order: SVU" in Season 14, Episode 13 "Monster's Legacy" as suspect Johnny Dubcek. One year later, he'd join the series as Dominick Carisi. "Chicago P.D." newcomer Dante Torres is played by Benjamin Levy Aguillar, who first appeared on the show as Franco Chavaro in Season 7.
We're seeing the same trend in the Season 10 premiere of "Chicago P.D." The team of the Intelligence Unit is given the superintendent's award for valor for taking down Los Temidos in Season 9, which are given to them by the new chief of the 21st district. Hank Voight (Jason Beghe) and new chief Patrick "Patty" O'Neal (Michael Gaston) speak at the end of Episode 1, and it looks like the beginning of a trusting relationship. Voight mentions he's surprised to see Patty in chief stars, to which he laughs and says he could have worked in narcotics forever. But we've seen this man on "Chicago P.D." before, just not as Patty O'Neal.
Michael Gaston had a one-off appearance in Season 2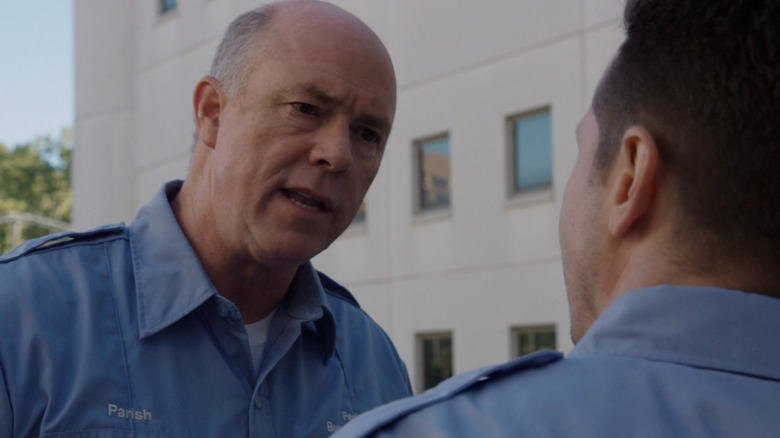 NBC
Michael Gaston has appeared on "Chicago P.D." before, and don't be surprised if you don't recognize him. His last appearance was way back in Season 2, Episode 6, where he appeared in "Prison Ball." Gaston played Parish, a higher-ranking prison guard who gives an undercover Antonio Dawson (Jon Seda) a tour of the prison. At first, it might seem like Parish is a dirty guard, but he's actually good at his job. When he thinks Dawson, who is going by the last name Herrera, is being sneaky and helping out inmates, he fires him on the spot. After outing himself as a UC, Parish helps out, which leads to the arrest of a 10-year-old's murderer. 
Gaston looks very different from his Season 2 appearance, where he didn't support his now-signature mustache. We expect to see a lot more of the chief in Season 10 of "Chicago P.D.," and he looks like he'll be staying out of Voight's way.