Is Guy Lockard Really Leaving Chicago Med After The Season 8 Premiere?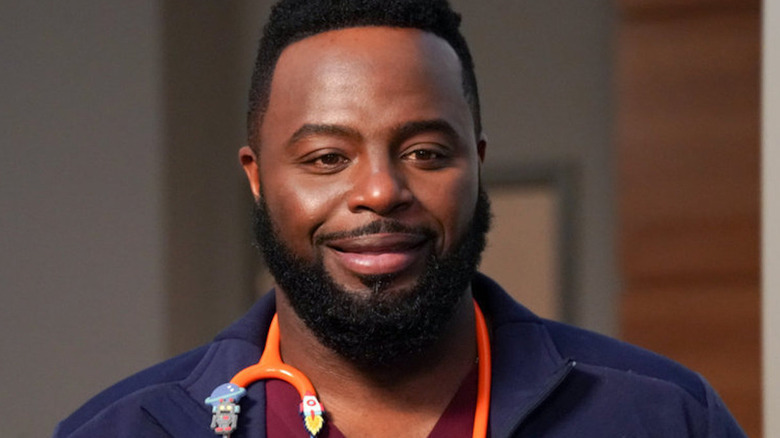 NBC
Warning: This article contains spoilers for "Chicago Med" Season 8, Episode 1
The opener of "Chicago Med" Season 8 was an absolute doozy. The fallout from the apartment building fire was more extensive than we ever could have expected, which was all thanks to Jessa Rinaldi (Angela Wong Carbone), the product rep for Vas-COM. Her attempt to murder Dr. Halstead (Nick Gehlfuss) failed but resulted in the hospitalization of Dr. Asher (Jessy Schram). Jo also succumbs to the gunshot wound delivered accidentally by Dr. Scott (Guy Lockard), which sends the former cop into a tailspin.
Toward the end of the episode, Dr. Scott tells Ms. Goodwin (S. Epatha Merkerson) that he cannot stay at Med anymore. He reveals he was in love with Jo, and where he met her is now where he lost her. It's too much for him to bare being in the ED every daying, knowing it's where Jo lost her battle, so he leaves. Later, Dr. Halstead tries to get him to stay by telling him to take a few days and think it over, but Dr. Scott's response of "You're a good guy Will, take care" seems to suggest he's really leaving.
Lockard was confirmed for Season 8, but that doesn't mean he would show up in every episode. So, is the relatively new "Chicago Med" star already departing the series? Brace yourselves Chi-hards.
See ya later, Dr. Scott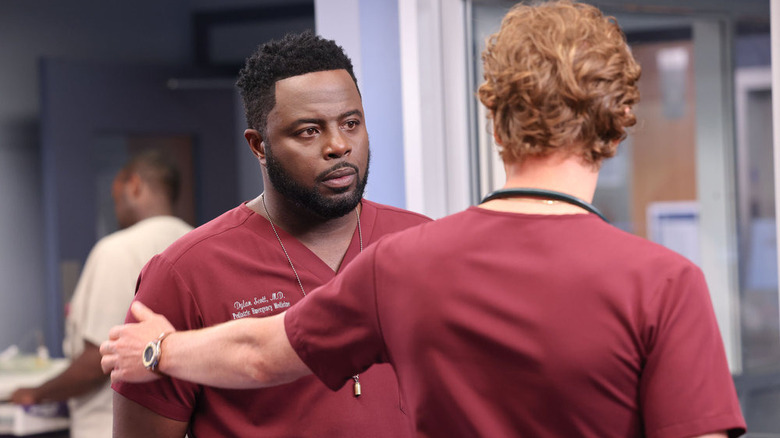 Prior to Episode 1 of "Chicago Med" Season 8, there were no rumblings that Guy Lockard would be leaving the series. NBC confirmed the actor would be back for Season 8, but we're finding out that doesn't mean it would be for the entire season. According to Variety, Lockard is officially leaving "Chicago Med." Co-showrunners Andrew Schneider and Diane Frolov spoke to the outlet and revealed Dr. Scott's arc was done on the series. "We love Guy," they said. "He did a great job and was wonderful to work with. But what was sort of the cornerstone of his character was a doctor who had been a cop, and couldn't escape his past — it becomes very evident in the premiere episode. So having really resolved that, we felt we had really covered his story arc, but Guy is so good and was such a wonderful character that we would welcome bringing him back in the future." 
Frolov and Schneider also said they often have characters leave and come back, so who knows where this might lead. At the time of this publication, Lockard has not commented on his exit from the series. Variety also confirmed Sarah Rafferty, who plays Dr. Pamela Blake, is also out for the rest of the foreseeable future, but she will be mentioned.