Strange World Trailer Has Disney Fans Picking Their Jaws Up Off The Floor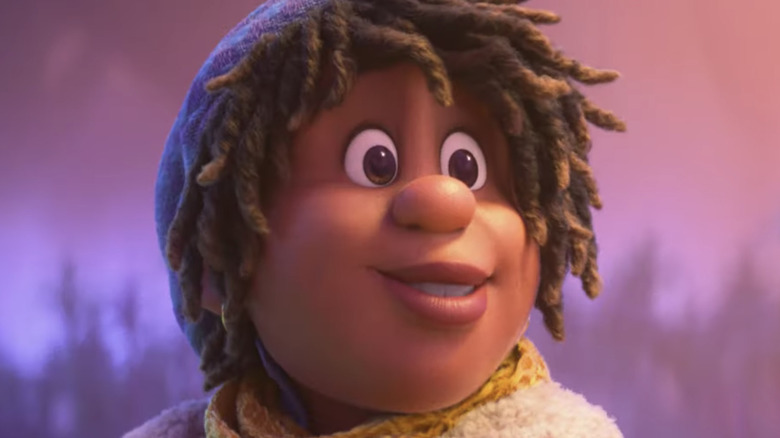 Walt Disney Studios Motion Pictures / YouTube
Walt Disney Animation Studios' "Strange World" is a film which chronicles an expedition to a bizarre and mysterious planet — one whose dreamlike landscapes and host of unearthly wildlife make it unlike anything we've ever seen from the studio before. This expedition is spearheaded by President Callisto May of Avalonia (voiced by Lucy Liu), who contracts the famous Clade family of explorers for her daring mission to this uninhabited planet.
In addition to this breathtaking adventure across the eponymous strange new world, much of the film is also dedicated to the dysfunctional family drama of the Clades themselves — as Searcher Clade (voiced by Jake Gyllenhaal) must confront his long-lost father Jaeger Clade (voiced by Dennis Quaid) after discovering that the latter has been stranded on this mysterious planet for years. Joining them is Searcher's son Ethan (voiced by Jaboukie Young-White), and audiences will watch as the three generations of this bickering family come together in order to survive.
Although the premise of the film is certainly exciting all by itself, fans were finally given the first full trailer for the movie earlier today — and this short glimpse of what the film has to offer has Disney fans picking their jaws up off the floor.
Fans are praising the trailer for its sense of adventure and original story
As mentioned, "Strange World" is a film which combines a moving story about intergenerational trauma with an electric adventure across a stunning and beautiful alien world — and the recently released trailer presents both of these storylines in an extremely exciting way. Disney fans throughout the comments gushed about the trailer's presentation of this surreal and beautiful alien world, as well as the compelling story of the Clade family themselves.
"I can't wait to see this movie," wrote Ghostrob38 on YouTube. "The magic, adventure, suspense, comedy, and everything else straight into a story that is as old as most of the people today. Thank you, Disney." 
"This looks incredible, especially for Disney standards! I can't wait to see it!" echoed The Untitled Random Junk.
Fans all throughout the comments could not stop praising this trailer for it's incredible setting, as well as the unique and original story that the film is presenting — with many favorably comparing the movie to Disney classics like "Treasure Planet" and "Atlantis: The Lost Empire." Indeed, this particular trailer was so impressive that another user joked that the film is already the front-runner for Best Animated Feature at next year's Oscars. 
The extreme praise that this trailer has received thus far is certainly a good sign for the movie, and it's clear that plenty of Disney fans are incredibly excited to see this original and stunning animated film when it arrives in theaters on November 23rd.