Why Olivia Cooke Had A Tough First Day Of Shooting For House Of The Dragon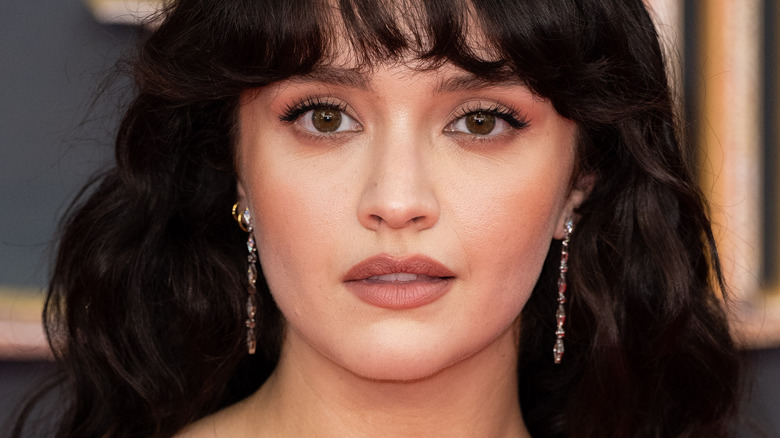 Jeff Spicer/Getty Images
In short order, HBO's "House of the Dragon" seems to have washed the taste of the disastrous "Game of Thrones" Season 8 out of the mouths of most in the fandom. By jumping back in time roughly two centuries prior to the events of the aforementioned series, "House of the Dragon" offers viewers a relatively clean slate as it explores the slow decay of House Targaryen from the inside out. Keeping with the theme of starting fresh, the series brings with it a stable of brand new characters — some good, some evil, and some who haven't gone out of their way to show their hands yet.
One of these franchise newcomers is Alicent Hightower: the second wife of King Viserys Targaryen (Paddy Considine), who has spent much of her life within political circles. Therefore, she's one of the most important and intriguing characters on "House of the Dragon" so far. Emily Carey portrays her in flashback sequences, while Olivia Cooke takes over for scenes depicting her as a grown adult. While it stands to reason both of them got acclimated to their shared role as filming went on, in the case of Cooke, her "House of the Dragon" experience got off on the wrong foot.
Here's why Olivia Cooke had a rough first day on the "House of the Dragon" set.
Cooke had to contend with a hangover and a chipped tooth during her first day on set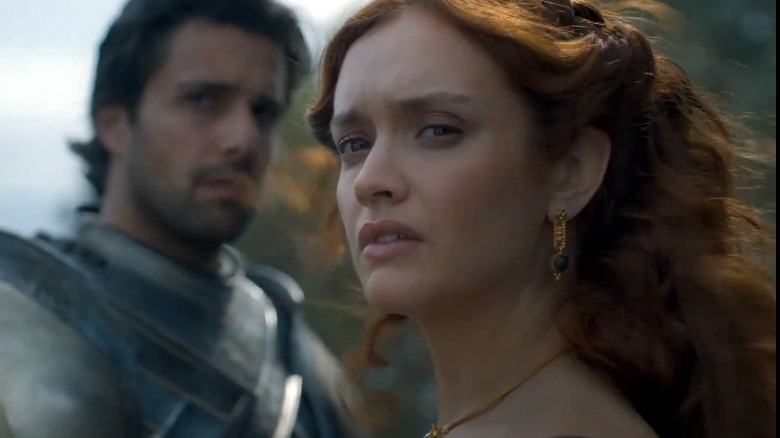 HBO
To promote the inaugural season of "House of the Dragon," Olivia Cooke stopped by "Jimmy Kimmel Live" to discuss the show and her experience entering Westeros for the first time. After revealing that she wasn't familiar with "Game of Thrones" before landing the role of Alicent Hightower — the catalyst for her to then check it out — she dove into her first day on set. "It was amazing, and I was very hungover. Really bad, actually. Really bad," she recalled, explaining that it all boiled down to a visit on comedian Alan Carr's podcast, "Life's a Beach," the day before.
"My call time the next day wasn't until 11, so I brought a bottle of wine just as a gesture and the podcast finished, and we're just chatting, chatting, chatting," Cooke said, admitting that she had a bit too much to drink as the day went on. "I don't remember getting home. I remember, I tipped my head down to put my hair in a pony, fell over," she continues, mentioning that when she woke up, she could feel one of her teeth had chipped at some point — presumably because of her fall. Nevertheless, she went to the "House of the Dragon" set anyway and didn't tell a single soul about her hangover or chipped tooth.
Despite these unexpected obstacles, Olivia Cooke has clearly put her best foot forward as Alicent Hightower on "House of the Dragon." Although, one can only hope for her sake that she won't try her luck again with a situation like this again.