The Major Walking Dead Villain You Likely Forgot Appeared On Shameless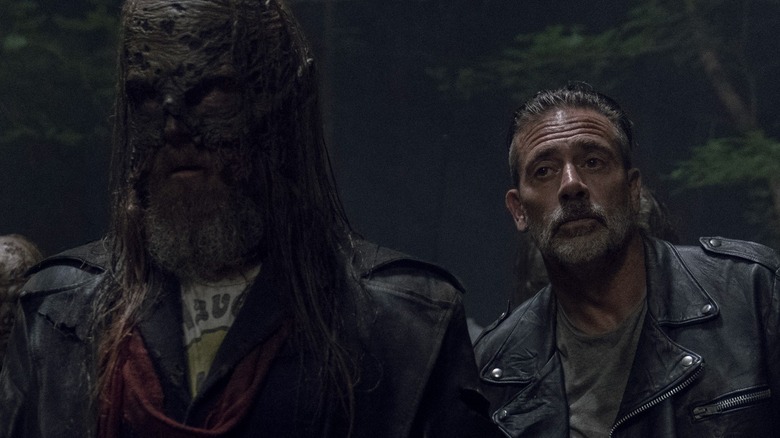 Jace Downs/AMC
Showtime has hosted some strong original titles over the years, and one could certainly argue that John Wells' adaptation of Paul Abbot's "Shameless" stands among the best of the bunch. Starring William H. Macy as Frank Gallagher, who's trapped in a downward spiral of his own creation as he attempts to raise his children, the show is all about making the most of a world that's not so easy to thrive in. It's funny, tense, uplifting, dark, and more, amounting to a wholly unique television experience that the bulk of audiences came to appreciate in no time.
"Shameless" arrived in January of 2011, and within a few short months, it became the talk of the television scene. For the most part, it managed to maintain this impressive level of interest, amounting to an 11-season run that scored the show 134 episodes. Come April of 2021, just over a decade beyond its premiere, "Shameless" concluded its stint, bidding those who'd stood by it farewell. In hindsight, plenty of characters, moments, quotes, and more from the series have endured in popular culture thanks to their timeless nature. However, some elements have slipped the minds of most.
For instance, did you know that the actor behind this famous "Walking Dead" villain appeared on "Shameless"? Here's who they played and for how long they stuck around the show.
Negan actor Jeffrey Dean Morgan appeared on Shameless for a single episode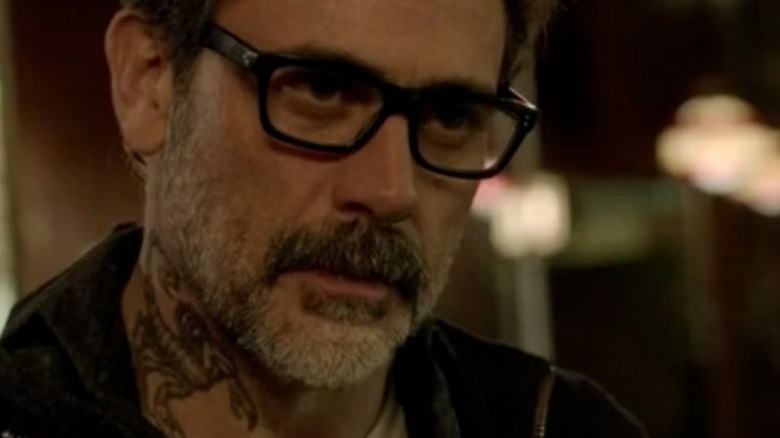 Showtime
In the final episode of Season 4, titled "Lazarus," "Shameless" viewers meet Charlie Peters: the owner of the Golden House restaurant — later renamed Patsy's Pies — who formerly dealt with alcohol addiction. Having gone through such an experience, he has a tendency to hire those recovering from addiction, hence why he's quick to offer Fiona Gallagher (Emmy Rossum) a job following her release from prison. The actor tasked with bringing the character to life is Jeffrey Dean Morgan, who fans of "The Walking Dead" likely recognize as the former leader of the Saviors and wielder of a barbed-wire-wrapped baseball bat, Negan Smith.
With such a high-profile actor playing the character, one has to imagine that Charlie Peters would become a key player on "Shameless" in Season 5 and beyond. However, that's not what happened, seeing as Peters and Morgan were never seen again after "Lazarus." According to the "Walking Dead" star in an Instagram exchange (via Reddit), scheduling conflicts cut his "Shameless" run short. "I was in Mexico shooting 'Texas rising' and we just couldn't work out my schedule to get back and film," Morgan revealed. He seemed quite disappointed at the outcome, too, adding, "It was a bummer because I'm a big fan of 'shameless' and love that cast and John Wells."
With "Shameless" now over, it's unlikely we'll ever get to see Jeffrey Dean Morgan spend more time on-screen as Charlie Peters. Plans were in place for him to do so, but fate clearly had other plans.
If you or anyone you know needs help with addiction issues, help is available. Visit the Substance Abuse and Mental Health Services Administration website or contact SAMHSA's National Helpline at 1-800-662-HELP (4357).