Viola Davis Makes It Clear Where She Stands On A Woman King Sequel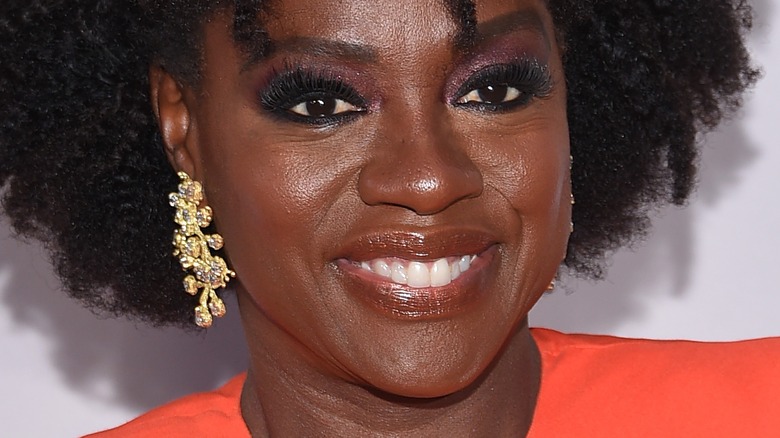 DFree/Shutterstock
The "The Woman King," led by Viola Davis, is a historical epic which chronicles the bloody and tumultuous war between the Oyo Empire and the Kingdom of Dahomey throughout 1800s West Africa. At the center of this fight are the Agojie warriors: female soldiers led by the formidable General Nansica (Davis), who is charged with raising a new host of Agojie to defend their kingdom from the invading forces of General Oba Ade (Jimmy Odukoya).
"The Women King" is a film jam-packed with plenty of memorable scenes and electric action sequences, and one which certainly manages to live up to the epic scale of its premise. Indeed, as of this writing, the film currently holds an astounding 94% Critical Rating on Rotten Tomatoes, coupled with a 99% Audience Score: as both fans and critics alike have praised the film for its jaw-dropping action setpieces and the breathtaking lead performance of Viola Davis.
Considering the immense (and unprecedented) success that the film has enjoyed thus far, it stands to reason that there will be plenty of fans clamoring for a sequel to "The Woman King" – potentially exploring what happens after the film's ending. Luckily, Viola Davis herself recently gave fans a few insights into her own thoughts on a sequel to this epic blockbuster.
Viola Davis says she would love to do a Woman King sequel, but does have concerns
While speaking to Variety about the surprising commercial and critical success of "The Woman King," (which debuted at no. 1 at the domestic box office this past week) Viola Davis and co-star Julius Tennon were asked about the possibility of a sequel — and both actors seemed incredibly enthusiastic about the idea.
"I'm open to do more but let me tell you. I was already the oldest warrior on the battlefield," explained Davis. "If we do a sequel, I'm hoping I still have teeth, but yes, I'm totally open to it. Wide open. Always." 
Although Davis' comments about her age are certainly understandable — considering the fact that she is approaching 60 and the film is extremely action-intensive — her undeniable enthusiasm for a potential sequel is sure to get fans excited.
Tennon (who plays Moru within the film) also expressed his belief that the story certainly felt like it could warrant a sequel, if the studio decided to move forward with one. Although we're still a long way away from having any sort of confirmation for a potential sequel to "The Woman King," these positive comments from Julius Tennon and Viola Davis (coupled with the latter's obvious enthusiasm for the project and the character of General Nansica) make it clear that a sequel is certainly possible.