Humphrey Bogart Once Revealed The Reason He Lost Interest In Performing Live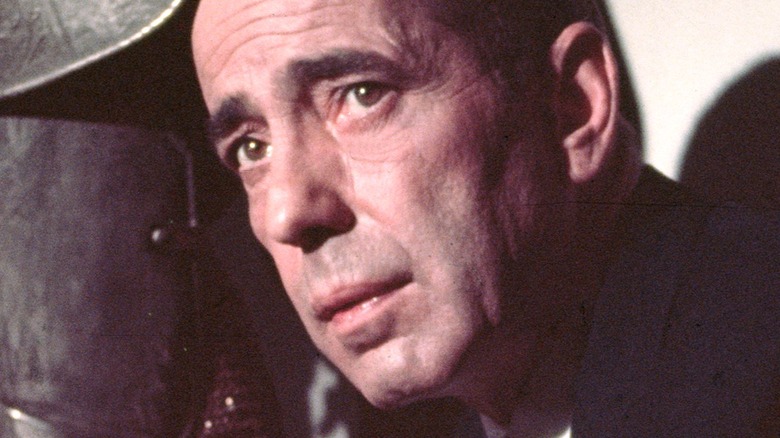 Baron/Getty Images
Hear the name Humphrey Bogart, and we're willing to bet a pretty specific audible memory springs to mind. It's his distinctive voice, speaking that famous line from 1942's "Casablanca": "Here's looking at you, kid." Even if you've never seen the movie, it's so fully embedded in the culture you can hardly escape hearing it now and then. Decades after the movie's release, the line remains relevant. In 1981, the TV series "The Greatest American Hero" used it as an episode title (Season 1, Episode 4). That same year, it was featured in the Bertie Higgins song "Key Largo." And the line is still going strong. In 2019, it was the title of an episode of NPR's "This American Life."
While "Casablanca" looms large in Bogart's career, his body of work was hardly limited to one role in a classic film, however. By the time he'd reached the pinnacle of success in Hollywood, he was a star on both stage and screen. But at a certain point, he left live performance behind for reasons only he could explain.
Bogart made it on Broadway first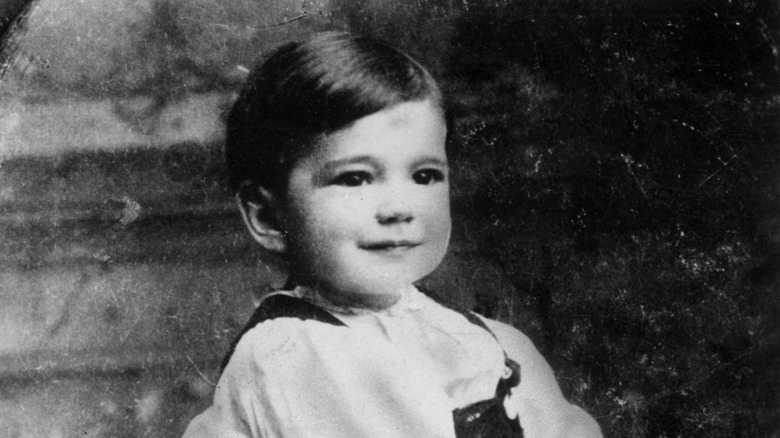 Hulton Archive/Getty Images
Born in New York City in 1899, Bogart began acting after a stint in the U.S. Navy during World War I. He made his Broadway debut in a play called "Drifting," and it was a sign of the times that he — a descendent of Dutch colonial settlers — was cast to portray a Japanese waiter (via AP). While he started out with just one line to deliver, his acting career quickly took off from there with bigger roles and many more live performances on Broadway. "I did an awful lot of it when I was a kid. I started in '21 and I was in seven smash hits in a row and I thought the world was my oyster," Bogart said in a 1954 interview.
Finding success on stage must have seemed easy, and it certainly built his confidence in his craft. But then, he decided to change things up. He made a move across the country to Hollywood. Surely his talents would easily translate to screen work, and no doubt, movie studios would see his star potential. But unfortunately, there was just one insurmountable problem. "I came to Hollywood and was a terrible flop here," Bogart recalled.
So instead of launching a Hollywood career, he turned around and went back to New York, where he continued performing on Broadway. Unfortunately, his next four plays were flops, too. By that point, his heart just wasn't in it anymore, and Bogart made a promise to himself. If he ever made it to Hollywood again, he'd stay. And he wouldn't return to the stage.
He worked hard to live out his Hollywood dreams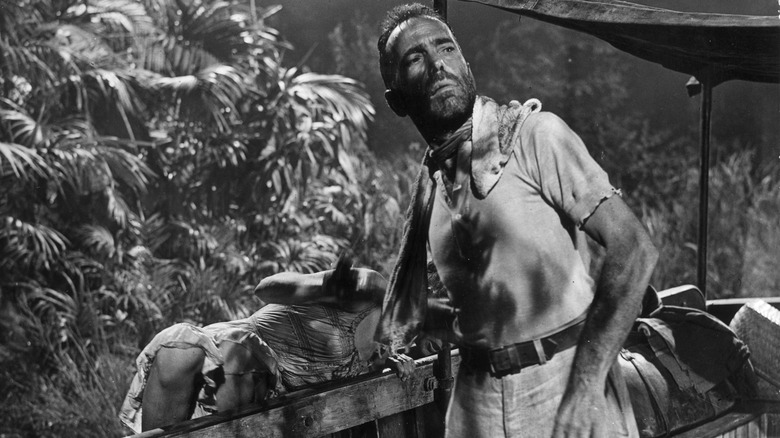 Arthur E. Lemon/Getty Images
Eventually, as we know now, Bogart did make his way back to Hollywood. First, however, he played a role on Broadway that would give him a leg up in his next attempt at a film career. Then, in 1935, he made a big impression in the role of a killer in the play "The Petrified Forest." That led to an opportunity to reprise the role in the movie version. And that's when his film career started taking off (via Britannica).
Over the next few years, Bogart won supporting parts in lesser-known films playing gangsters until he finally landed two breakout roles in 1941. He starred as a killer in "High Sierra" and as a detective in "The Maltese Falcon." By 1942, he'd secured his status as a golden-era Hollywood movie star with the leading man role in "Casablanca." From that point, he worked hard to continue making great movies with roles in classics, including "To Have and Have Not" in 1944, "The Big Sleep" in 1946, "The Treasure of the Sierra Madre" in 1948, "The African Queen" in 1951, and "The Caine Mutiny" in 1954.
Looking back on his career, Bogart had a lot to be proud of and no reason to consider doing anything different. After years of success in movies, there was nothing tempting him back to live stage performances. Having reached his goals, even his ambition had waned. "I like it here," he said of Hollywood. "And so I think I have lost my appetite for the Broadway theater and I think possibly, maybe a little ambition, because I believe that ambition belongs to youth."