House Of The Dragon Episode 5 Brings Driftmark To Life And Fans Have Some Thoughts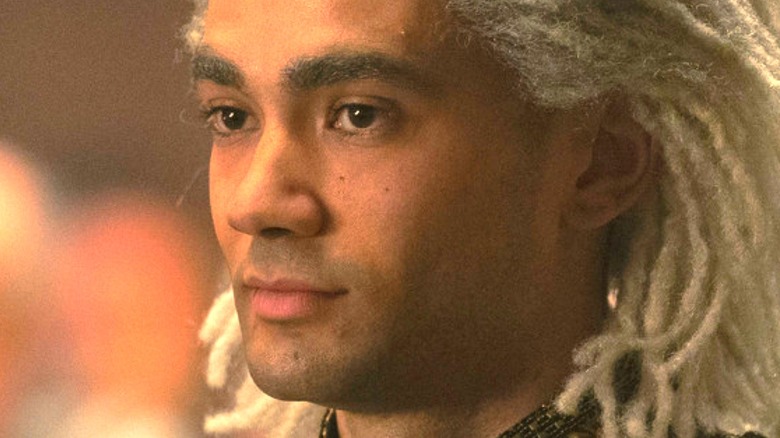 Ollie Upton / HBO
The following article contains spoilers for "House of the Dragon" Episode 5.
The days of seeing young Rhaenyra Targaryen and Alicent Hightower have sadly come to an end. Milly Alcock and Emily Carey have demonstrated incredible nuance in their push-and-pull dynamic as the respective lead characters of "House of the Dragon." But the midpoint of the series is their final curtain call before they are replaced by their older versions, and there is no better episode to give them a proper send-off. Rhaenyra's marriage to Laenor Velaryon turns deadly in a way that only a "Game of Thrones" wedding could. Though certainly not on the level of the infamous Red Wedding, there were still many jaw-dropping moments in Episode 5.
One of them included the appearance of the seat of House Velaryon, Driftmark. Fit for someone with the title of Lord of the Tides, Corlys Velaryon's (Steve Toussaint) homestead sits atop a massive cliff overlooking the sea. Though tensions have been high between the Targaryen and Velaryon households lately, that wasn't what got fans talking when King Viserys (Paddy Considine) and Princess Rhaenyra first land on their shores.
Driftmark rivals the grandeur of King's Landing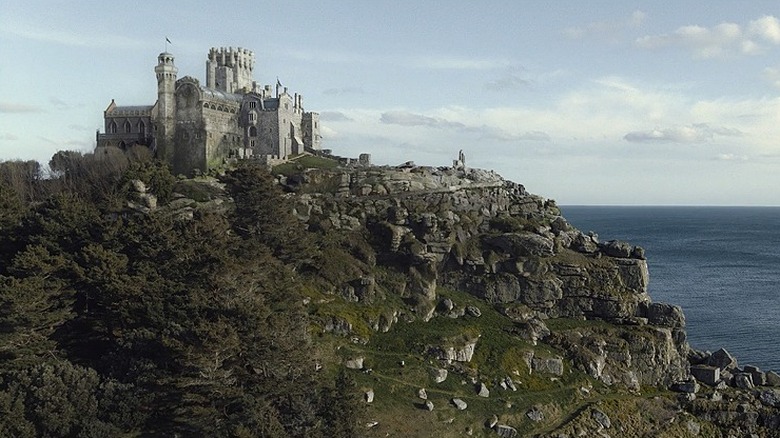 HBO
After years of Rhaenyra flying free and clear of most male oversight, her independence comes to an end. She and King Viserys travel to the Velaryon homestead in order to obtain a most advantageous match between her and Laenor. With both houses being from Old Valyria, this proves to be a match made in dragon heaven. Though the Velaryons have been spurned in the past, that did not hinder their prestige. When King Viserys arrives at Driftmark, he is even surprised by the impressive castle. Fans on Twitter echoed this sentiment as soon as they saw the sprawling estate and great hall. Users @brandonwallsss and @maxtoscano1 commented on how wonderful the aesthetics of the castle look. 
@fvegasart went into further detail about how its beauty differed from King's Landing: "[Driftmark] looks like the most beautiful castle for me: sophisticated, mysterious but natural." Corlys has his own throne of sorts, inspired by the nautical theme that he lives. This gives more context to Corlys' pride and why he feels he is owed such high status — already he seems to be living like a king himself. Now with the Targaryen and Velaryon houses being officially joined through marriage, the characters are certain they will have a dynasty that will reign for another century. And though technically true, any "Game of Thrones" fan knows that there are some definite caveats to that.