Fred Hechinger Goes Out West With Nicolas Cage In Butcher's Crossing - Exclusive Interview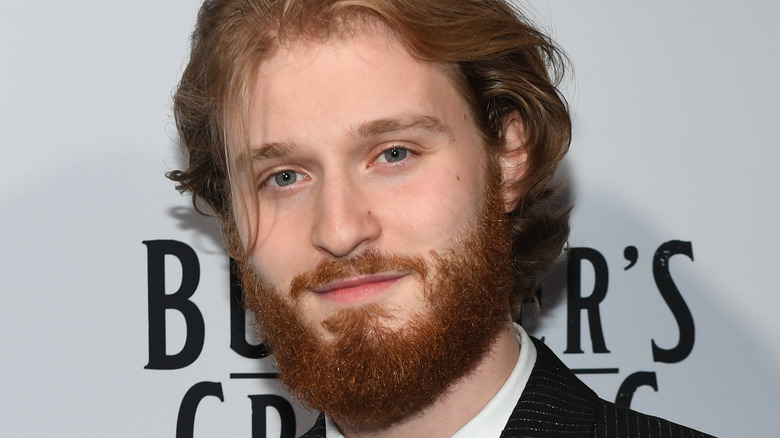 Sonia Recchia/Getty Images
Fred Hechinger made his acting debut as Trevor in "Eighth Grade" in 2018. He's since starred as both Simon Kalivoda and Isaac in the "Fear Street" trilogy on Netflix, as well as Quinn Mossbacher in the first season of HBO's "The White Lotus." In 2023, he'll be playing the Chameleon in "Kraven the Hunter," a role he's excited for, but his big upcoming passion project is "Butcher's Crossing," a dark Western co-starring Nicolas Cage. In the film, Hechinger plays Will Andrews, a college dropout who travels out West seeking purpose and joins an arduous journey with a group of buffalo hunters led by the greedy Miller (Cage).
"Butcher's Crossing" made its world premiere at the 2022 Toronto International Film Festival, and Looper got the chance to speak with Hechinger following the premiere. He offered his detailed thoughts on why this film has been one he's wanted to be in for a long time, how he researched and prepared for the role, and his general love of the Western genre.
Building character from the original novel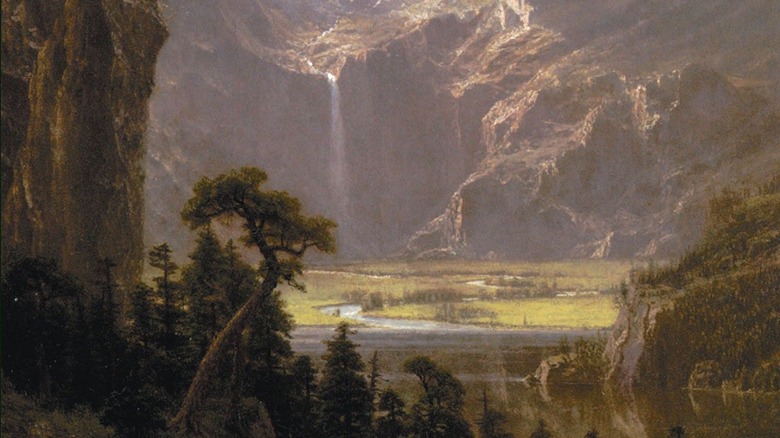 NYRB Classics
Did you read the novel this was based on?
Yeah, I did. In fact, that's how I got involved with this. Even before it was being put together as a film, I read the book and it was one of my favorite books that I'd read. I'm a big fan of John Williams, and he wrote three novels. I read them all: "Augustus," "Stoner," and then "Butcher's Crossing." Actually, the order was "Butcher's Crossing" and then "Stoner," then "Augustus" in terms of when he wrote them. I was a huge fan of the novel, so much so that I wanted to make the movie in a somewhat unknown capacity or role before it was being put together. I read the book and I inquired about the rights because I felt such a pull towards this particular book.
Your character, Will, is established as a Harvard dropout who is out West seeking purpose, but the film reveals there's not much else about his background. As the actor who played him, what do you think drives him?
That's a great question. The beauty of having the book as a blueprint for the process of filming it is that more information is within that. Then I was able to do my preparation and research, which also gave me a lot of insight. I got to go spend a couple weeks in New England. I spoke with a lot of professors of that time period and found a lot of real accounts of dropouts from schools, including Harvard, who decided to go on these expeditions, and [I found] their diaries and real written accounts. And I got to visit Ralph Waldo Emerson's home, which is still there and beautifully kept in Concord, Massachusetts. His relatives in fact very, very graciously showed me around and spoke with me about their relationship to that past and stories that they grew up on about him and also the profound effect of his writing to this day. [I] also went to an amazing museum in Concord that highlights all of the transcendentalists who lived around there.
Emerson, the Alcott sisters, Thoreau — this whole group of people is really honored and illuminated at the Concord Museum, which I highly recommend for anyone who's nearby. Getting to go to all those places provided a research period where I could cherry-pick what most inspired me in terms of Will's background and what most fit in terms of a sense of confusion and friction in religious thought in that time period, in both an intellectual sense of not belonging, of not fitting neatly into different schools of thought, and underneath that, a real emotional listlessness and perhaps emptiness.
Butcher's Crossing vs. The White Lotus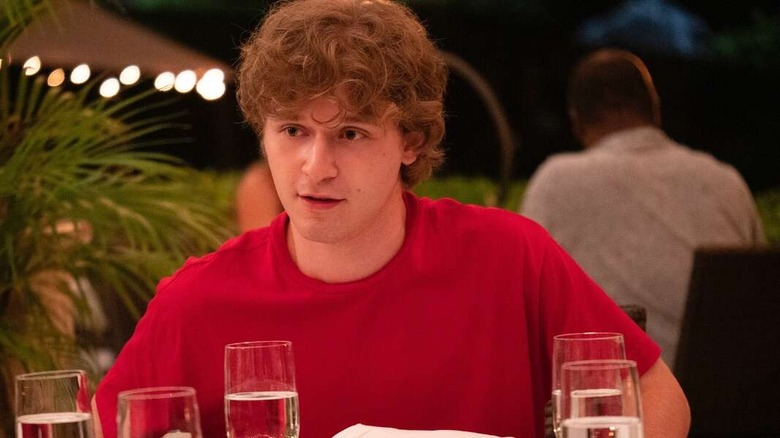 HBO
That listlessness and emptiness is also sort of a defining trait of your character from "The White Lotus," but the two characters go about dealing with that very differently.
It's interesting 'cause someone asked about that yesterday. I was thinking that in a way, Quinn's journey speaks to the power of not having the words for an experience or a sense of belonging that you desire, but following that feeling and the beauty and the power of that uncertain pursuit. And in the case of Will Andrews, it's a very flipped sense because he doesn't have the words for what he wants. He doesn't have the words for the experience that he's looking for. So he's following this feeling, but in doing so, it reveals a naïveté and it also eventually creates a brutal and senseless existence.
A lot of people probably first heard about this movie as the one where Nicolas Cage's horse tried to kill him. Did you have any difficulties with your horse?
My horse was named Barney, and I love that horse and I miss that horse. Barney is a really great horse. Barney works pretty steadily. I think Barney's done a ton more films since we got to work together. Funny enough, I learned to ride a horse in preparation for "News of the World." Then when I started to work with Paul Greengrass and continued to work on the character, we decided actually that because of my character's status in that film, I should in fact be the only person who's not riding a horse, but the fact that I got to learn it for that film provided a really good entry point to then learn how to ride one in "Butcher's." And that was truly thanks to our stunt team, which are all members of the Blackfeet Nation who taught me how to ride and love and respect a horse. I remember one of the guys said, "The best thing for the inside of a man is the outside of a horse." There was a great deal of understanding and love for those animals.
Violent Westerns and exciting super-villains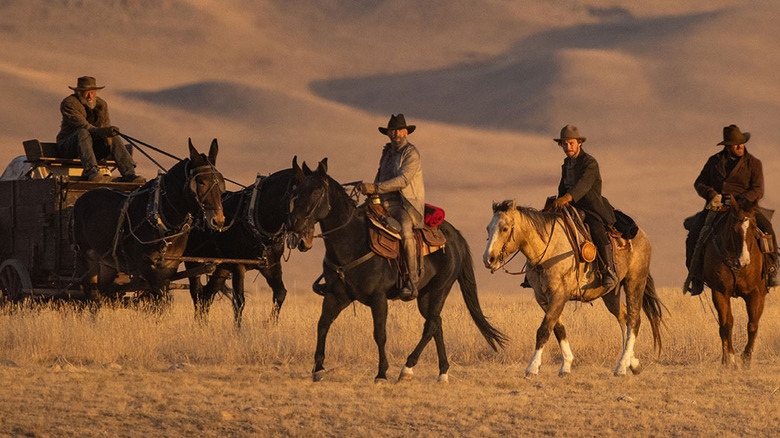 Saban Films
Speaking of insides, what did the filmmakers do for all the carcasses and organs? This is certainly the film with the highest quantity of severed testicles I've seen in a while.
Yeah, that's not as much in the book, but I was watching it last night. I became very aware of how many there are in there. It's a lot of ... yeah.
What can you tell us about your role as the Chameleon in the upcoming "Kraven the Hunter" film?
I don't know if I'm allowed to say anything at the moment, but I think I can say the boring truth, which is that I'm really excited about it and I'm proud of what we've done there. And I love playing that character.
So you've been in a couple Westerns. You've read a lot of Western novels. What are your favorite Westerns?
"Butcher's Crossing," of course, but "Blood Meridian" by Cormac McCarthy is a novel that I think is extraordinary. I have so many. I love "The Wild Bunch" [a] great deal. That also really speaks to the cruelty of the time period and is less of a myth. I love "My Darling Clementine." I love the composition in that movie.  [I love] the mix of humor, and those performances are incredible. "My Darling Clementine," there's quite a lot ... Anyways, there's so many that I love, but I hope that answers some.
"Butcher's Crossing" will be released by Saban Films on a date to be determined.
This interview has been edited for clarity.