The One Skill Every Cast Member Was Required To Utilize In The Office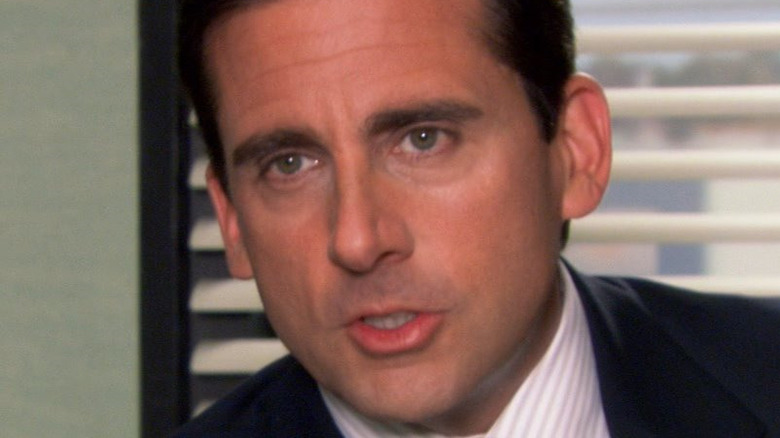 NBC
Not many series have managed to permeate American culture in the same way as "The Office." Considered by many to be one of the funniest sitcoms ever, the NBC show was defined by its unique, quirky characters portrayed by one of the most comedically gifted casts in TV history. "The Office" actors were all at different stages of their careers when it first aired. Stars Angela Kinsey and Jenna Fischer revealed in their "Office Ladies" podcast that Phyllis Smith, for example, was a casting associate for the sitcom and her role was only written in after she read lines with actors during auditions.
Despite their different backgrounds and experience levels, the chemistry between "The Office" cast members was noticeable from the get-go. With such a mix of well-established industry names, up-and-coming actors, and complete newcomers, one crucial element was required to make it all work. According to one of the show's crew members, it was responsible for adding more authenticity to many scenes, oftentimes making them much funnier than initially intended. 
Everybody needed to be comfortable with improvisation
NBC
A lot of the funniest scenes in "The Office" are actually improvised on the spot by cast members. A 2013 OfficeTally interview with David Rogers, one of the show's producers and editors, shed some more light on the filming process and how actors got to bring their own ideas into the scenes. Rogers said that although every episode had a complete script written out, stars were given plenty of opportunities to let their improv skills shine. He revealed that to ensure maximum hilarity, executive producer Greg Daniels ruled that "whatever's funniest wins. Doesn't matter if a writer wrote it, or an actor made it up on the spot. We go with what's best." 
Undoubtedly, Daniels's gamble turned out to be more than worth it. Throughout the show's nine-season run, some of the funniest scenes were made up on the spot. As revealed by Oscar Nuñes in an interview with the AV Club, this list includes the infamous moment between Oscar and Michael in Season 3, Episode 1, where Michael awkwardly forces a kiss on Oscar in front of the entire office to prove that he is not homophobic. Other instances of top-class improvisation include several scenes featuring Jim (John Krasinski) and Dwight (Rainn Wilson). According to Rogers, both actors re exceptionally good at the art of improv.
Rogers went on to reveal that Dwight listing out the fake ailments in Season 1, Episode 3 ("Health Care"), the hug between Jim and Dwight in Season 4, Episode 8 ("Money"), or Michael Scott's (Steve Carell) New York City tour from Season 2, Episode 16 ("Valentine's Day") were all improvised. Even the show's title sequence wasn't planned — most of the footage comes from Krasinski, who visited Scranton and filmed the town as part of his preparations for the role of Jim Halpert (via Off the Beat with Brian Baumgartner).