Sophia Bush Opens Up About Quitting Her 'Dream Job' On Chicago P.D.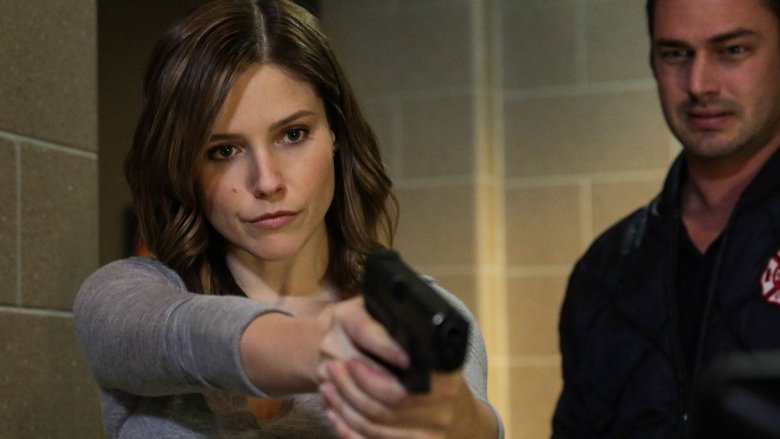 Sophia Bush is finally ready to start talking about the circumstances behind her shocking departure from Chicago P.D.
Bush, who played Detective Erin Lindsay on the series, had her last appearance on the show in the finale of its fourth season finale, which aired in May. In that episode, Lindsay made the decision to move to New York to pursue an assignment with the FBI's counter-terrorism unit.
The move came as a surprise to fans of the series, and the actress did not elaborate on the circumstances of her leaving in the months that followed. In October, she responded to a question on Instagram about whether or not she had left the show voluntarily with a pointed response.
"[T]ook me a long time and a lot of hard work to get out of that show," Bush wrote, according to People. "Please don't demean my capabilities by degrading my position. I left because I wanted to. End of story."
But the story of her leaving was not entirely finished, as the One Tree Hill actress recently shared more details about the motivations behind her departure on Christene Barberich's UnStyled podcast.
"The overarching theme for me was that I landed my dream job," Bush said. "I landed this job that, since I was 20 years old and trying to become an actor, I said I wanted. And aspects of it, don't get me wrong, were wonderful.  But ... I knew by the end of the second season I couldn't do that job anymore."
Bush said there were a number of changes she felt needed to be made in her working environment to ensure her continuing involvement with the series. She said she had a sit-down with her bosses to inform them of her stance, and provided them with an ultimatum. 
"It was in the summer between seasons 3 and 4, and I said, 'Here's where we are. Here's everything you're aware of,'" she said. "'Here's how I'm coming to you today. If something really drastic doesn't change, I'm leaving at the end of the year.'"
Bush said she gave her bosses 23 episodes' worth of notice so that no one could accuse her of being "hysterical", "emotional", or "irrational" about her decision to leave—and also to give the production time to meet her requests. If they failed, she figured, they would know well ahead of time that she was heading out the door.
"'If this has to be like a big swinging d*** competition, I promise you I will win,'" Bush said, continuing to paraphrase her side of the conversation. "But know this now: if we're not having a very different conversation by Christmas, then you know with 100 percent certainty in December that come the end of April I'm leaving.'"
It remains unclear what exactly Bush wanted changed about her working environment, and if those factors were creative or personnel-related. Either way, the actress has hardly closed the book on the subject, promising fans that she'll have more to say on the subject when she's ready.
Chicago P.D. creator Dick Wolf has backed up Bush's assertion that the decision to leave was hers alone.
"She wanted to leave," Wolf said in August, according to The Hollywood Reporter, adding that he did not believe her sudden departure would majorly impact the series moving forward. "I don't think it will have any effect at all. 
Chicago P.D. is currently airing its fifth season on NBC.