Atlanta Star Zazie Beetz Provides A Deep Dive Into Van's Character Arc That Every Fan Should Read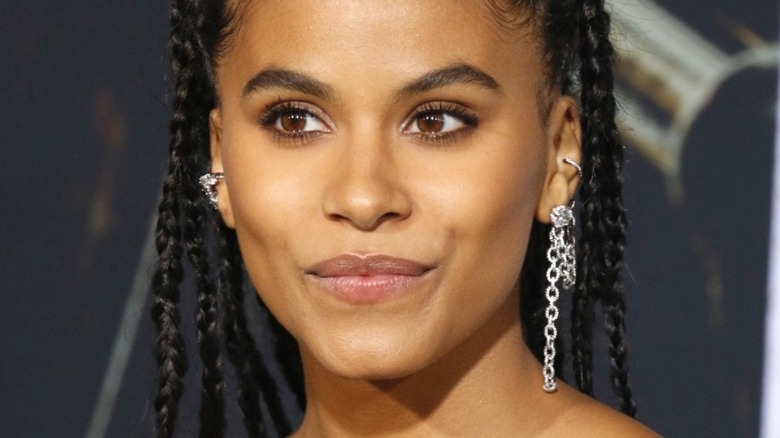 Tinseltown/Shutterstock
When Season 1 of "Atlanta" first aired, seemingly everyone in its supporting cast around series creator and lead Donald Glover was on the verge of stardom. Whereas then, the show introduced plenty of viewers to cast members Brian Tyree Henry, Lakeith Stanfield, and Zazie Beetz, today all three actors are major movie stars.
Beetz's career after her debut as Van in the 2016 series premiere of "Atlanta" notably includes appearances in "Deadpool 2" as the superpowered Domino, and Arthur Fleck (Joaquin Phoenix)'s love interest Sophie in the 2019 "Joker" film. Van is absent from much of "Atlanta" Season 3, meanwhile, which is perhaps unsurprising considering her present day popularity.
That said, the "Atlanta" Season 3 finale is almost exclusively about Van and how her life has changed since the events of Season 2. Whether the decision was made out of necessity or for purely creative reasons, the way Van's character is utilized throughout Season 3 is entirely unconventional. Viewers compelled by how she was depicted in this season, then, might be interested to hear some insight into Van's character development from none other than Beetz herself.
Van's psyche is different in each season of Atlanta according to Zazie Beetz
Just before the premiere of "Atlanta" Season 4, The Wrap published an interview with Zazie Beetz in which she breaks down her character's development throughout the show's first three seasons.
"I think Van has really grown a little bit into her confidence," Beetz began, in an assessment of how she believes Van evolves throughout "Atlanta." She then went onto explain how in Season 1, Van is defined predominately by motherhood, and in Season 2 by her desire to experience romance outside of her life as a mom.
"And I think in Season 3, she decides to take that identity of 'I am a person first and what does that mean for me?' and she kind of flies with it. I think she has some false starts. By the end of the season, in her crash down to the earth, she is able to finally put some words to her feelings and anxieties and can potentially approach a more healthy way of dealing with them," she continued.
In an interview with Sling TV's entertainment blog, Beetz described working on Van's Season 3 journey as a wholly positive experience. "Van is in a season of self-discovery, so I felt quite invigorated," she said.
Of course, with "Atlanta" Season 4 airing in these interviews' wake, Van is primed for some new challenges as the show approaches its endgame.