12 Culturally Essential TV Shows You Need To Watch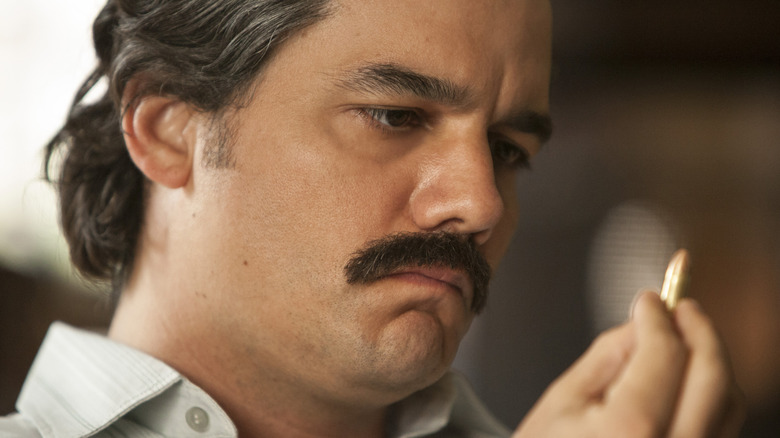 Netflix
Representation in entertainment — especially in television and film — has always been important and is now more widely demanded than ever. Not so long ago, what little representation there was on TV tended to be problematic, promoting harmful stereotypes or the kind of colorblindness that constituted identity erasure. That slowly began to change for the better in the '80s and '90s. In recent years, thanks partly to the advent of streaming, shows that accurately represent these communities have been on the rise. 
Given how long these depictions were overdue, it's no surprise that series like "Reservation Dogs," "Atlanta," or "Insecure" have found near-instant and much-deserved success. Not only do these programs star non-white characters, but they also offer smartly written, heartfelt, and relevant stories. They not only tell captivating stories but give a chance for minority actors, writers, and directors to showcase their skills. 
These roles — whether behind or before the camera — provide them opportunities to reach their full potential that once did not exist. These projects also educate and build empathy with viewers from other ethnic backgrounds, cultures, and traditions.
Here, we gathered 12 such diverse projects that should be essential viewing.
Never Have I Ever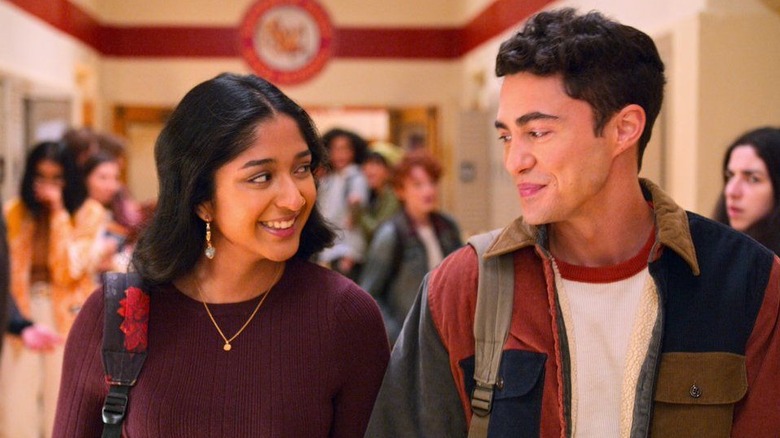 Netflix
Lang Fisher and Mindy Kaling's Netflix dramedy "Never Have I Ever" was the first of its kind when it premiered in 2020. Until then, we hadn't seen a show focused on a modern-day, first-generation, Indian-American teenage girl navigating life in a Los Angeles High school. Although the series is best described as a bubbly, nerdy comedy about teenagers, it also broke ground for South Asian representation. While depicting the usual adolescent issues — sex, hormones, social hierarchy — the series also addresses loss, identity, grief, and the power of tradition in movingly realistic ways. 
The plot follows Devi Vishwakumar (Maitreyi Ramakrishnan) and her friends as they try to become more popular kids instead of being the geeky outcasts in high school. We see Devi's first attempts to be cool and date guys, which often lead to embarrassing disasters. But that's what life is like at that age: going through a bunch of awkward experiences while trying to find out who we really are and what we can be. "Never Have I Ever" does an excellent job conveying the emotional turbulence Devi and those close to her go through while keeping a fresh perspective. It's a fun, vivid series with a touch of drama that goes a long way toward making us easily relate to the characters. It has its critics (via Flare), but it's undeniably an important step forward. 
Reservation Dogs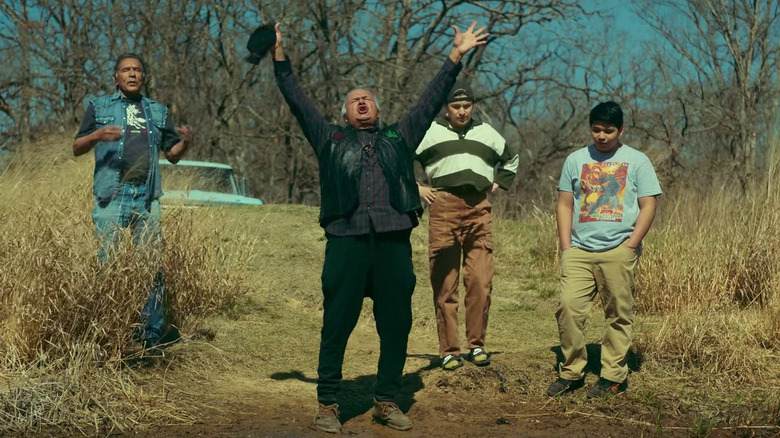 FX/Hulu
FX's "Reservation Dogs" has been having a blast since showrunner Sterlin Harjo kicked it off with the help of Taika Waititi (co-creator, writer, and executive producer) last year. With every new episode, the show is getting better and better, taking us deep into this small Native American community filled with lovable but often troubled characters. Life is hard in the Rez, but that doesn't mean it can't be fun sometimes, and Harjo perfectly combines humor and drama into an original mix. There's an inherently poignant atmosphere in "Reservation Dogs" as we watch these kids (and their folks) hold onto any hope and dream they have. But for every low and devastating moment, there's an uplifting one.
Bear (D'Pharaoh Woon-A-Tai), Elora (Devery Jacobs), Willie (Paulina Alexis), and Cheese (Lane Factor) are four teen friends living in rural Oklahoma. They're united by a dream to move to California together, one year after their friend Daniel committed suicide. They pull petty crimes and think of different ways to earn money to make it to The Golden State one day. But as usually happens, things get in the way, and they seem to drift farther away from ever making it out there.
The strength of "Reservation Dogs" is how each episode focuses on an individual character (or characters), detailing their personal journey and the internal struggles they grapple with daily. Thanks to the strong writing and a phenomenal cast, the show always feels more invested in its characters than its actual plot — and as we know, character-driven stories are what good television is all about.
Insecure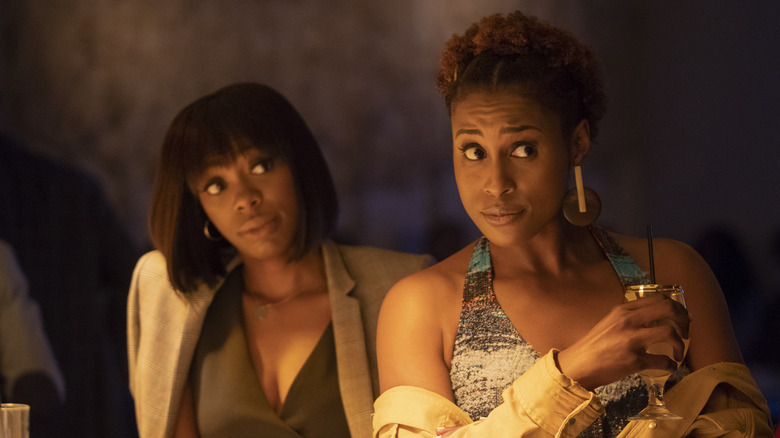 HBO
Issa Rae and Larry Wilmore's half-hour comedy series conveys the everyday struggles of being a modern Black woman. Before the show, there hadn't been anything on television that focused entirely on Black women so precisely. "Insecure" may tackle social and racial problems with uproarious humor, but it's dead serious about highlighting, analyzing, and critiquing these issues insightfully.
The plot follows longtime friends Issa (Issa Rae) and Molly (Yvonne Orji), who grew up and now live in the same part of sunny South Los Angeles, California. Molly leads a lucrative career as a corporate attorney while Issa works at a nonprofit that helps middle-school students of color. While the former has trouble developing meaningful and lasting relationships with men, the latter struggles to achieve her career goals and find fulfillment in her job. They complement one another perfectly, with each offering sage advice about how to improve their respective lives.
Where "Insecure" succeeds is the portrayal of the bond and connection between Black women. Although the friendship has its ups and downs, the trust Issa and Molly share is unique and depicted with nuance. "Insecure" also accurately addresses contemporary culture and its social problems with ease. That's no easy task. 
Master of None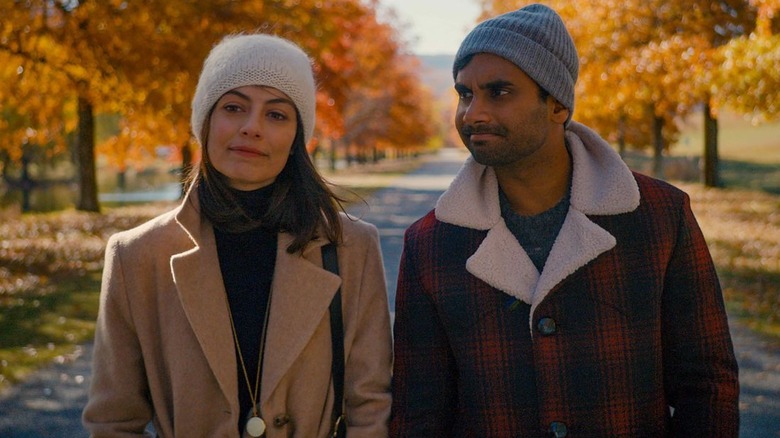 Netflix
When Aziz Ansari's dramedy debuted in 2015, it was ground-breaking. There had never been a TV show starring an Indian-American man in the lead role. It was one of the first streaming series that provided representation for Indian immigrants and their children in America. It gave us an accurate portrayal through humor and light-hearted conversations about such delicate topics as religion, interracial relationships, and sexuality.
The plot follows Dev Shah (Ansari), a 30-year-old inexperienced actor, who aims to break into the industry while trying to live a fulfilling life in New York. It's hard to summarize the story of "Master of None" because each episode focuses on discrete topics that Dev is dealing with. We see him babysit, date, party, and hang out with his friends on a regular basis. But really, the show is about his interactions and the feelings he grapples with internally. It's a new perspective that leverages Ansari's comedic skills while also giving him a chance to showcase his dramatic abilities.
"Master of None" is one of those shows you have to see to understand its appeal and delightful vibe. It's silly, but it's also clever and emotionally intelligent. Whatever you think of Ansari himself, his show certainly has a spot among the most culturally essential modern TV series.
This Fool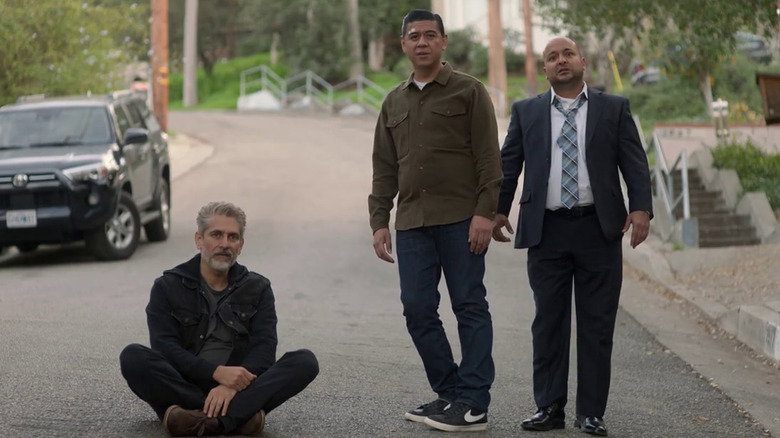 Hulu
These days, there's no lack of Hispanic TV shows to choose from, yet only a handful go beyond typical clichés and stereotypes to dig deeper into the culture. Hulu's new comedy series, "This Fool," is definitely one of those. Created by Pat Bishop, Chris Estrada, and Matt Ingebretson, "This Fool" uses a satirical approach to lampoon racism and toxic masculinity. 
Julio (Chris Estrada) lives in South Central Los Angeles with his mom and grandmother. He's 30 years old but has no intention of leaving the family home — not because he's needed or anything, but because he's too comfortable to look for other options. That changes when his cousin Luis (Frankie Quinones), an ex–gang member, is released from prison after doing serious time. Although Julio gets him on the program at Hugs Not Thugs (a nonprofit he works for), the two constantly bicker about their different lifestyles and opinions. The series revolves around them, but we also get to know their family and other relations.
What "This Fool" nails superbly is how to reverse clichés and expectations, turning them inside out just to make the characters realize that they aren't so different from other members of the Latinx community. And it does this with mocking humor and familial banter. It takes time to find its rhythm, but if you stick with these fools, they will grow on you for sure.
Atlanta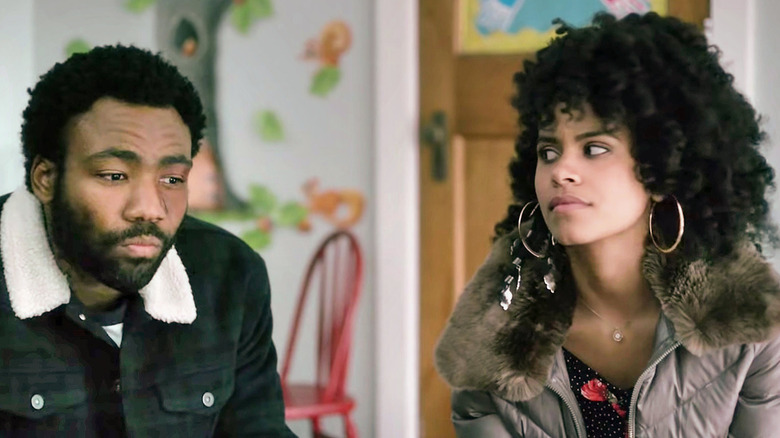 FX/Hulu
Marketed as "'Twin Peaks' with rappers," Donald Glover's mysterious comedy-drama hybrid, "Atlanta," quickly became a celebrated program on television. The series won numerous accolades for its representation of Black people in contemporary culture and for tackling the most burning issues in American society, such as racism, white privilege, and inequality.
Essentially, "Atlanta" portrays a young Black man's life in Atlanta, Georgia. The protagonist is Earn (Glover), a college dropout with no financial stability who becomes a manager for his cousin Alfred (Brian Tyree Henry). He's a rapper on the verge of success in the music scene. That's the core of Glover's show, but as it moves forward, it gets into much more surreal themes exploring several separate genres. Watching this program is an experience like no other because we never know what we might see in the next episode. Besides the strong writing, ensemble cast, and philosophically rich subtext, the versatility is what makes "Atlanta" one of the most culturally essential television shows right now.
Narcos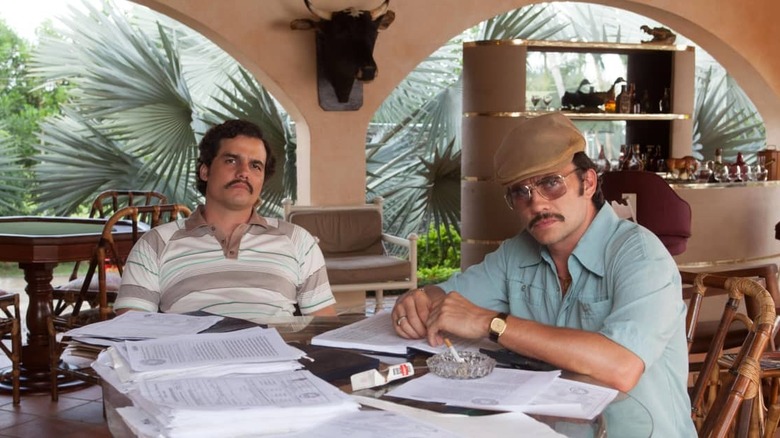 Netflix
Carlo Bernard, Chris Brancato, and Doug Miro's "Narcos" might not have been the most historically accurate TV show ever, but it did chronicle the life of the infamous Colombian drug lord Pablo Escobar in a captivating, entertaining, and educational manner. The plot of three seasons provided an essential look at the Colombian drug cartels, the DEA, and American drug enforcement from the late '70s to the early '90s.
Seasons 1 and 2 follow Escobar's (Wagner Moura) rise and fall over two decades, as well as the two agents, Steve Murphy (Boyd Holbrook) and Javier Peña (Pedro Pascal), who eventually managed to take him down with the help of their task force. It's a thorough and carefully detailed portrayal that takes us so close to the characters that we actually sympathize with them no matter what side of the law they're on. Season 3 picks up where the previous season left off, concentrating on the Cali Cartel after Escobar's death, and how its leader is looking to leave the cocaine business once and for all to pursue legal enterprises.
"Narcos" is a culturally layered series that recounts one of the most important periods in the War on Drugs. In addition to its diversity, "Narcos" also should be applauded for highlighting the complex and often dubious role the U.S. federal government has played on the international scene.
I May Destroy You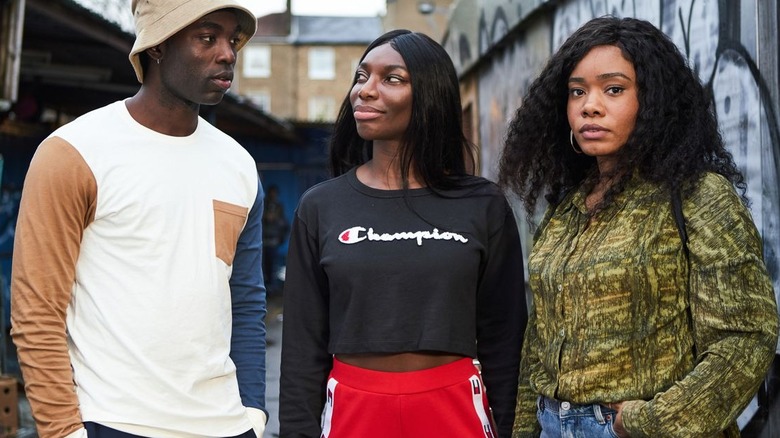 BBC/HBO Max
For the unsuspecting viewer, Michaela Coel's drama miniseries "I May Destroy You" — despite all its humor — can feel like an emotional gut punch. The candor with which the show openly discusses sexual consent and rape is quite powerful; there's a reason the show was on many critics' top lists by the end of 2020. Few other series have dared to address such sensitive subjects so explicitly before while still being funny.
The plot follows Arabella (Coel), an up-and-coming novelist in her late 20s, who, on a night out in central London, gets drugged and raped by an unknown man. Since she can't recall what happened exactly, she seeks support from a therapist. With the help of her close friends, she begins to investigate who assaulted her that night. We see her attempting to deal with the trauma in different ways while she slowly becomes more and more famous. Living with an odd mix of fame, anxiety, and trauma, it becomes increasingly difficult for her to find closure about what happened.
"I May Destroy You" uses humor to release the pressure of its dark central theme, yet its main strength remains the conversation it creates about liberation, exploitation, and recovery. Undoubtedly, it's one of the best miniseries out there covering sexual assault.
If you or anyone you know has been a victim of sexual assault, help is available. Visit the Rape, Abuse & Incest National Network website or contact RAINN's National Helpline at 1-800-656-HOPE (4673).
When They See Us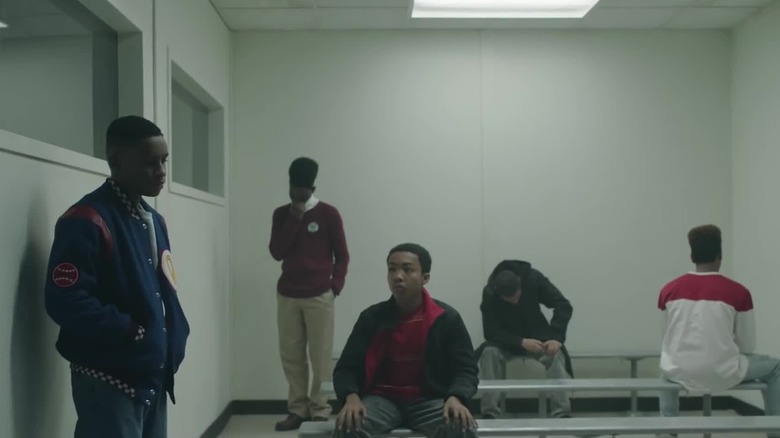 Netflix
Ava DuVernay's masterful retelling of the Central Park jogger case and the Central Park 5 is crucial in American culture. The 4-part drama miniseries "When They See Us" impeccably captures everything that was and remains wrong with the American criminal justice system and its treatment of people of color. Beyond that, the show is also truly powerful because of its thorough and thoughtful portrayal of the five young men who were wrongly convicted and spent many years in prison.
Kevin (Asante Blackk), Antron (Caleel Harris), Yusef (Ethan Herisse), Korey (Jharrel Jerome), and Raymond (Marquis Rodriguez) were all at the wrong place at the wrong time on April 19, 1989. They were hanging out in Central Park with other teenagers, not knowing their lives would soon change forever. That same night, Trisha Meili (Alexandra Templer), a white woman in her late 20s, was brutally beaten and raped by a roving band of teenagers while she was out jogging. The aforementioned five boys, aged between 14 and 16, had no idea about the crime, but the police snared them and interrogated them for seven hours without their parents. They were coerced into giving false confessions, and, after two trials, were sentenced to six to 13 years in prison. "When They See Us" is their journey from that night to the day when justice was finally served more than a decade later.
DuVernay's series has a sense of historical importance from the beginning — and that's entirely justified throughout its nearly 5-hour runtime. It tells a tragic and unbelievable story, maximizing television as a medium to its fullest. It should be mandatory viewing for every American.
The Wire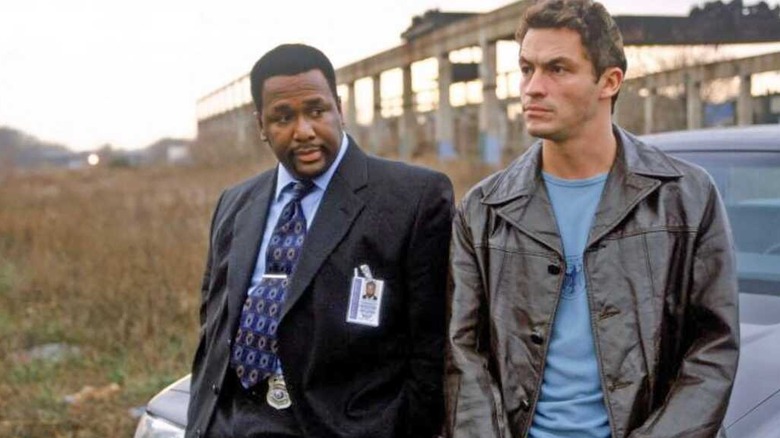 HBO
When we talk about the representation of people of color in American television, David Simon's crime-drama masterpiece simply has to be part of the conversation. "The Wire" might take place in one city (Baltimore, Maryland), but its portrayal of the illegal drug trade, law enforcement, politics, bureaucracy, and the education system encapsulates many problems in the United States, and race plays an essential part in the picture.
It's a grueling task to describe the complexity "The Wire's" plot has to offer. At its core, though, it comes down to the never-ending war between drug dealers and law enforcement. Bad and good have never been harder to identify when it comes to the profound characters in David Simon's epic. You'll empathize and feel just as close to drug dealers, corner kids, addicts, and murderers as you will to the obsessive and justice-seeking detectives. In the end, you'll be surprised that the most morally rotten individuals in this world aren't always known criminals.
"The Wire" was only nominated for two Emmys during its run between 2002 and 2008, and never won. Despite the awards snub, it's earned its rightful place in the hearts of critics and viewers as one of the best television series of all time.
Superstore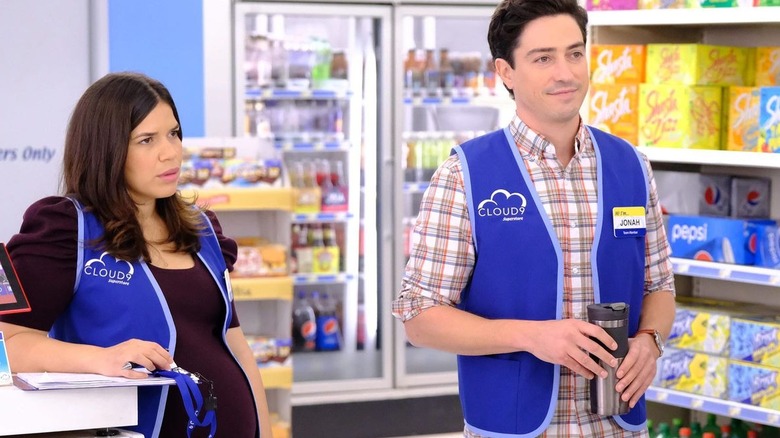 NBC
Justin Spitzer's delightful sitcom is on this list because of its absolutely lovable diversity. The show follows a team of retail employees who come from many ethnic, racial, and sociocultural backgrounds. Watching these goofballs for six seasons as they slowly turn from coworkers into a big, joyful, and loving family is something you don't see on television too often — well, at least not like this.
The plot follows the everyday life of a fictional chain store branch called Cloud 9 in St. Louis, Missouri. We join the team along with Jonah (Ben Feldman), whose very first day is the pilot. While he remains the closest to what we can call a protagonist throughout the show, "Superstore" has an ensemble cast of characters whom we get to know during the seasons.
Spitzer's series has a low-key, fun dynamic that suits a work environment like this. It's really appealing and relatable because it portrays how a group of people who never would've met under any other circumstances begin to develop deeper relationships. Some fall in love, some become best friends, and some will hate each other forever — but that's exactly why this tiny little show on NBC became such a fan favorite.
Orange Is the New Black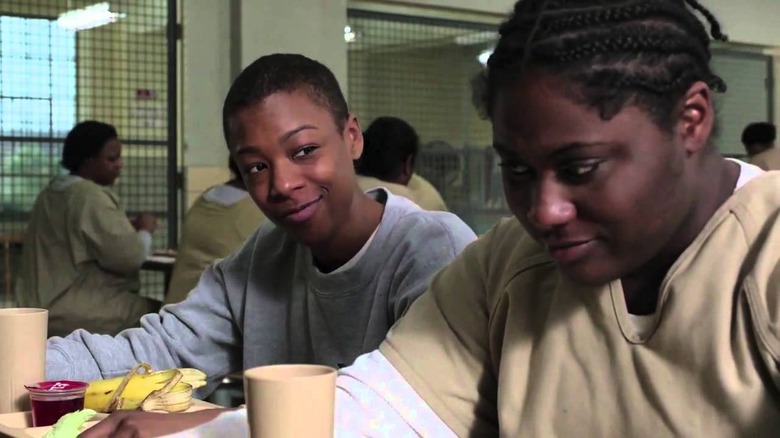 Netflix
Although Jenji Kohan's comedy-drama series "Orange Is the New Black" begins by depicting the transition of an upper-middle-class white woman to prison, the show quickly moves on to represent other women of color in the same facility. We're glad it does, because without that approach, "OITNB" wouldn't have become one of the most celebrated and longest-running Netflix original series.
The story takes place in a minimum-security women's federal prison in Litchfield, New York. The plot follows the everyday life of the prison population, introducing inmates and showing their lives before they were convicted in the form of flashbacks. Throughout the seven seasons, we learn about their backgrounds, the crimes they committed, and the kinds of people they were outside of jail. We also witness how they develop relationships with each other and the guards to survive and do the time they're in for.
"Orange Is the New Black" deftly weaves humor and drama together. Kohan found the right tone for her adaptation of the memoir of the real-life Piper Kerman and turned it into something profound. There are so many characters to love and relate to in this show that it would be difficult to pick only a few. The smart writing and the performances by an ensemble cast made "OITNB" a vivid, intelligent, and socially sensitive modern classic.