Ana De Armas' Favorite Marilyn Monroe Movies Make Too Much Sense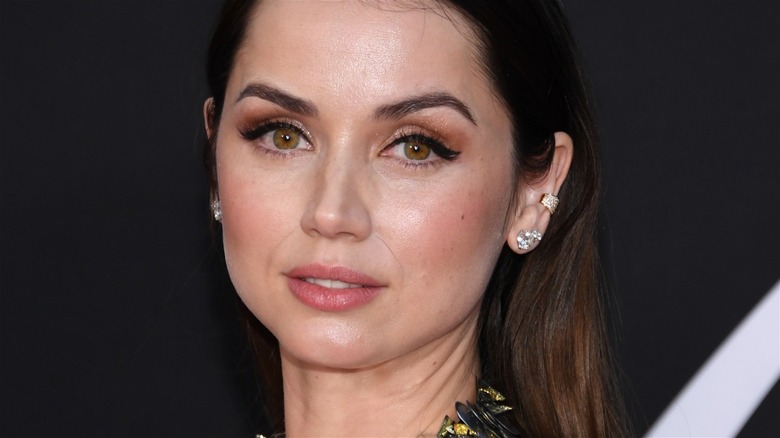 Jon Kopaloff/Getty
It is nigh impossible to find somebody who has never heard of the famous Marilyn Monroe. Born Norma Jeane Mortenson, she took the stage name Monroe and appeared in several films. Monroe left her mark upon Hollywood, still emulated and obsessed over even today. According to IMDb, Monroe has acting credits for 33 endeavors. She would have continued to make movies and be America's darling, but unfortunately, she passed away from an overdose of drugs in 1962 at the age of 36 and has become somewhat of a legendary figure in entertainment, much like other actors and musicians who died at a young age.
Ana de Armas of "Blade Runner 2049" fame is the latest person to take up the role of Monroe in the Netflix movie "Blonde." The trailer on YouTube looks like the movie will approach the staggering highs and dizzying lows of Monroe's life and the intense pressure celebrities feel to live up to their larger-than-life personas. Based on the book by Joyce Carol Oates, "Blonde" stars Armas, Adrien Brody, and Bobby Cannavale, and the movie will definitely not be for children, considering the film is the first streaming movie to earn an NC-17 rating. Of course, one can't play the role of Monroe without having first seen her movies, so which ones are Armas' favorites?
When asked what her favorite Marilyn Monroe movie is, Ana de Armas had two answers
In a recent press event for "Blonde" attended by Looper, Ana de Armas was asked several questions regarding "Blonde" and her portrayal of Marilyn Monroe. Towards the end of the discussion, Armas was asked what her favorite Monroe movie is, and she didn't hesitate to bring up two films. She said, "I think she is incredible in 'The Prince and the Showgirl.' She's really, really good. That performance was amazing, and she is so fresh and funny and effortless. But I love 'Some Like It Hot' as well, and she is in great company, too."
Both of these movies were released towards the end of Monroe's career, with "The Prince and the Showgirl" being released in 1957, while "Some Like It Hot" came out in 1959. "The Prince and the Showgirl" stars Monroe, Laurence Olivier, and Richard Wattis, and this particular film is about a Prince Reagent (Olivier) who attempts to seduce the showgirl Elise (Monroe). "Some Like It Hot" stars Monroe, Tony Curtis, and Jack Lemmon, and the movie follows two brothers (Curtis and Lemmon) as they witness a mob crime and decide to flee by pretending to be female musicians.
Considering that these two movies are Armas' favorite Monroe flicks, it seems as if Armas appreciates both the romantic and comedic side of the famous actress. Hopefully, fans get a chance to see Armas flex her knowledge of Monroe when "Blonde" becomes available. "Blonde" has a limited release in New York City on September 16, select markets on September 23, and will be available on Netflix on September 28.