The Unexpected Cobra Kai Newbie Taking Their Karate Training To The Next Level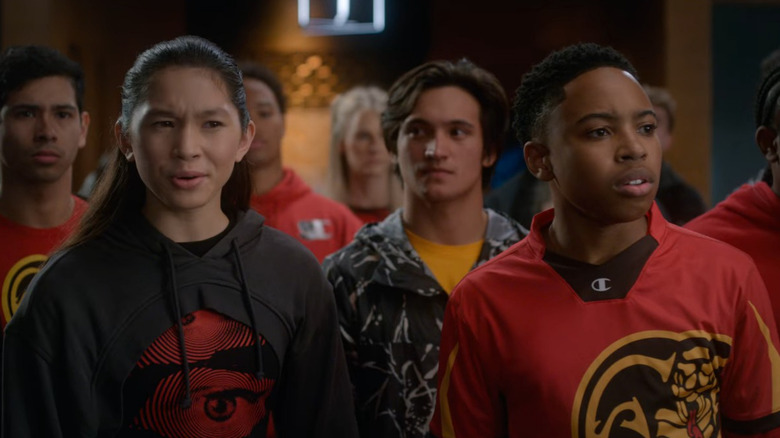 Netflix
Getting into fighting shape is hard work for any actor, let alone learning a discipline that is centuries old, and then credibly portraying its complexities onscreen for thousands to see. It's not a skill every actor possesses, and some of them never manage to attain it. It requires a certain amount of toughness, wisdom, and grit. Only some of those things can be grasped with time applied.
On "Cobra Kai," actors train for months to stay in shape and learn new moves and techniques that keep the show's narrative and its characters hopping. There are hundreds of ways to do this, from private trainers to self-taught meditations, and each actor seems to have a different approach to bringing the material to life. One freshman to the Netflix series takes their education in karate very seriously — and has become quite the prodigy, learning new things in surprising ways. Here's how they took their training to the next level.
Oona O'Brien is a natural at karate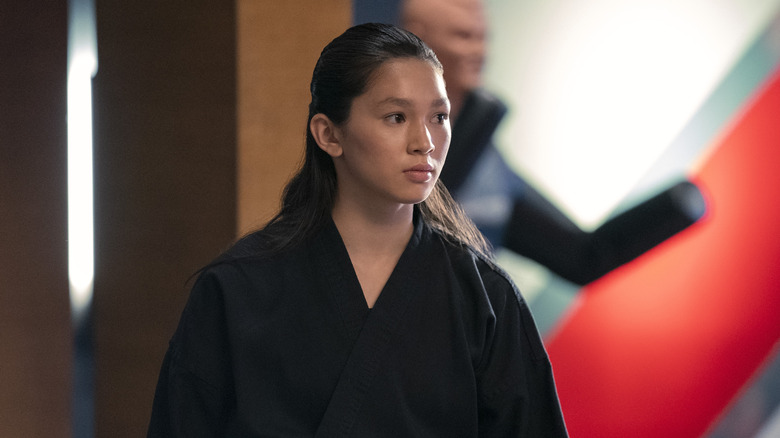 Curtis Bonds Baker/Netflix
According to an interview with Seventeen Magazine with Xolo Maridueña, Gianni DeCenzo, Peyton List, Mary Mouser, and Jacob Bertrand, it's Oona O'Brien — who plays Devon Lee — who is a "Cobra Kai" karate whiz. Per comments from her co-stars, she's managed to excel at the sport with minimal experience or training. 
"Oona is really, really good," Maridueña, who plays Miguel Diaz on the show, said, to the approval and agreement of his fellow castmates. He added that O'Brien's skills are particularly impressive in light of how little experience the actress had in the sport before stepping on-screen. He reported that she had never tried karate before being cast in the show, and this revelation seemed to stun her castmates. "She never did it before this?" DeCenzo asked in amazement, before Maridueña answered, "She said she took one class. It was like an online class or something like that." 
List also praised O'Brien as a natural. "Dude, her fight with you at the tournament, she did so good," added Bertrand, referring to the Tory and Devon battle that occurs during Episode 6 of Season 5. And it appears that O'Brien is still honing her skills for the program. "I just saw her and she said she's going to karate camp where they sleep on the mats," List revealed.
While she's never revealed her own training regiment, O'Brien has admitted that she spent her first day on the set of the show kicking guys in the privates. All in a day's work on "Cobra Kai."