How The Handmaid's Tale Fans Really Felt About That Season 5 Episode 2 Funeral Scene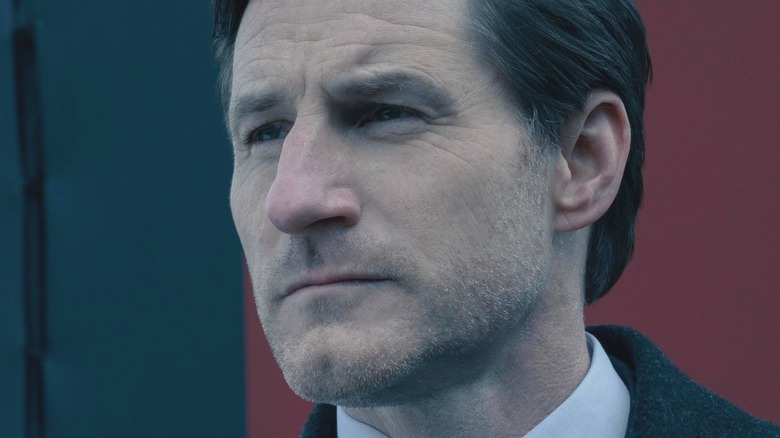 Hulu
Season 5 of "The Handmaid's Tale" timeline has just premiered on Hulu, with the first two episodes of the season being released to the streaming service on September 14, 2022. The end of Season 4 saw June (Elisabeth Moss), newly escaped from Gilead and reeling from the traumatic experience, team up with other former handmaids to chase down and kill her former abuser Commander Waterford (Joseph Fiennes). The new season picks up right where it left off, with a blood-covered June returning home to her husband Luke (O. T. Fagbenle) and friend and fellow former handmaid Moira (Samira Wiley), as well as her infant daughter Nichole. We also check in on Serena Joy (Yvonne Strahovski) as she reacts to her husband's death — as she is determined to make sure June pays for what she did while also insisting on returning to Gilead for a proper funeral.
In the second episode, "Ballet," Serena convinces the commanders that they should televise Waterford's death to formally introduce Gilead to the world. The funeral turns out to be a massive event, televised just as Serena wanted, and we see moments from the funeral intercut with clips of a ballet show that June and Luke are attending (in an effort by June to adjust to a more normal life post-Gilead). When June and Luke exit the performance, they are greeted by massive screens displaying the Waterford funeral — and see a close-up of their daughter, Hannah (Jordana Blake), who hands a bouquet of flowers to Serena.
Here's what fans had to say about the funeral scene.
Fans thought the funeral scene was really well done
Following the show's two-episode premiere, fans took to Reddit to discuss the episodes — which led to a lot of praise about Episode 2's funeral scene. One fan, u/cranne, wrote, "That funeral scene and the music playing through while cutting between the funeral and the ballet was beyond gorgeous."
Next, u/theicecreamassassin pointed out that the decision to intercut scenes from the ballet and scenes from the funeral emphasized that the funeral was all for show — a performance in and of itself. U/hellojocelyn pointed out that the ballet was also a reference to an earlier moment of the show: "And June crying now that she could watch an actual ballet instead of the little trinket box with the dancing ballerina Serena had given her."
Additionally, a few fans pointed out that Elisabeth Moss, aside from starring in the episodes, also directed both Episode 1 and Episode 2 — and had nothing but praise for the actor-director. One user, u/gothchungus, wrote, "I was in absolute awe. Amazing work by Lizzie," while u/serket3d seconded the awe-inducing nature of the scene and declared Moss a great director.
The executive producer has spoken about the scene's significance
Following the release of "Ballet," "The Handmaid's Tale" executive producer Warren Littlefield spoke with TV Line to discuss the layers of significance in the funeral scene. Firstly, they put a lot of thought into the final shot — the episode ends with a close-up of Serena's face as she begins to smile.
Littlefield said, "We talked a lot about that final — and we have a number of takes — but that final image through that black veil, of Serena Joy and just how much that mouth curves into the slightest smile. Yes, she wants to honor Fred, but this is Serena Joy's stepping in and getting on the throne, and she's masterful. She's powerful. She's a great chess player."
Further, the fact that the scene focuses on the increasingly tumultuous relationship between June and Serena — and the fact that Serena has found a way to taunt June all the way from Gilead by not only showing up on television but showcasing June's daughter while she does so — alludes to what will become a major focusing point for the rest of the upcoming season. Littlefield added, "And so it begins! Season 5 is all about that gamesmanship. These are two people who hate each other, want at times to kill each other, have the ability to, and then there's also this fascinating respect that comes into play."