The First Trailer For Park Chan-Wook's Decision To Leave Will Blow Your Mind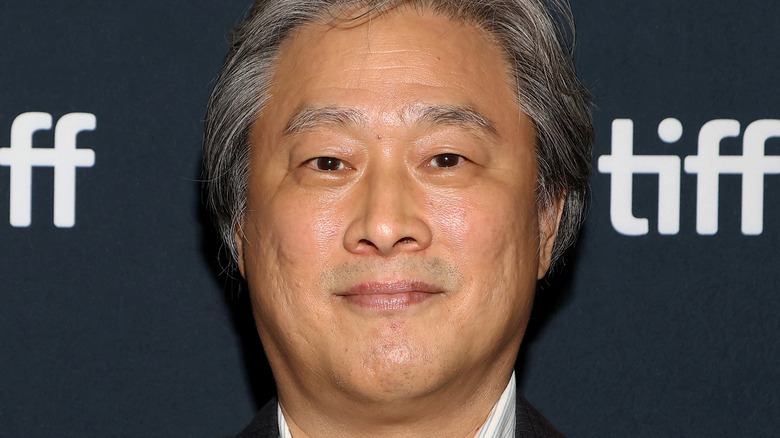 Tommaso Boddi/Getty Images
Park Chan-wook is known for finely crafted films that don't shy away from any subject matter. The South Korean filmmaker rose in popularity after the release of what has become known as "The Vengeance Trilogy." Though none of the plots of the three films directly connect to one another, critics labeled them a trilogy because of their thematic links. "Oldboy" was the standout of the trilogy and is considered one of Park's best films (via The Austin Chronicle). Indeed, "Oldboy" and "The Handmaiden" are masterpieces in Park's career, but his next project, "Decision to Leave," may soon join those ranks.
"Decision to Leave" follows the story of a detective who, while investigating the confusing death of a mountain climber, falls in love with the deceased's beautiful but mysterious wife. The film recently premiered at the Toronto International Film Festival — TIFF — and critics are praising the film. However, some don't think it holds up to "Oldboy" or "The Handmaiden" (via Roger Ebert).
The film was released in South Korea earlier this year, but the trailer dropped today because of its October 14, 2022 release date in the U.S. Fans of Park Chan-wook's work can see why the movie generated so much buzz at TIFF.
Decision to Leave looks incredible
The trailer for "Decision to Leave" gives fans an incredible look at the latest project from Park Chan-wook.
It opens with an overhead shot of police officers searching the woods at night. The lights emanating from their flashlights are reminiscent of flies swarming a dead body. Detectives and first responders then stand over the corpse of a man who fell off a nearby cliff while rock climbing (squeamish viewers beware: the trailer features a gruesome depiction of what the accident may have looked like). The detectives meet the deceased's wife, who strangely doesn't seem very shaken up from her husband's death. The detective and the wife seem infatuated with one another, and the trailer shows a series of clips of their unique, chaotic, and mind-bending relationship.
If the trailer wasn't enough to get moviegoers excited, TIFF's Giovanna Fulvi raved about the movie, calling it an incredible love story and a fantastic noir thriller. "After his dazzling Vengeance Trilogy drew genre film fans into a world of graphic hyper-violence and powerful dark passions, Park Chan-wook elevated the tone and style of his suspense thrillers with 'The Handmaiden.' He's brought that same refined elegance to his latest seductive masterwork, and we can only be grateful."
Other outlets are also praising Park Chan-wook's latest project. Variety related "Decision to Leave" to "Parasite" and "Squid Game," calling it the next global Korean success, while IndieWire labeled it "the most romantic movie of the year."
"Decision to Leave" opens in theaters on October 14.