She-Hulk Episode 5 Recap: Avongers, Assemble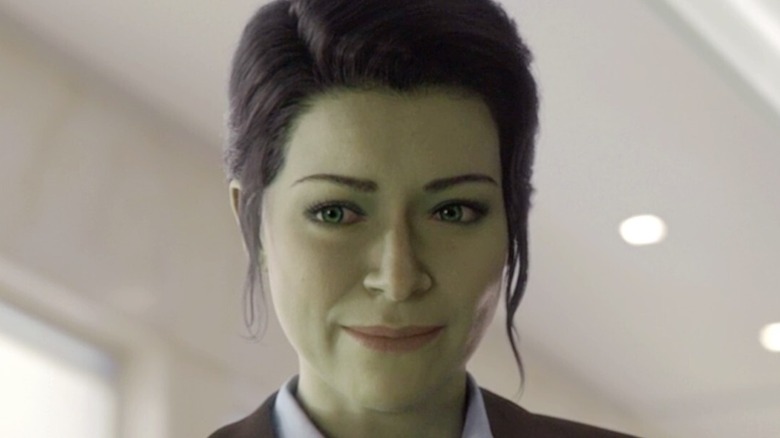 Marvel Studios/Disney+
It only took four episodes to get here, but we finally were treated to more Titania (Jameela Jamil) in "She-Hulk: Attorney at Law." Episode 1 gave us a tease of the villain, who we expected to be a constant throughout the series, but that theory fell flat. Titania and Jennifer Walters (Tatiana Maslany) made their way to court, where the latter successfully proved that she took claim of the She-Hulk name before Titania trademarked it.
Thankfully, the judge presiding over the case sided with Jenn, and Titania was ordered to stop selling her She-Hulk beauty line and was told to recall any items still on the shelf. Have we seen the last of Titania? Most definitely not, as the make-up-clad super influencer promised Jen their battle wasn't over.
Episode 5 ("Mean, Green, and Straight Poured into these Jeans") is really setting the stage for the final four episodes as "She-Hulk" serves primarily as a build-up episode for the drama and action that's, hopefully, to come.
Titaniacs will see their super influencer again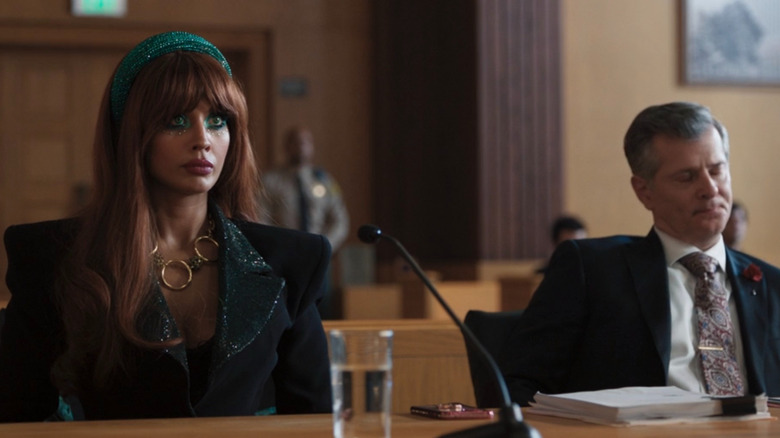 Marvel Studios/Disney+
We're a little over halfway done with "She-Hulk," but there is still plenty of time to develop the hate-hate relationship between Jen and Titania. But with how this series is going, it doesn't look like the show has a true villain. The series appears to serve the purpose of developing Jennifer for the audience, as we're five episodes in with no bad guy. That's a long way to go without a baddie, especially in the Marvel Cinematic Universe.
It seems more and more like it that "She-Hulk" needs to be taken at face value and is just a fun legal comedy that helps break up the stakes and seriousness of all recent MCU projects. Even if Titania is our big bad, can we really take her that seriously? She's a joke with no depth, but we'd benefit from learning a little more about her origins in upcoming episodes.
"She-Hulk" is delivering some pretty stellar cameos and introducing us to some of the greatest side characters the MCU has ever seen. Let's get an Avongers spin-off with Madisynn (Patty Guggenheim), Nikki (Ginger Gonzaga), Pug (Josh Segarra), and Emil Blonsky's (Tim Roth) seven mistresses.
When does She-Hulk Season 1, Episode 6 air?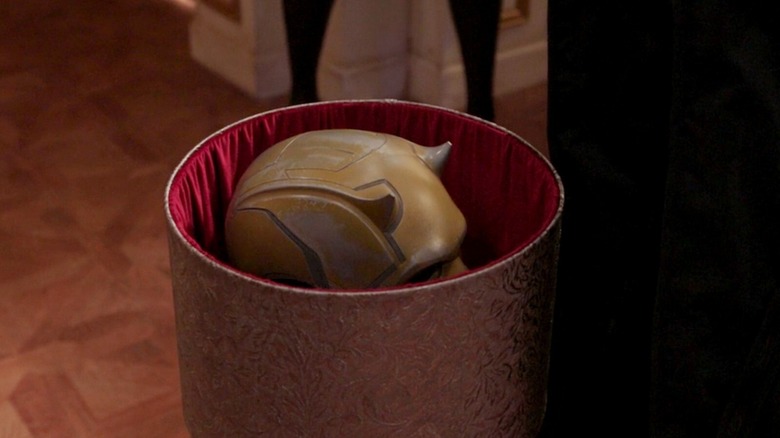 Marvel Studios/Disney+
The next episode of "She-Hulk: Attorney at Law" airs on September 22 at 3 a.m. EST on Disney+. It will be the sixth of the season, with only three following it subsequently every week. We can't be sure what's to come in the next episode, but the tease of Daredevil's helmet at the end of Episode 4 suggests the Man Without Fear is coming soon. "She-Hulk" director Kat Coiro told TVLine that Matt Murdock would be coming in a later episode, but since we're past halfway, it could mean he's showing up anytime now.
Matt and Jen have a lot in common: lawyers who moonlight as superheroes. Why they come together will be interesting to see unfold, but Tatiana Maslany teased it might not be the most pleasant of meet-cutes. "I just think that it's very funny and it's very... there's a tension there that's really interesting, and yeah, Charlie was fantastic to play with," she told TVLine.
We're also awaiting the reveal of the boss of the Wrecking Crew — the foursome who attacked She-Hulk in Episode 4's final scene. It's not suspected that Titania is behind the attack, but someone who has been looming in the MCU. It could be The Leader (recently confirmed for "Captain America: New World Order"), the Power Broker, or possibly even Valentina Allegra de Fontaine (Julia Louis-Dreyfus).