The Hilarious Lengths Emma D'Arcy Went To Perfect Their House Of The Dragon Audition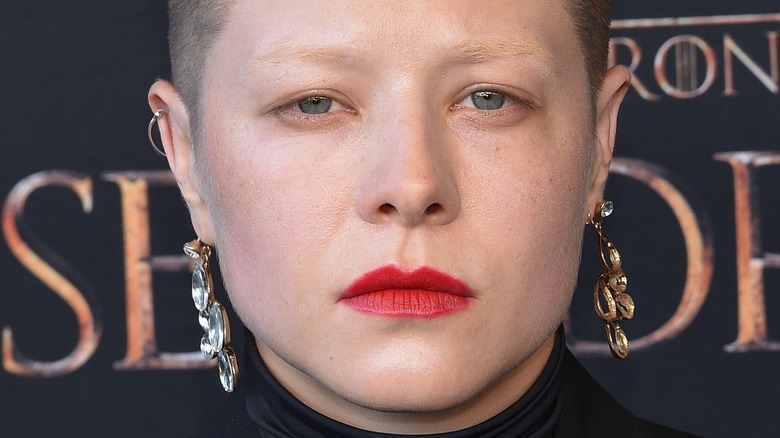 DFree/Shutterstock
Throughout the first four episodes of HBO's "House of the Dragon," it's safe to say that the character of Rhaenyra Targaryen has thus far been defined exclusively by the performance of Milly Alcock — soon, though, she will be handing over the reigns to Emma D'Arcy. 
For clarity, the cast list on IMDb indicates that Emma D'Arcy will be taking over the role as of the series' sixth episode, hinting at the fact that Episode 5 may be the last time we get to see Milly Alocock as Rhaenyra (excluding flashbacks, of course). Although this was bound to happen at sooner or later (considering the fact that the story of "House of the Dragon" covers the entirety of Rhaenyra's life during the Targaryen war of succession known as "The Dance of the Dragons") no doubt there will still be plenty of fans out there wondering how smooth this transition between actors will be.
Thankfully, Emma D'Arcy has talked extensively about Rhaenyra, and they have made it abundantly clear just how passionate they are about the character of Rhaenyra, especially in regard to Rhaenyra's unique conflict with her own gender. On top of their obvious love for the character, D'Arcy also recently revealed some of the great lengths they took in order to perfect their audition — including a particularly hilarious DIY project they undertook for former showrunner Miguel Sapochnik.
Emma D'Arcy actually created their own wig for the audition
During a recent interview with Stream Wars, Emma D'Arcy spoke briefly about their intense audition process for "House of the Dragon," and recalled a particularly hilarious anecdote about how they had to create their own wig in order to nail the audition. "I had finally met Ryan [Condal] and Miguel [Sapochnik] for the first time on a zoom call, and Miguel asked me if I had a wig," D'Arcy explained. "And me and my partner had to sort of fashion something out of some hair extensions that I had... like proper DIY, can you imagine? And sending that to HBO? Great. So embarrassing."
D'Arcy and co-star Olivia Cooke (who plays the adult version of Alicent Hightower within the series) laughed as D'Arcy described their nervousness about sending in an audition tape to one of the largest media entities on the planet — worrying that their homemade wig might have cost them the role of a lifetime. Considering the fact that D'Arcy obviously ended up securing the role of Rhaenyra Targaryen, it's clear that neither Sapochnik nor Condal minded D'Arcy's DIY project, at least not enough to remove them from consideration.
In any case, this hilarious story is yet another example of just how passionate Emma D'Arcy is about this role, which ought to give fans a bit of courage about what they can bring to one of the series' most popular characters.