The Time Deadliest Catch's Keith Colburn Fell Asleep At The Wheel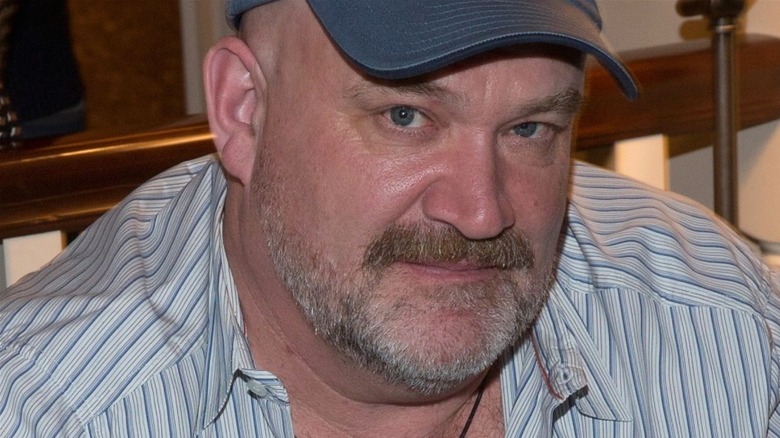 Mark Davis/Getty
Those who watch Discovery's "Deadliest Catch" know the title isn't an exaggeration. The long-running series follows the perilous commercial fishing industry — a line of work that boasts disproportionately high workplace injuries and deaths – in the icy Bering Sea. Since 2005, "Deadliest Catch" has chronicled its fair share of danger, whether by tempestuous weather or slippery 700-pound crab pots.
Add sleep deprivation to an already unpredictable work environment, and life at sea can quickly turn deadly. According to James Gallagher, an engineer on the fishing vessel Lady Alaska, the mariners on "Deadliest Catch" maintain brutal sleep schedules. "During the Cod Derby in January I was awake for nearly 40 hours straight [on] 3 different occasions in a 15 day season," he said in a Reddit AMA.
Sleep deprivation can cause irritability and affect one's ability to concentrate — side effects that are especially hazardous when helming a fishing vessel. Captain Keith Colburn knows firsthand what can happen when an exhausted mariner ends up behind the wheel.
Keith Colburn fell asleep at the wheel when he was a greenhorn
In an interview with TV Shows Ace, Captain Keith Colburn admits that he once fell asleep at the wheel. But, he makes clear that it wasn't when he was a captain. "I pride myself in that, but as a greenhorn, I fell asleep at the wheel...and," he adds, "on a wheel watch." It was the missed watch alarm, he says, that got him into hot water with the captain. "Literally as I was getting ready to push the button, the main alarm goes off...and the Captain was like, 'One more time and I will tie your hands to the wheel, and make you stand up and have you drive on manual if you ever have that happen again."
The incident scared Colburn straight and forced him to get better at staying awake during long stretches at sea. "Open the window, drink some coffee, stand up, walk across the wheelhouse, do whatever it takes." Now that Colburn is a captain himself, the shoe is on the other foot, and Colburn takes part in the "Deadliest Catch" tradition of razzing greenhorns. "One of the funniest things I've ever seen was on Wild Bill's boat. The guy was fighting to stay awake and drooling on himself," Colburn recalled. And then Bill shows up, and there's a little slap upside the head. It was absolutely priceless."