Believe: The First Teaser Trailer For Ted Lasso Season 3 Has Finally Arrived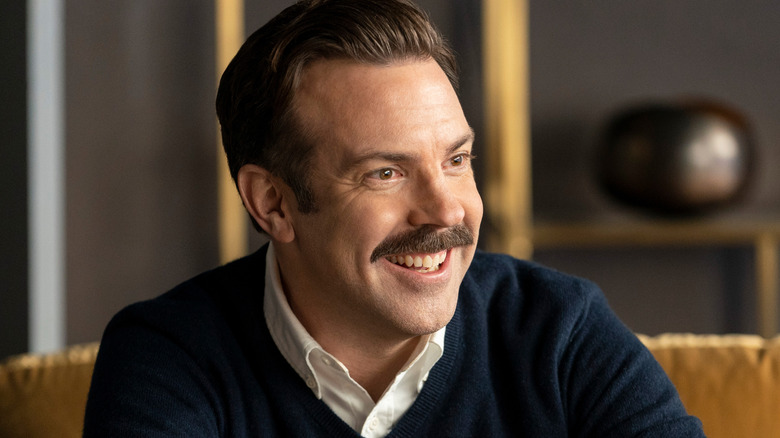 Apple TV+
"Ted Lasso" is a warm, cozy blanket on this cold, cold world. The Apple TV+ series has been a massive hit for the streamer, earning 11 Emmys for its first two seasons. For now, it seems like Season 3 will be the last for the series. Brett Goldstein previously admitted to The Sunday Times that "Ted Lasso" was always planned to run for just three seasons and claimed the upcoming third installment was being written as the end. However, star Jason Sudeikis was coy at the 2022 Emmys when asked about a Season 4, giving fans some hope the show will go on.
But while we wait on that confirmation, all eyes are on Season 3. The last we saw of the AFC Richmond team, they tied their final match, earning them a promotion for next season. Nate, the not-so-great (Nick Mohammed), gives Ted (Sudeikis) a lashing during halftime, explaining that he feels abandoned by the coach and tells him he should be back in Kansas with his son. At the end of the finale episode, we learn Nate has accepted an offer from Rupert (Anthony Head) to be the head coach of West Ham United. The first trailer for Season 3 of "Ted Lasso" gives us a peak at all that's happened since Nate's backstab, and it looks like lots of drama and laughs are coming.
Ted Lasso Season 3's first trailer is a total tease
The teaser trailer for the third season of "Ted Lasso" is just that — one big tease. But now we know the hit show is closer than ever, and we even got a release date!
Back in the Season 3 teaser trailer are the usual suspects from the "Ted Lasso" cast. Most of our favorite characters are making their own "Believe" posters and they put them up on their lockers for Ted and Beard to see. It's a beautiful moment, promising an emotional season to come. We expect plenty of comedic relief in Season 3 from some of the Richmond players, including Captain Isaac (Kola Bokinni), Jamie Tartt (Phil Dunster), and Dani Rojas (Cristo Fernández).
Season 3 of "Ted Lasso" drops on Apple TV+ March 15.