Why Stan From Umbrella Academy Looks So Familiar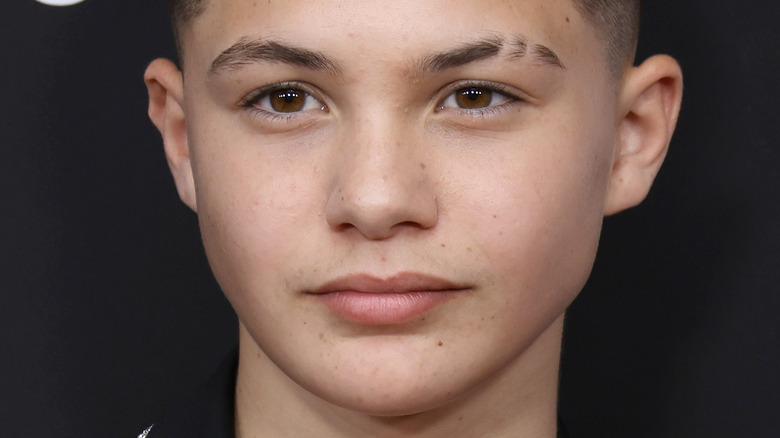 Frazer Harrison/Getty Images
As fans of "The Umbrella Academy" know, if there's one thing the Netflix superhero series will do season after season, it is introduce memorable new characters. With the show's scope continually expanding as the action hops between "The Umbrella Academy's" different timelines and time periods, the writers have not missed out on the multiple ensuing opportunities to round out its universe (or, more accurately, its multiverse) with new faces.
Season 3 has included several new characters, the most notable being the alternate superhero group: The Sparrow Academy. In addition to the Sparrows, Season 3 also brought in a host of recurring and guest stars, one of whom was tapped to play Stan. 
Introduced in the season premiere, when Lila Pitts (Ritu Arya) tells Diego Hargreeves (David Castañeda) that he's their son and leaves him under Diego's care, Stan is just as much of a troublemaker and wildcard as his (supposed) father. The bonding between the two is one of the most critical elements of Season 3, even if it ultimately turns out that Stan is not who his "mother" claims he is. And if you think he looks familiar, you're right: This 16-year-old actor has had two other high-profile roles.
Javon Walton got his start as Euphoria's Ashtray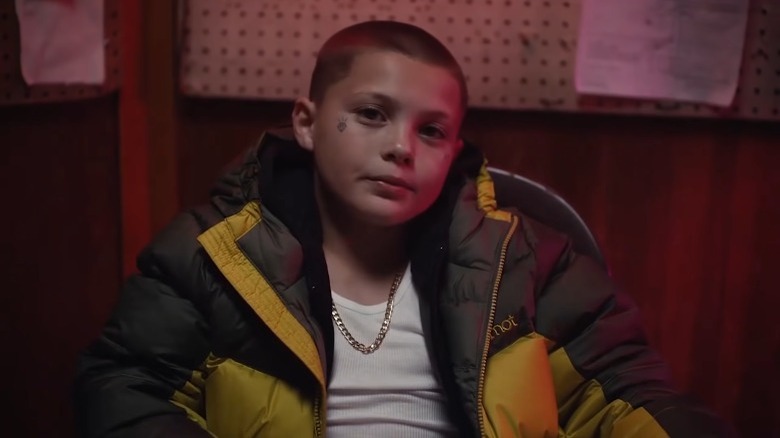 HBO
Before becoming a promising young actor, Javon Walton was already a rising star in another field: sports. As revealed in a 2020 Men's Health profile, Walton had been training for years in hopes of making it to the Paris 2024 Summer Olympics in boxing and gymnastics. Boxing, in particular, is a calling he's still working to reconcile with his budding film and TV career if his Instagram is anything to go by.
Walton's skills are what originally put him in showbiz. In October 2017, he appeared on Steve Harvey's talk show, leaving the host stunned at his rapid-fire punching abilities. Said episode was seen by casting director Jennifer Venditti, who reached out to DJ Walton, Javon's father, and asked him to audition for "Euphoria" (via Men's Health). 
Walton ultimately got the recurring part of Ashtray, the face-tattooed little brother of Fezco (Angus Cloud), who assists him in the family drug-running business. Like many details in the unique world of "Euphoria," Ashtray was an immediate attention-stealer, shocking viewers with the contradiction between his size and his hardened, take-no-prisoners attitude. In Season 2, Ashtray's role grew along with Fezco's, leading Walton to be upgraded to a series regular. And it wasn't the only role he nabbed in that time.
He stole the show again as Utopia's Grant Bishop
While Javon Walton's focus didn't wane from his Olympic dreams, acting allowed him to discover a second calling. The Men's Health profile explained, "The 'Euphoria' experience was supposed to be a one-off. But for Javon, it seems to have triggered another impulse to compete and conquer." In March 2019, shortly before the first season of "Euphoria" began airing on HBO, Deadline reported that Walton had been cast in another major role, this time as a series regular, in Prime Video's "Utopia."
Although "Utopia" was ultimately canceled after airing just one eight-episode season in 2020, it allowed Walton to display the outsized charisma and prowess that had made him a highlight of "Euphoria." 
In "Utopia," Walton played the mysterious Grant Bishop, a troubled 13-year-old from Kansas City who has spent life learning to fend for himself. Grant begins the show posing as a wealthy grown man to the online community of comic book fans, then finds himself in increasingly adult peril after stealing the "Utopia" manuscript.