Gary Oldman Got 'Serious Nicotine Poisoning' From Filming Darkest Hour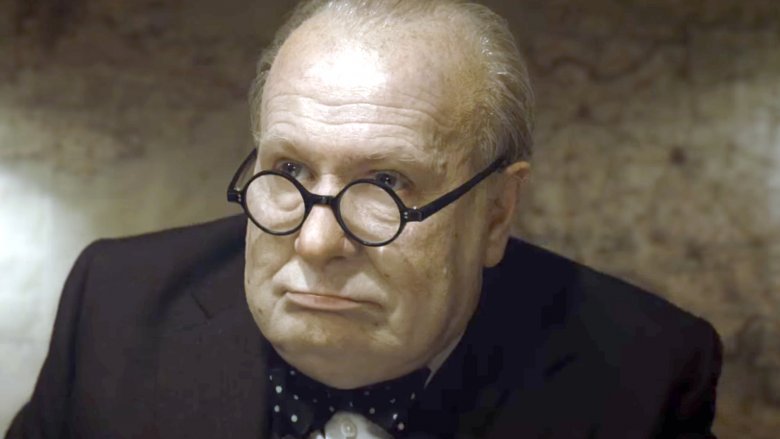 Gary Oldman has always been a chameleon of a character actor, but no role took a toll on him like his recent turn as Winston Churchill. 
Playing the role of the English statesman in the movie Darkest Hour, Oldman spent his time on set portraying Churchill in a thick fog, literally, with his character always shrouded in lingering clouds of cigar smoke. According to an interview the actor gave to The Hollywood Reporter, all that secondhand smoke inhalation took its toll, and Oldman says he ended up suffering from a big time case of nicotine poisoning as a result of breathing it all in.
The cigar anecdote sounds like a cute quirk of the picture, but it's no joke—Oldman had to smoke, at a minimum, 400 Romeo y Julieta Cuban cigars over the course of production, most of them right in a row.
"I got serious nicotine poisoning," said Oldman. "You'd have a cigar that was three-quarters smoked and you'd light it up, and then over the course of a couple of takes, it would go down, and then the prop man would replenish me with a new cigar—we were doing that for 10 or 12 takes a scene."
The production also took a serious financial hit to accommodate the Prime Minister's incredible smoking habit. These ain't Swisher Sweets we're talking, here; the cigars were the genuine article, costing $50 each. Multiply that by 400-plus, and you've got $20,000 worth of the movie's $30 million budget.
The hit to his health is a cruel twist for Oldman, who intentionally declined to gain a Churchill-sized amount of weight for the role. Even worse, the director of the film, Joe Wright, doesn't seem to have a lot of sympathy for his lead.
"It's Winston Churchill," Wright said. "You can't have Winston Churchill without a cigar."
Aside from Oldman, Darkest Hour stars Kristin Scott Thomas, Lily James, Stephen Dillane, Ronald Pickup, and Ben Mendelsohn. It was written by Anthony McCarten.
Darkest Hour is currently in limited release, and will open widely on December 22.