The Biggest Movie Flops Of 2017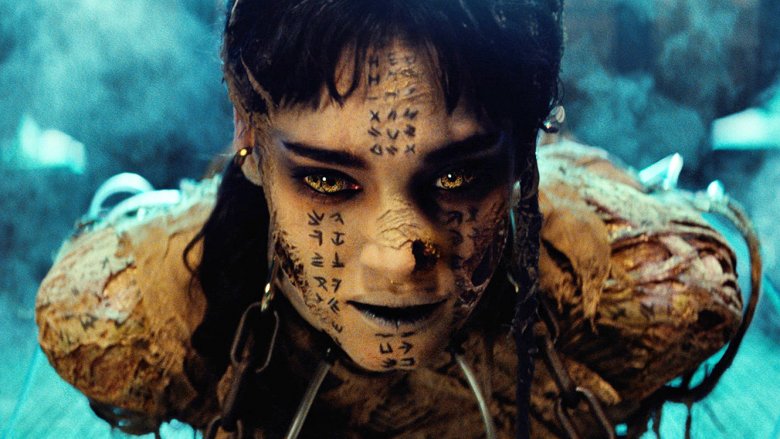 It's been a year of ups and downs at the box office. For each surprise smash we were gifted out of the blue (see Jordan Peele's horror hit Get Out) or long-awaited blockbuster that lived up to all our hopes and dreams (Patty Jenkins' Wonder Woman), Hollywood handed us duds that were fundamentally flawed, unable to generate substantial buzz, or a deadly combination of the two that resulted in total commercial collapse. From pics that fell from their proverbial pedestal when they failed to live up to pre-release hype to those that were simply doomed from the start, here are the biggest movie flops of 2017.
King Arthur: Legend of the Sword
From an outside perspective, King Arthur: Legend of the Sword seemed to have all the trappings of a film destined for box office success—including a well-known director (Sherlock Holmes series helmer Guy Ritchie), a dashing leading man (Charlie Hunnam) and equally charming supporting cast (Jude Law and Eric Bana, to name a few), and a fantasy-epic feel reminiscent of Game of Thrones. That considered, it's easy to see why Warner Bros. invested a reported $175 million (plus an additional $100 million for marketing) into making the film, but it's even easier to grimace when you remember that none of those things could save it from tanking. 
When King Arthur: Legend of the Sword opened in theaters in May, it only managed to pull in $148.6 million, leaving a deficit of $126.4 million. Critics practically drove Excalibur through the movie's metaphorical heart as well, calling it the "trashiest and most impudent vulgarization of King Arthur anyone is ever likely to see in a zillion-dollar movie." Ouch.
A Cure for Wellness
Here's another case where having a revered director at the helm doesn't necessarily equate to automatic profit. Gore Verbinski, the mastermind behind the international horror hit The Ring, made his long-awaited return to the heart-stopping genre this year with the Dane DeHaan-led brain-bender A Cure for Wellness. The film's premise–ambitious executive Lockhart (DeHaan) retrieves his company's CEO from an eerily idyllic "wellness center" that isn't at all what it seems–had plenty of people hooked—at least until the movie actually arrived in theaters. 
Fans and critics alike weren't pleased with Verbinski's effort, finding particular fault with its bloated story, self-important tone, and unnecessary length. Detroit News' Adam Graham put it best in saying that if A Cure for Wellness had been a clean 90 minutes long, it could have been an eerie, tricky, well-crafted thriller," but its nearly 150-minute run time made him wonder "what the point of it all was in the first place."
Wellness wound up staying in theaters for just five weeks, during which it took home a dismal $26.6 million ($18.5 million in the foreign box office and a pathetic $8 million stateside) against its $40 million budget (via Box Office Mojo). 
Collide
It wasn't easy for Nicholas Hoult and Felicity Jones' action pic Collide, which sees the two Brits put on American accents as two 20-somethings living in the criminal underbelly of Germany, to make it to theaters. Principal photography started in 2014, and the movie was set for an October 30, 2015 debut. The floor fell from underneath the Eran Creevy-directed project when studio Relativity Media filed for bankruptcy in July of 2015, and then numerous times thereafter when its new distributor, Open Road Films, delayed its release three times. We wish we could say the wait and the woes were all worth it.
A strange story that involves drug runs, drug dealers, drug theft (there's a lot of drugs in this movie, okay?), seizures, kidney failure, some facts about German citizenship, car chases, and a thin romance made Collide difficult to swallow. (Not even veteran talents Ben Kingsley and Anthony Hopkins could slice through the cringeworthy dialogue and awkward plotting.) Jordan Peele's critically acclaimed horror comedy Get Out, which opened the same day, left Collide barely able to survive the cutthroat box office competition.
Overall, Collide bombed big time, earning back just $4.8 million of its estimated $21.5 million budget. One source pins the all-in production cost at $29.2 million, making the film even floppier than we thought.
The House
Amy Poehler plus Will Ferrell should equal total hilarity, a new movie to add to your favorites list, and a fat stack of cash for everyone involved. In reality, when the Saturday Night Live alums joined forces for the Andrew J. Cohen-helmed comedy The House, all that came of it was an awful Rotten Tomatoes score–critics especially hated how the film relied on well-loved comedians to prop up the poorly-written characters–and a failing financial performance.
Centered around Poehler and Ferrell's mom-and-dad duo who open an illegal underground casino inside their friend's home as a way to pay for their daughter's tuition that they spent years ago, The House brought in $34.2 million–plenty of cheddar to cover anyone's university fees, but not enough to recoup its $40 million budget.
The Mummy
There has never been a more appropriate time to use the trusty adage "If it ain't broke, don't fix it" than when describing 2017's The Mummy, a reboot of the Brendan Fraser-led Mummy franchise of the late nineties/early aughts and Universal Studios' first entry into its planned shared monster movie universe. Where Fraser's films made bank at the box office, director Alex Kurtzman's take on the story of a man (Tom Cruise's Nick Morton) discovering a powerful Egyptian relic (Sofia Boutella's Ahmanet) failed across the board. Writers berated The Mummy in reviews: its tone was all over the place, performances from the cast were surprisingly not up to scratch with expectations, its story made very little sense, and its plot didn't carry any of the tension or excitement seen in past Mummy movies. 
The Mummy wound up entombed at the box office as well, debuting to a dismal $32.2 million domestically. The film cost a reported $345 million ($195 million for production, with $150 million for distribution and advertising), which it earned back thanks to international audiences, who bumped the total gross to $409.1 million. However, distribution deals Universal made with certain countries saw the studio only earning back a small percentage (as little as 25 percent from China) of the film's profits. This originally placed The Mummy at around $250 million of net profit, which adjusts to $284 million after final recordings. After all that disappointment, it's no surprise the so-called Dark Universe imploded later in the year.
The Space Between Us
Britt Robertson entered 2017 with serious potential: she debuted her comedy web series Girlboss, in which she played the rebel-with-a-cause millennial turned fashion industry icon Sophia Marlowe, on Netflix in April, released the comedy-drama A Dog's Purpose in January, and bowed the romantic sci-fi movie The Space Between Us in February. Sadly, her Netflix debut crashed and burned, her first flick caught flack for allegedly abusing its animal actor, and the interplanetary love story that no one really bought into left audiences saying, "Houston, we have a problem."
In the film, Robertson stars as Tulsa, the love interest of a boy literally raised on Mars named Gardner Elliot (played by Asa Butterfield). The critical consensus roasts director Peter Chelsom's venture as throwing its characters into a "mind-numbingly vast expanse of shameless cheese that will send all but the most forgiving viewers eye-rolling for the exits." Had it been released during the YA craze of the early 2010s, when The Hunger Games and the Divergent film franchises were booming, perhaps The Space Between Us would have been forgiven for some of its missteps. Unfortunately, the space between it and audiences grew wider and wider, and by its third week out, it was only playing in 317 of its 2,758 original theaters–the seventh biggest drop ever for a movie in its third weekend. 
In the end, The Space Between Us reportedly took $30 million to make, and yielded just $14.8 million worldwide.
The Promise
As any Star Wars fan will tell you, Oscar Isaac (who plays daredevil Resistance pilot and all-around dreamboat Poe Dameron in the current trilogy) is something of a special ingredient. Add him to a project and he makes the whole thing a hit. He did it with 2013's Inside Llewyn Davis, and again with 2015's Ex Machina. Most thought he'd go for a three-peat this year with The Promise, the historical drama helmed by Hotel Rwanda filmmaker Terry George, but boy, were they wrong.
It's not entirely Isaac's fault, however, as The Promise carried with it a few flaws not even the most talented actor could mend. The film focuses on a love triangle between an Armenian medical student named Mikael (Isaac), an American journalist writing for the Associated Press named Chris Myers (Christian Bale), and an Armenian woman named Ana (Charlotte Le Bon), who finds herself caught between the two men. As romance blooms, the Ottoman Empire crumbles to the cusp of the Armenian Genocide–a juxtaposition many found puzzling.
Audiences were quite kind to the film, giving it a 4.7/5 on Rotten Tomatoes, while critics alternately called it "stagnant, contrived, and oh-so boring," and "a powerfully made and sweeping romantic drama that brings one history's most shameful and darkest moments to the screen." The box office results for The Promise were less divided: the film lost $81.8 million after pulling in an abysmal $8.2 million against its $90 million cost.
Suburbicon
The crime-thriller flick Suburbicon was packed from script to set with superstars: George Clooney in the director's seat, working alongside partner Grant Heslov on a script they'd retooled from famed filmmakers Joel Coen and Ethan Coen; and Matt Damon, Julianne Moore, and Oscar Isaac toplining the cast. With so many celebrities and creatives who know what they're doing, how could Suburbicon possibly flop?
Well, when you intend to mix Coen Brothers-style writing with sharp satire and an exploration of racism in 1959 suburban America and it ends up feeling more like a glimpse into the scandalous life of a "naughty white nuclear family," the critical response isn't going to be the friendliest, to say the very least. One reviewer deftly noted that Suburbicon "ends up dehumanizing a black family" in its efforts to "point out how the white middle class dehumanizes black families." Even taking the poorly-executed social commentary out of the question, the movie still struggled. Vice critic Jason Bailey called it "so bafflingly bad, so fundamentally ill-conceived, so wanting in basic tenets of tone and narrative, it almost feels like the work of a first-time director"–a slap to Clooney's directorial experience, which includes five films before Suburbicon.
The film fell flat, becoming one of Paramount's biggest flops of all time after earning $8.1 million across the globe, a small dent in the reported $25 million production and $10 million distribution costs.
All I See Is You
The Blake Lively-led film All I See Is You isn't so much a "flop" as it is a "fall down a flight of stairs, crash through a glass window, tumble across a gravel-covered street, and smack into a concrete wall." Alright, that might be overkill, but this psychological drama-thriller took such a nosedive with critics and moviegoers that we're surprised the cast and crew don't have delayed onset vertigo.
All I See Is You, which follows a blind woman named Gina (Lively) as she regains her sight and discovers a new sense of self-confidence that her husband (Jason Clarke) struggles to deal with, came with a sizable $30 million price tag ... of which the film only earned back $229,764 in ticket sales worldwide. To add insult to injury, critics stamped it with descriptions like "extra-uniquely bad," "nearly unwatchable fiasco," and "failed experiment," zeroing in on the film's pretentiousness, logy pacing, and flimsy story—drawbacks that easily outweighed the movie's striking visuals and solid performances from Lively and Clarke.
Monster Trucks
2017 was decidedly not Paramount's year, and it all started with the swing-and-a-miss movie Monster Trucks, which the studio had little faith in from the start. An early test screening reportedly made children scream and run out of the cinema, parents swear in protest, and about half the audience get up and leave before the final scene. Three months after the first trailer was released in June of 2016, Paramount's parent company Viacom preemptively prepared for a $115-million write-down in preparation for Monster Trucks to spin out. Likewise, analysts stated that "right after" watching the footage, it was clear that the moving was "going to bomb." 
That premonition proved true when Monster Trucks officially arrived in theaters to mostly negative reviews and a disappointing financial pull. Starring then-26-year-old Lucas Till (X-Men: First Class, X-Men: Days of Future Past) as high school senior Tripp Coley, the kid-friendly fantasy earned $64.5 million in domestic and international markets combined, a little over half of the staggering $125 million it cost to bring the "deathly dull" story to the silver screen. 
Ghost in the Shell
Another bad apple in Paramount's rotten 2017 bunch, the live-action adaptation of Masamune Shirow's adored manga Ghost in the Shell was fated to flop well before it opened in cinemas. When fans learned that the very talented but very clearly white actress Scarlett Johansson was playing the traditionally Japanese protagonist Major Motoko Kusanagi, the backlash was overwhelming, with detractors arguing that Johansson's casting contributed to the larger problem of whitewashing in Hollywood. In fact, Paramount executives have since come forward to state that the whitewashing controversy that surrounded Ghost in the Shell was a significant reason why the film failed both critically and commercially. 
"We had hopes for better results domestically. I think the conversation regarding casting impacted the reviews," Paramount domestic distribution chief Kyle Davies said. "You're always trying to thread that needle between honoring the source material and make a movie for a mass audience. That's challenging, but clearly the reviews didn't help."
Even outside of the storm of contention, Ghost in the Shell didn't stir up any noteworthy excitement from moviegoers, the majority of which (both critics and casual viewers alike) agreed that though the film was a visual treat, everything else was stale and stiff in comparison to its stellar source material. 
Ghost in the Shell reportedly had a cumulative budget of $250 million, but only made $169.8 million, leaving the film bleeding out nearly $100 million of the studio's money.
Blade Runner 2049
Sequels are hard to get right, and in the case of Blade Runner 2049, which follows up the Ridley Scott classic of 1982, plenty of things went wrong. Combine a 163-minute runtime, ambiguous marketing that left potential new fans confused, and its swollen budget of $155 million before advertising, and this long-gestating feature had little choice but to eat it at the box office.
Blade Runner 2049 saw a gross of $257.7 million worldwide–enough to clear the creation debt and stick a nice chunk of change in the bank. But sadly, with all costs accounted for, production company Alcon Entertainment and its investors were reported to be "facing about $80 million in losses." Just before Blade Runner 2049 opened in early October, it was said that Alcon executives Broderick Johnson and Andrew Kosove noted the film would "need to clear $400 million at the worldwide box office to be considered a win."
On the flip side, critics lauded the Denis Villeneuve-directed film, which sparkled with Oscar nominee Roger Deakins' gorgeous cinematography and featured standout performances from Ryan Gosling and Harrison Ford. One critic called it an "emotionally rich exploration into the eternal questions that plague creation and creator." So hey, silver lining?
Justice League
Warner Bros. super-sized superhero film Justice League was supposed to be everything a DC fan could ever hope for–and all a Marvel fan would need to see that the DC Extended Universe could bounce back post-Batman v Superman. Instead, it was burdened with a slew of issues: negative reviews; a disappointing $94 million domestic opening that was the smallest ever for a DCEU movie; and negative press, creative shake-ups, and extensive reshoots that tainted the project even before fans got the chance to see it.
Though viewers still seemed to enjoy the heroic mashup well enough, giving it an 80 percent on Rotten Tomatoes, Justice League still underperformed and ended up bringing in $615.5 million globally–a figure that when cross-calculated with the film's production costs and worldwide marketing expenditures, leaves Warner Bros. suffering an estimated loss of $55 million, possibly more. Let's just hope that if the League ever does unite again, they either make more or cost less.