Are Charlie Hunnam And Ryan Hurst From Sons Of Anarchy Friends In Real Life?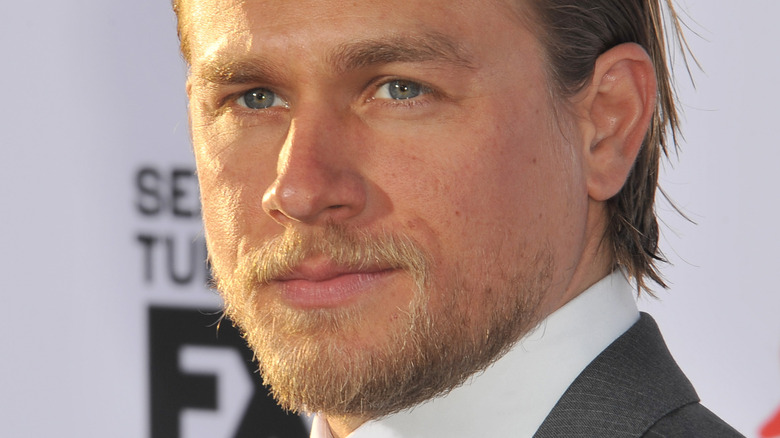 Featureflash Photo Agency/Shutterstock
From Hamlet and Horatio to Jax and Opie, there have been many incarnations of the best friend duo found in Shakespeare's iconic tragedy "Hamlet." The tale of the Danish prince out to avenge his father has been told time and time again, but one of the most entertaining modern iterations of the story has certainly been FX's biker saga "Sons of Anarchy." Though only loosely inspired by the classic tale of revenge, the series explores gritty themes of love, loss, and the cycle of violence (via Rolling Stone). As the Vice President — and ultimate President — of a Northern California motorcycle club, Jax Teller (Charlie Hunnam) experiences all the death he can handle. From the murder of his wife Tara (Maggie Siff) to the devastating death of his best friend Opie (Ryan Hurst), tragedy consistently befalls Teller.
Luckily for Hunnam and Hurst, real life did not prove to be as vicious as the events depicted on television. The two went on to appear in many other projects after their tenure on "Sons of Anarchy," leading many to wonder if their bond in real life is as strong as on television.
Bonds of brotherhood extend beyond death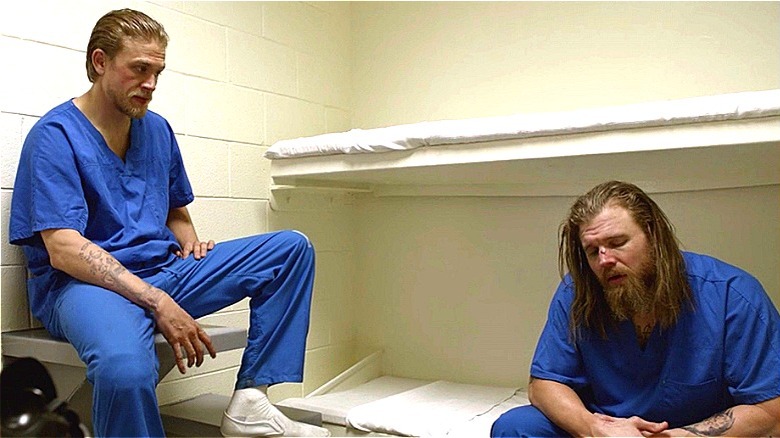 FX
Bonds of brotherhood don't simply die just because your onscreen persona sacrifices himself for the club. Opie Winston's death in prison was brutal and heart-wrenching, an event that Jax never recovered from. And while Ryan Hurst's departure from the show was comparably moving, it was a little gentler. After his character's death, Charlie Hunnam and co-star Mark Boone Junior sent Hurst off in a fashion befitting his beloved character. In an exclusive Entertainment Weekly clip, Hunnam and Junior are shown in tears, cutting off Hurst's beard as a send-off for the character.
"Three months after he had finished filming 'Sons,' he still hadn't cut his beard off, and he hadn't shaved in five and a half years since he got the role of Opie. He hadn't shaved once," Hunnam explained to The Hollywood Reporter. The act was done with a mighty 44-inch samurai sword, which Hunnam went on to describe. "It has some significance because that's what a samurai would do at the end of their career," Hunnam said. "They would take their sword and cut their topknot off to signify the end of their life as a warrior."
Hurst may have been sent off from the series, but that didn't mean the end to the relationship between him and his co-stars. It was some time before the two would cross paths again, but Hurst and Hunnam found ways to keep in touch after the end of "Sons of Anarchy."
The two actors still keep in touch in the unlikeliest of ways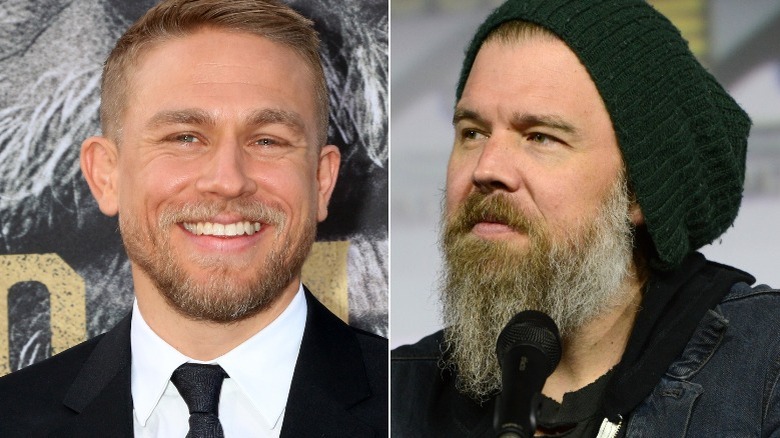 Albert L. Ortega/Getty & Kathy Hutchins/Shutterstock
In the intervening years, both Charlie Hunnam and Ryan Hurst have found their own pursuits. Hunnam has become a famous warrior king, while Hurst has been a familiar face in cable dramas such as "The Walking Dead" (via IMDb). Though it has been some time since the actors have starred together, Hunnam told The Hollywood Reporter back in 2019 that he and Hurst still found a way to connect.
"Ryan is one of my best friends. There were a couple years where I didn't spend much time with Ryan, and then I got into a yoga practice that he has really devoted himself to in a very significant way," Hunnam explained. "So, we now see each other very, very frequently at this Kundalini yoga studio that we both go to. He's one of my dear friends." 
The connection between the two actors seems to have stood the test of time, but they do not always have the opportunity to co-star together. The closest "Sons of Anarchy" fans got was when both appeared in "A Million Little Pieces," though as Hunnam states, they did not shoot any scenes together. However, it appears that the love of yoga truly cemented the friendship between the two. For those lucky enough to attend the 2019 Motor City Comic Con, fans had the opportunity to take a yoga class hosted by none other than Charming's most famous motorcyclists.