New Star Trek: Discovery Posters Unveiled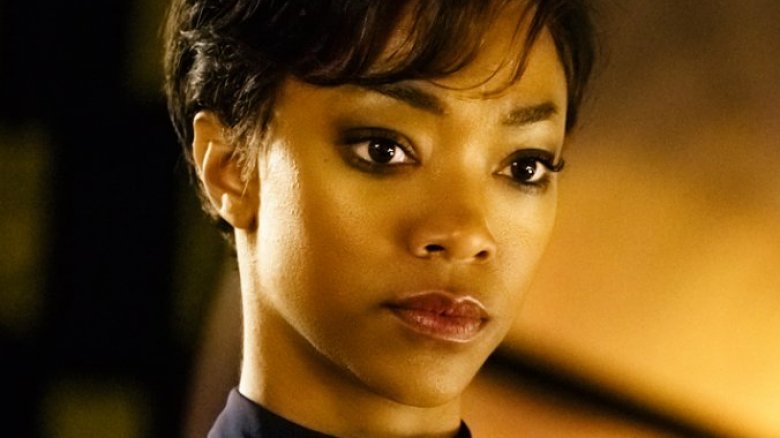 CBS
Star Trek: Discovery may be in holiday hiatus right now, but CBS has given fans something to tide them over in the meantime. The network released four new character posters for the series' upcoming "Chapter Two," the second half of its first season set to air early next year. 
Slickly designed with a simplistic black-and-white color palette with a splash of signature Star Trek blue, the images feature Sonequa Martin-Green's Michael Burnham, former First Officer of the USS Shenzhou and current Science Specialist on the USS Discovery; Doug Jones' Lieutenant Saru, reigning First Officer of the USS Discovery; Jason Isaacs' Captain Lorca; and Javid Iqbal's Voq, the Klingon separatist who has been absent from the show for the past few episodes. 
Take a look at all four posters, courtesy of IGN, at the bottom of this article. 
While many were excited to see Star Trek: Discovery debut, especially after seeing the dazzling promotional footage shown off at San Diego Comic-Con in July, the series received backlash from longtime Star Trek fans, who pegged it as an unfit successor to the original series that ran from 1966 to 1969. In an previous interview with Den of Geek, Discovery stars Issacs and Shazad Latif, who plays Lieutenant Ash Tyler, responded to the negative reactions. 
"When we make it, I'm enjoying what we're doing, and the rest we don't have any power over. It's like a painting: if people don't like it, then they don't like it. We can't really do much about that," said Latif. 
Isaacs had a bit more to say on the topic, revealing that he understands where fans are coming from and admitting that he sort of hoped their fervor would continue for a while so the cast could prove themselves and ultimately win their approval. 
"I thought it was just a sign of how unbelievably passionate and protective they were of this legacy, and before we were on the air, they were reacting to a trailer or something," the actor stated. "Micro-analysing every frame of it. Now that we're on, I'm a bit disappointed that the dissent has died down. I liked when people were outraged by things, and mostly everyone's loving it all over the world now. I seek out those people who are upset because they're always more passionate, first in line to watch it and first to hit the internet afterward. They're probably more die-hard fans than anybody else."
He added, "Every new series that came along was hated instinctually by everybody and slowly they were won over. I think we've won them over. Quickly, which is a bit of a shame."
Star Trek: Discovery is scheduled to kick off Chapter Two on CBS All Access on January 7, 2017.