Keanu Reeves Refused To Follow This Director's Note While Filming Dracula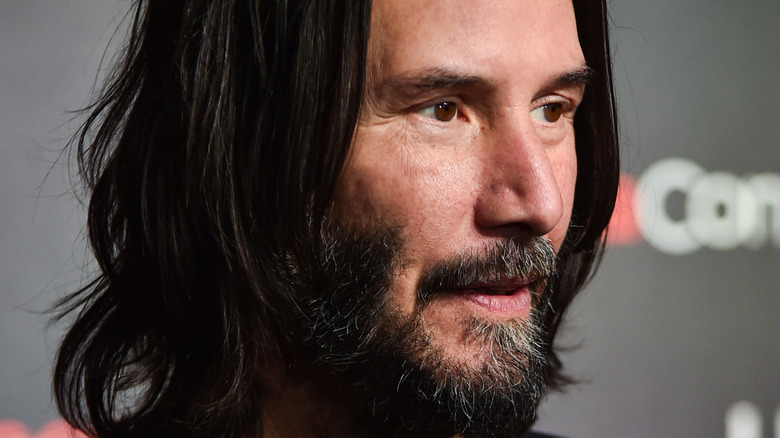 Alberto E. Rodriguez/Getty Images
Correction 9/22/2022: Subsequent reporting by People includes clarifying context from Coppola and a corroborating statement from Ryder's reps. Coppola took exception with the earlier characterization of his direction, stating, "While I think Winona is a wonderful actor, the incident she described is not how it happened, and shouting or abusing people isn't something I do as a person or as a filmmaker." Ryder's statement reads, "Winona and Francis are in agreement and his recollection is correct. He asked the actors, in character, to say horrible things to her as a technique to help her cry for the scene. Although that technique didn't work for her, she loves and respects him and considers it a great privilege to have worked with him."
As far as mellow movie stars go, Keanu Reeves undoubtedly deserves to be somewhere in the top ten — and even then, he'd probably be polite enough to let someone else go in front. That's the kind of guy the world has always seen him as, and he's effortlessly displayed to heartwarming effect. That in itself is an impressive feat given his history of effectively dispatching humanity-crushing agent programs in "The Matrix" films or turning nameless assassins into makeshift pencil cups in the "John Wick" franchise. To quote his time-traveling rocker Ted Theodore Logan, he's a most excellent individual and has been long before he even donned his umpteenth pair of shades as The One. Surprisingly, the Reeves mindset of being a lovely guy caused him some trouble during one of his most star-studded movies from the 90s.
Among a cast comprised of Gary Oldman, Anthony Hopkins, and Winona Ryder, Keanu Reeves was tasked with the already difficult job of pretending to be a British solicitor (with an accent to boot) in the Victorian era whose latest client was bleeding him dry. In 1992, Francis Ford Coppola cast Reeves as the naive visitor to Transylvania, Jonathan Harker, who crosses paths with Oldman's wild-haired creature of the night in "Bram Stoker's Dracula." Understandably, working with the director responsible for "The Godfather" Trilogy and "Apocalypse Now," the pressure was on for Reeves to deliver. Still, there was one thing that, when asked, the young star wouldn't budge on, involving his co-star, Winona Ryder.
Reeves refused to call Winona Ryder names at the request of Francis Ford Coppola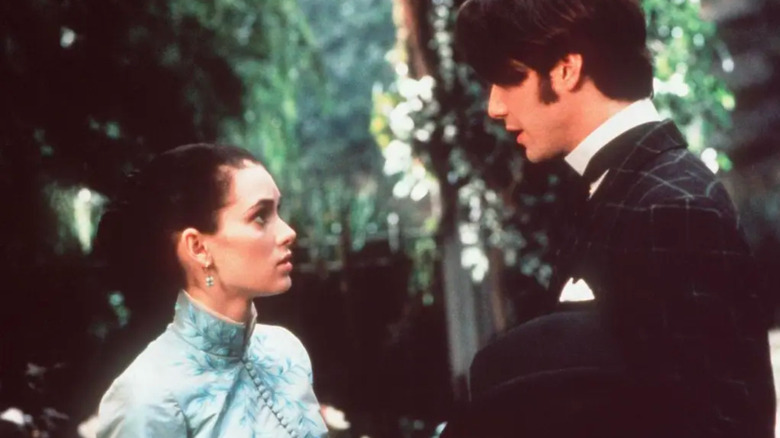 Columbia Pictures
In a joint interview for The Sunday Times with Keanu Reeves, Winona Ryder recalled an occasion on the set of "Bram Stoker's Dracula" where her co-star held his ground against one of the most revered filmmakers in history for a request he wouldn't agree to follow. Ryder explained that Coppola had been throwing verbal abuse at her during filming to try and evoke the actress to bursting into tears. Coppola would shout, "You whore!" from across the set to get a reaction. Failing that, the director asked the other male actors to jump on the bandwagon to see if the growing abuse would take effect.
"Literally, Richard E. Grant, Anthony Hopkins, Keanu [Reeves] ... Francis was trying to get all of them to yell things that would make me cry," Ryder explained. "But Keanu wouldn't, Anthony wouldn't. It just didn't work. I was, like, really? It kind of did the opposite." From there, though, the "Stranger Things" star recalled that from Reeves' refusal, a friendship bloomed that lasted years. It was lucky that it lasted as long as it did as well, given that, according to Ryder, Coppola's claret-filled adaptation of the classic horror story sealed them as more than friends, but husband and wife, accidentally.
A wedding in Dracula may really have made Reeves and Ryder husband and wife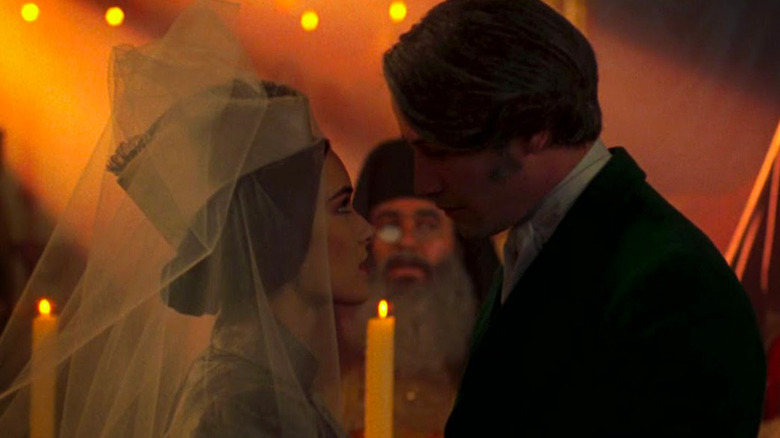 Columbia Pictures
During an interview with Entertainment Weekly in 2018, Ryder revealed that besides Reeves being her knight in shining armor and refusing to call her names, he may have ended up marrying her during the production. Between battling an ancient evil that looked like Gary Oldman, her and Reeves' characters, Mina and Jonathan, tie the knot — but the extras involved may have authenticated the whole process. "In that scene, Francis [Ford Coppola] used a real Romanian priest. We shot the master and he did the whole thing. So I think we're married."
When asked by Esquire to confirm if there was any truth to this in 2021, Reeves was as laid back as you'd expect and followed his supposed wife's story. "Winona says we are [married]. Coppola says we are. So I guess we're married ... under the eyes of God." I mean, if there's anyone that's marriage material, it's Keanu Reeves, right?