A Beloved Disney Parks Character Is Finally Getting Their Own Disney+ Series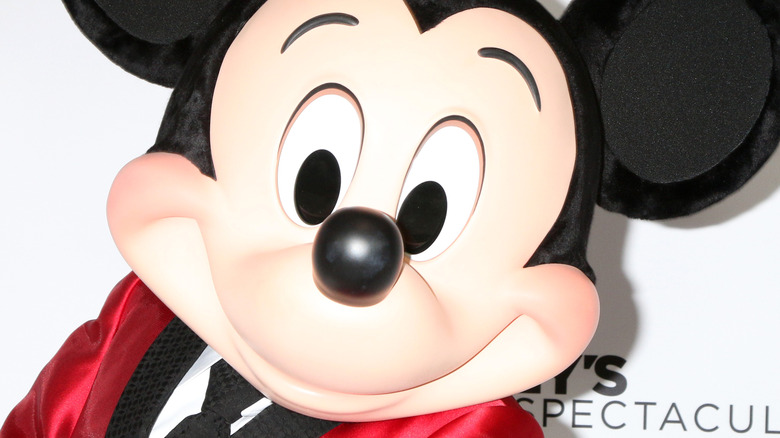 Kathy Hutchins/Shutterstock
Disney's various parks and resorts are considered a mecca for staunch Disney fans who travel across the world to see their favorite characters and franchises come to life. The entertainment conglomerate currently boasts six different resorts across three different continents. North America features the flagship Walt Disney World in Florida and the original Disneyland Resort in California. In the suburbs of Paris, France lies Euro Disney, or Disneyland Paris — the only resort in Europe. Tokyo Disney Resort and Hong Kong Disney Resort cover Asia, alongside the latest addition to the roster: Shanghai Disney Resort in China.
While Disney is beloved all across the world for its family-friendly fare, iconic characters like Mickey Mouse, and juggernaut franchises like the Marvel Cinematic Universe, the company has had to adapt their offerings to appeal to locals. Disneyland Paris patrons have been able to drink alcohol since the park's opening (stateside locations have mostly remained dry up until recent years per The Disinsider) and indulge in French snacks like crepes (via Insider). In a bid to preserve Chinese culture while still maintaining Disney's rich legacy, Shanghai Disney Resort boasts the "Gardens of Imagination" themed area. The area showcases several iconic Disney characters as the 12 different Chinese Zodiacs (via Disney Shanghai), marrying both cultures.
The Disney Parks division has succeeded in adapting to local cultures and tastes, especially when it comes to creating brand new characters. Now, an extremely popular international Disney character is on track to receive their own Disney+ series. 
International favorite Duffy the Bear is getting his own Disney+ series
During the D23 Expo (via Twitter), Chairman of Disney Parks, Experiences and Products Josh D'Amaro revealed that the beloved Disney Parks character Duffy would be receiving his own six-episode stop-motion series on Disney+. Western audiences and park goers are likely unaware of Duffy, who has been a staple at Asia's Disney Parks.
Officially called Duffy the Bear, the teddy bear was first sold in 2002 stateside (via Los Angeles Times), though it failed to capture the attention of park goers. The teddy bear sported Mickey Mouse's iconic design on its face and was inconspicuous, failing to stand out amongst a medley of less-subtle Disney products. In a bid to capitalize on Japan's hold over teddy bears, Duffy was repurposed to be sold at Tokyo DisneySea in 2004. The stuffed animal, which was marketed as Minnie Mouse's gift to Mickey Mouse, became an enormous success, also per The Los Angeles Times. The character is now a popular walk-around character who greets patrons, making him one of the few characters at Disney who isn't based on an existing property. Since then, a whole slew of Duffy-related characters have popped up, creating a mini-universe of sorts (via Theme Park Insider). Duffy can now be found at all international Disney Parks locations, including Disneyland Paris. The character is a perfect example of Disney finding unique opportunities to create a relationship with international audiences and parkgoers. 
The Disney+ series is titled "Duffy and Friends" and will be released sometime later next year. Details are slim on the series. It remains to be seen if "Duffy and Friends" will formally introduce the character to Western audiences or serve as a show intended for Asian audiences.