We Have Adult Wednesday Addams To Thank For She-Hulk's Madisynn King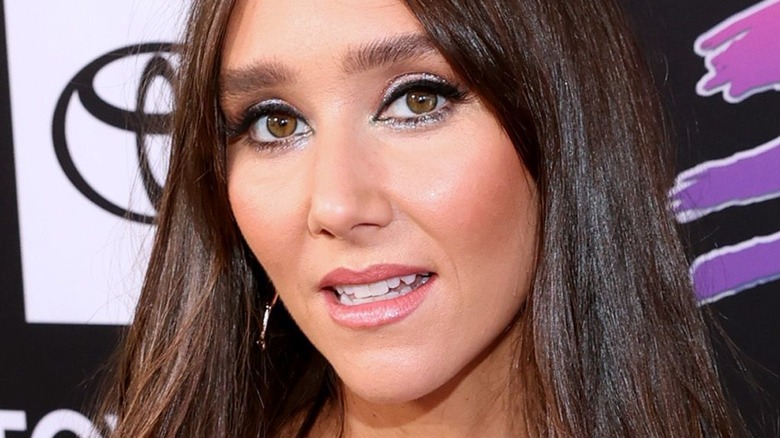 Jesse Grant/Getty Images
Contains spoilers for the fourth episode of "She-Hulk: Attorney at Law" 
The fourth episode of "She-Hulk: Attorney at Law" introduced audiences to Madisynn King (Patty Guggenheim), a seemingly vapid figure whose silliness is a shallow disguise for the single most unflappable strength the Marvel Cinematic Universe has ever known. When Donny Blaze (Rhys Coiro), a Kamar-Taj dropout who spends his time pedaling tricks as a bit-rate Las Vegas magician, accidentally sends her to another, more sinister realm, she passes through its lethal dangers with enough casual calm to come out of the other end and spoil "The Sopranos" for poor Wong (Benedict Wong). 
In short, she's a welcome addition to the cast, and the prospect of more push-and-pull moments between her and the current Sorcerer Supreme is heartily anticipated. In a unique game of "8 Degrees of Kevin Bacon" (is that still an acceptable reference in 2022?), her creation is all thanks to Wednesday Addams ... Sort of. Let's take a look.
Adult Wednesday Addams aka Melissa Hunter does more than act
In 2013, writer and performer Melissa Hunter began her YouTube web series "Adult Wednesday Addams," a parody series that follows, as the title suggests, an adult variant of the familiar character. Hunter, for her part, both created and starred in the production, which, by most accounts, was incredibly well received by everyone who didn't actively hold the copyright to the original material. Although the series itself was not allowed to live, Hunter's career remained. As her IMDb page indicates, she's written for productions like Netflix's "Santa Clarita Diet," HBO Max's animated "Close Enough," and, most recently, "She-Hulk: Attorney at Law." 
For the latter, she is only credited for a single episode, the fourth, entitled "Is This Not Real Magic?" According to Nerdist, Jessica Gao — showrunner for "She-Hulk: Attorney at Law" — attributed the role's creation entirely to Hunter. She said, "Melissa Hunter wrote that script, and she wrote such a funny script and such a funny character." There's something ironic about someone who perfected the dry wit of Wednesday Addams to also perfect its antithesis.