Why The Rocky Reference In Cobra Kai Season 5 Means More Than You Think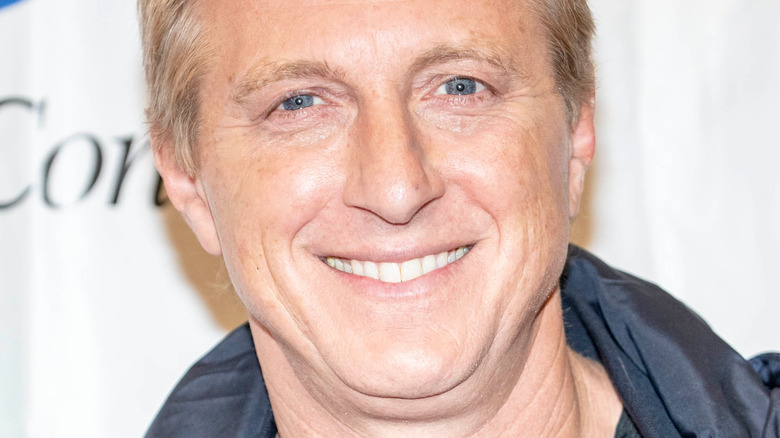 Eugene Powers/Shutterstock
Contains spoilers for "Cobra Kai" Season 5
Enforcer of eighties nostalgia and leading sore loser Johnny Lawrence (William Zabka), for better or worse, built a future by living in the past. Still hung up on the humiliating defeat from Daniel LaRusso (Ralph Macchio), it's what drove him to reopen Cobra Kai and get this epic karate-based conflict going again. Five seasons on, though — and even with his recent baby steps (no pun intended) in personal development — there are some golden nuggets from yesteryear that Lawrence still can't let go of, which amazingly benefitted Miyagi-Do this year.
During the assessment for the Sekai Taikai, the collection of clipboard wielders is given a taste of the collaborative efforts applied in training by Lawrence and LaRusso. As expected, the former's teaching methods clash wildly with LaRusso's more civilized and coordinated structure. But whereas one looks to Mr. Miyagi for teaching students, the Coors Banquet-loving warrior uses none other than the Italian Stallion, Rocky Balboa, as a point of reference. "Some people need to run up a mountain in the snow and yell," to which the adjudicator, without missing a beat, cries, "DRAGO!" sharing Lawrence's love for "Rocky IV," and the iconic moment that our hero is referring to. 
Now, anywhere else, this simple gag would get a laugh, regardless. But here, in this dojo, the mention of Sylvester Stallone's iconic alter-ego goes right back to the beginning of "The Karate Kid." Let's break down the link between a world-famous Philly fighter and a high school kid from New Jersey.
The Karate Kid and Rocky both began with the same director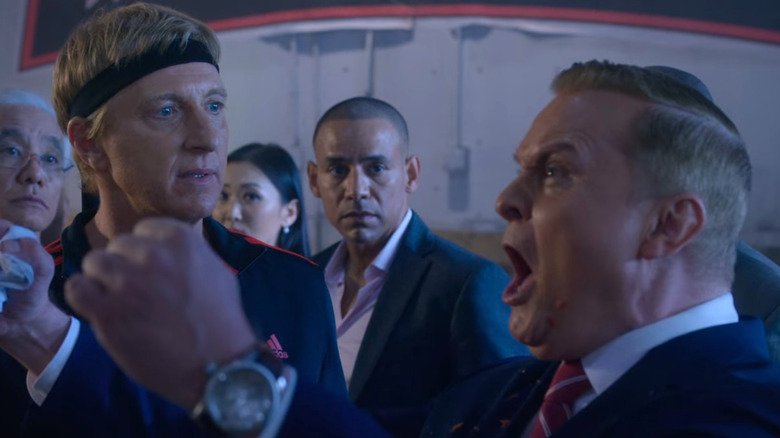 Netflix
Anyone who knows their Mike Barnes' from their banzai trees will be aware that Rocky Balboa and Daniel LaRusso go way back. Long before Mr. Miyagi even leapt to defend Daniel-san from a gang of skeletons in "The Karate Kid," "Rocky" had changed cinema forever with an iconic underdog story. A lot of that was due to the directorial efforts of John G. Avildsen, who helmed Sylvester Stallone in the breakout role in a script co-written by Robert Mark Kamen. Eight years later, though, and both Kamen and Avildsen would reunite for another legendary fighter when they worked together on "The Karate Kid" and the two sequels that followed.
It explains why the pair handled the story so well given his history, which the Italian Stallion was quick to point out. In an interview with Sports Illustrated in 2018, Kamen recalled that Sly often compared the film that gave us wax-on, wax-off to the one he created, even calling "The Karate Kid" an outright rip-off, down to the Italian protagonist and his aged mentor. "Sylvester Stallone and I joke about that all the time," Kamen recalled. 
The similarities didn't end there, though. In fact, one of the most iconic parts of "Rocky" can be heard later on in this season, albeit drowned out by a drunken Johnny Lawrence.
Eye of the Tiger is a meta-music choice for Cobra Kai that The Karate Kid never got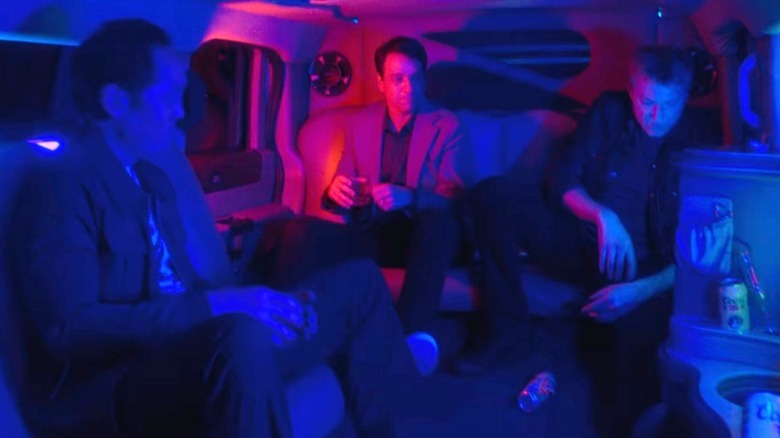 Netflix
In this season's penultimate episode an impressive effort is made in its closing moments to raise the hairs and build the hype for any franchise fan — and it's done with a classic guitar opening. 
As Terry Silver nurses a glass of whisky and smirks over his plans for the future, the legendary 1980s jam, "Eye of the Tiger" kicks in as we see Daniel LaRusso, Johnny Lawrence, and Chozen Toguchi (Yuji Okumoto) drunkenly rocking out. While it's an obvious favorite for Lawrence, it's also an audible wink from the creators of the show, given the connection the song has to not just to "Rocky" but "The Karate Kid" as well.
The song gained worldwide popularity after being selected by Sylvester Stallone as part of the soundtrack for the third installment of his boxing saga, "Rocky III," in 1982. It was a choice that came after other potentials crossed his radar – one of which was "You're The Best" by Joe Esposito, which, while missing out on some time on the big screen then, made it onto the song selection for "The Karate Kid" in 1984. If that wasn't a strange enough coincidence, Survivor also contributed to the soundtrack with "The Moment of Truth." With all these links, it's great to see that "Cobra Kai" is still looking back to its history, including what did and didn't make the cut.