John Boyega Says The Last Jedi Will Address Finn And Poe's Relationship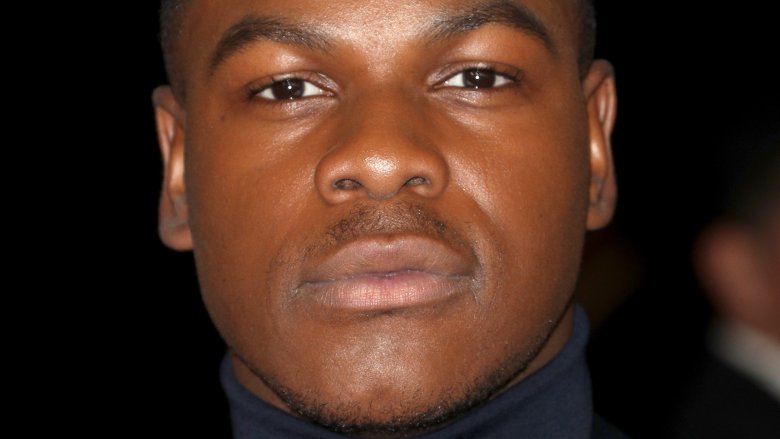 Getty Images
We'll admit it: Romance isn't exactly a major part of the current Star Wars trilogy. But outsiders wouldn't know that judging by how much chatter has surrounded the new films after 2015's The Force Awakens left them wondering whether the Stormtrooper Finn (John Boyega) had eyes for spunky fighter Rey (Daisy Ridley) or X-wing pilot Poe Dameron (Oscar Isaac). In fact, the uncertainty whether Finn's relationship with Poe will ever go beyond "best buds" status is one of the biggest mysteries surrounding the upcoming installment, The Last Jedi. 
Boyega recently dished up some dirt on the subject, telling Mashable that The Last Jedi will reveal the direction of Finn's connection to Poe, and that viewers will have no doubt about where the Stormtrooper's affections lie once the credits roll.
"I've watched the film and I will confirm: that will be confirmed in The Last Jedi," the 25-year-old actor said. "You will know exactly which way it's going. Seriously, you'll know. By the time you watch it, you'll know."
It's important to note that though the interviewer explicitly asked him about the Finn/Poe 'ship, Finn may not end up starting a romantic relationship with Poe just yet, since The Last Jedi writer-director Rian Johnson previously stated there "wasn't an opportunity" to include an LGBT romance in the movie. "I think it's something that would absolutely [be possible]... There's so many other elements of society today that are being reflected in these movies increasingly more and more, and I think that's important," the filmmaker said. "I think that really means a lot to people. I think that's important to keep doing it and to keep going further with."
What's more is that Boyega once shut down rumors that Finn and Poe could be boyfriends at some point in time. "It's so not true. Oscar [Isaac] wishes it was though, it's all in his head. It's a brotherly love, a bromance, that's for sure," he said. 
Isaac himself went on the record earlier this week to say that he is "very open" to Poe identifying as LGBT, though the actor didn't confirm or deny whether he actually does. "People can see themselves in a hero like this, in a movie like this–which I love–not only LGBT but Latinos... there is a representation out there for that," said Isaac. "As to actually seeing how that manifests itself in Poe in this film, that isn't going to necessarily be a clear story point in this one. But as an actor, and for me, I'm very open to those possible story lines, and I don't think it needs to be nailed down in any kind of traditional way."
All things considered, regardless of which Star Wars character catches Finn's fancy–whether it's Rey, Poe, or even the Resistance mechanic Rose Tico (newcomer Kelly Marie Tran)–The Last Jedi will leave no doubts about who he's on a strictly platonic level with and who he views as more than just a friend.
Star Wars: The Last Jedi features Mark Hamill as Luke Skywalker, Carrie Fisher as General Leia Organa, Adam Driver as Kylo Ren, Lupita Nyong'o as Maz Kanata, Gwendoline Christie as Captain Phasma,  Domhnall Gleeson as General Armitage Hux, Andy Serkis as Supreme Leader Snoke, Joonas Suotamo as Chewbacca, Anthony Daniels as C-3PO, Laura Dern as Vice Admiral Amilyn Holdo, and Benicio del Toro as DJ. The film is set to open on December 15.