The Surprising Characters We Never See Fight In Cobra Kai Season 5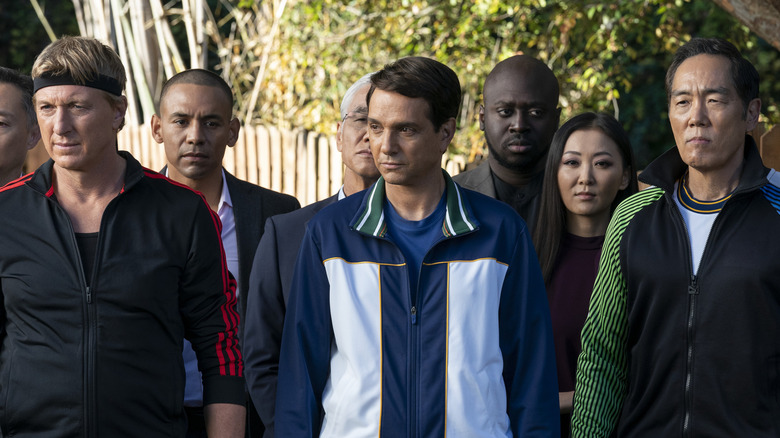 Netflix
The following article contains spoilers for "Cobra Kai" Season 5
Combat is the name of the game on "Cobra Kai," whether it's friendly sparring, parking lot brawls, formalized tournament fighting, or a moment of self-defense during an organized attack by an enemy. At one point in time or another during the show's five season long run, the characters at the center of "Cobra Kai" are likely to find themselves facing off against even their closest friends in a physical test of martial arts-centric might. This is the way of the series. Friendships are temporarily abandoned, business partnerships are formed and dissolved, love interests are lost and gained, but no matter what, characters are consistently prepared to throw down with each other at any time in the name of protecting each other and their young students.
But at least one pair of newfound friends don't take their skills to the mat during the show's fifth season. And since they both have a mutual vested interest in at least one of the show's main characters and some pretty strong shared core beliefs in their own skills, that's a pretty surprising turn of events. 
Johnny and Chozen find friendship instead of enmity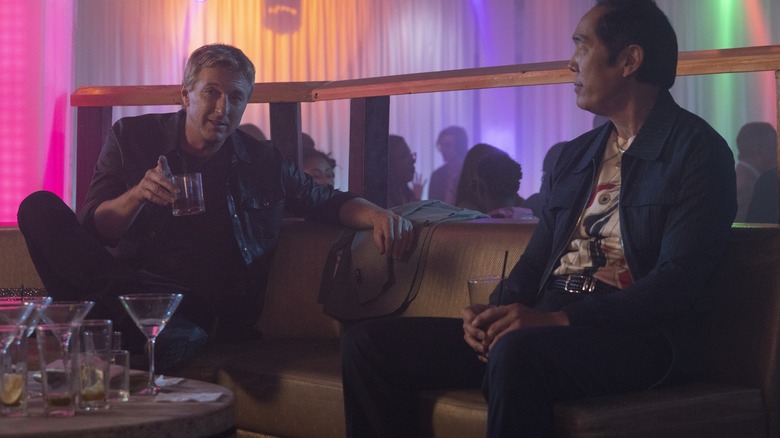 Netflix
One would expect Johnny Lawrence (William Zabka) and Chozen Toguchi (Yuji Okumoto) to spend a little time in hand-to-hand combat — after all, each of them had bad blood with Daniel LaRusso (Ralph Macchio) at one point in time and have reputations and egos to protect. One would think it would be hard to resist the pull of competition. But now they're on the same side in an ongoing war with Cobra Kai. Johnny and Chozen don't even so much as spar together during Season 5 of "Cobra Kai."
That's not to say that there isn't any tension between the two men. When they first meet during Episode 6 of Season 5, they're on opposite sides of the fence as to whether or not Daniel should spend more time healing before confronting Cobra Kai. But soon, they bond both over their admiration of Daniel and the number of nasty deeds they committed in the name of taking him out. A brawl with a teacher at one of Terry Silver's (Thomas Ian Griffith) latest schools — which he has taken over in a hostile manner — cements their friendship. By Episode 9, they're singing rock songs at a club, drunk and happy to be in each other's company. It just goes to show that sometimes friendship really is the best way to defeat a dastardly evil.