What's Really The Hold Up On Jumanji 4?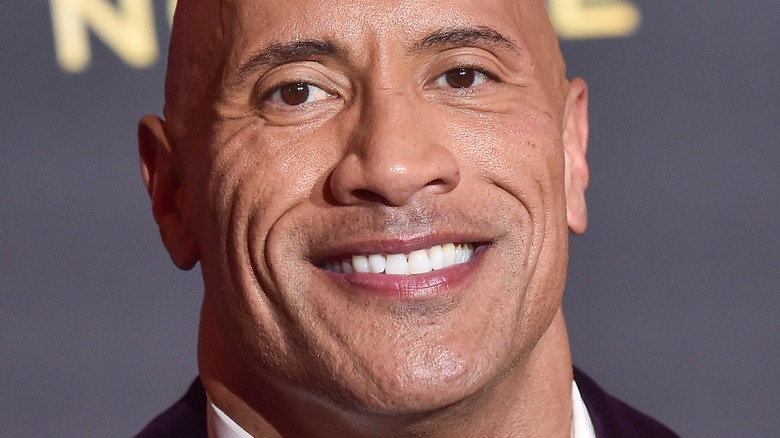 DFree/Shutterstock
Over two decades after audiences witnessed Robin Williams get sucked into a mystical board game, "Jumanji" entered the modern world. The movie's 2017 sequel "Jumanji: Welcome to the Jungle," which stars Dwayne "The Rock" Johnson, Jack Black, Kevin Hart, and Karen Gillan, once again features a game that leads to a life-or-death adventure. But this time, it's a video game and the four unsuspecting teens are sucked in and transformed into their respective avatars.
The original 1995 flick was a tough act to follow, especially because the sequel was created so many years later. Still, "Jumanji: Welcome to the Jungle" held its own, garnering over $962 million worldwide (via Box Office Mojo). Thanks to the film's success, a follow-up hit theaters in 2019.
"Jumanji: The Next Level" sees the teens — along with some fresh unsuspecting victims — head into the game once again. Much to longtime fans' delight, there's also a cameo by Bebe Neuwirth, who plays Nora, the aunt of Judy (Kirsten Dunst) and Peter Shepherd (Bradley Pierce) in the Robin Williams classic. This film garnered just over $800 million worldwide, according to Box Office Mojo.
It's now been almost three years since the release of "Jumanji: The Next Level" and audiences have been wondering one thing: When is the next one coming out? Since the 2019 installment doesn't exactly end on a note of finality, there's certainly room for more Dr. "Smolder" Bravestone, Ruby Roundhouse, and other beloved characters. Let's take a look at what the hold-up could be.
The Jumanji team is busy with a 2023 holiday/action film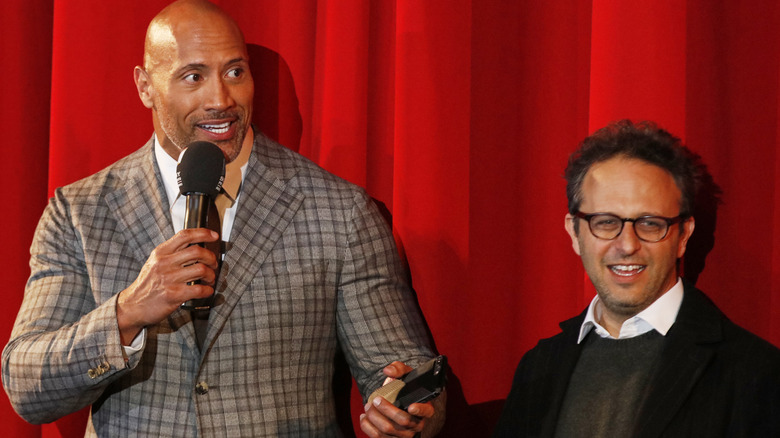 Sebastian Reuter/Getty Images
In December 2021, Hiram Garcia, president of production at Dwayne Johnson's Seven Bucks Productions, shared a long-awaited update on the fate of the next "Jumanji" movie. "It's going to happen," he told Collider. "It's going to happen for sure."
The biggest roadblock, however, has been scheduling. At the moment, several key players in the "Jumanji" franchise, including Johnson, director Jake Kasdan, and Seven Bucks Productions, are gearing up for another project. "Red One," which also stars Chris Evans and Kiernan Shipka, is slated to drop on Prime Video in late 2023. In the Collider interview, Garcia hinted that "Red One" is a holiday flick with influence from "Hobbs & Shaw" and "Guardians of the Galaxy."
Johnson also has other projects on his plate (via IMDB), including "The King," "San Andreas 2," "Doc Savage" and a remake of "Big Trouble in Little China." In an interview with CNN, Johnson revealed the newly-discovered importance of only getting involved in what he feels passionate about. "Time is our greatest and most valuable currency," he said.
Based on remarks from Garcia, it seems that a forthcoming "Jumanji" film is indeed worth Johnson's time. The producer shared with Collider that the team has a promising pitch and, at the time of his interview, was slated to begin writing the script in the near future. "Sometime after 'Red One,'" said Garcia, "'Jumanji' is going to be on deck once it's ready to go and we have a really big vision for that movie."