Cobra Kai Fans Finally Get To See This Unexpected Character Fight In Season 5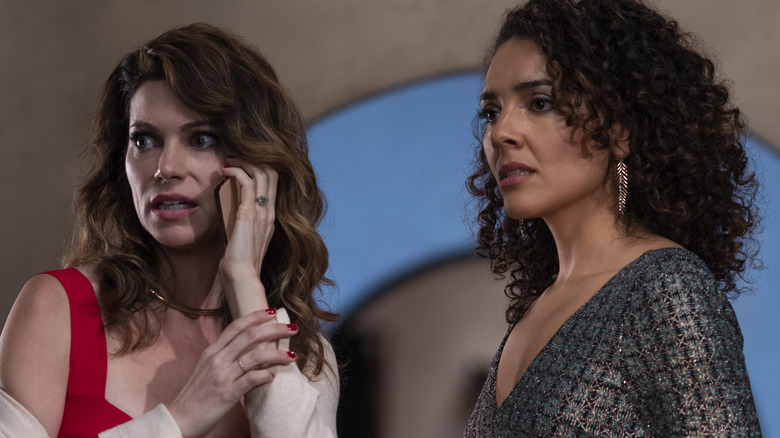 Curtis Bonds Baker/Netflix
This article contains some spoilers for "Cobra Kai" Season 5, Episode 5
"No mercy" is the much-worn battle cry of the characters on "Cobra Kai," and they definitely avoid showing any of it to their opponents and enemies. The series is loaded with action scenes featuring sometimes unlikely combatants. Most of its main characters are experts in self-defense, and they aren't afraid to do what it takes to protect themselves and their families if push comes to shove. And yet there are some characters on "Cobra Kai" who are — due to their ages, attitudes, or purpose in the storying — not a part of the combat that takes place on screen. After all, not everyone in the universe is athletically gifted, and the show's combatants need friends, sounding boards, and other forms of assistance to help them puzzle out the twists and turns of life.
Season 5 brings a lot of changes to the Valley, including letting one of those fight-avoidant characters kick a little tail. Fans of the series have been waiting a long time to see this individual punch their way through some bad guys and the resulting scene is anything but a disappointment. 
Amanda finally gets to kick up some dust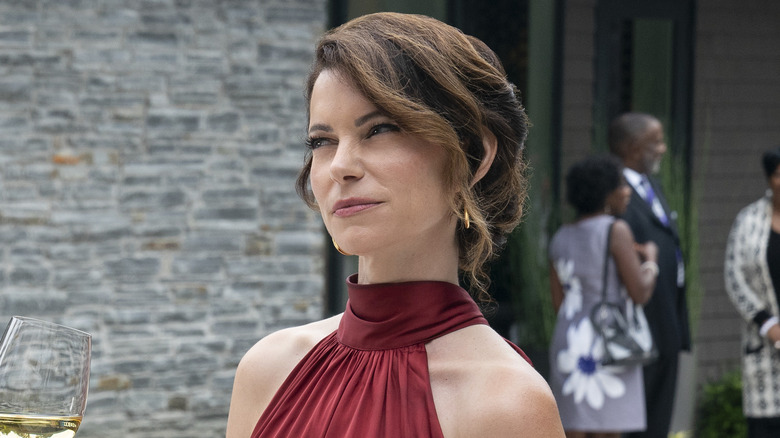 Curtis Bonds Baker/Netflix
After seasons of her sitting back and providing support for her husband Daniel (Ralph Macchio) and other friends and family members, fans get to glimpse another side of Amanda LaRusso (Courtney Henggeler) during Episode 5 of Season 5. Indulging in a night out on the town with her friend — and Daniel's one-time love interest from "The Karate Kid Part III" — Jessica Andrews (Robyn Lively) at a bar, the two pals are approached by a woman who knew Amanda before her marriage to Daniel. We soon learn that Amanda has a wild past. Her nickname was "Babe Ruthless" at one point in time due to the fact that she wrecked someone's car with a baseball bat in a moment of pique. One thing leads to another, and the two women find themselves in a tempestuous bar brawl. Amanda's daughter, Samantha (Mary Mouser), ultimately rides to the rescue and ends the fight with a single kick, and the three women plus Miguel Diaz (Xolo Maridueña) run for their lives.
In the ensuing melee, both Amanda and Jessica manage to get some solid shots in, ultimately keeping them both alive in the battle. It gives viewers a deeper perspective into what draws Daniel and Amanda together. And while it's just one scene, it definitely proves that Sam didn't get her fighting skills exclusively from her father.